OVRI Banking (Ovri.com): in summary
MoneyTigo is a payment solution offered by the group ips internationnal sas, a French company registered in Paris and Bordeaux, emerging in the field of remote sales and finance, our company has developed a service of opening an instant electronic payment contract (EVAD) allowing you to accept in a few minutes (the time to fill out a simple form) the payments of your customers via your website, mobile application, phone.
With MoneyTigo payment service, not only will you be able to accept credit card payments, but you will also be able to offer financing solutions such as spreading their bill in 2, 3, or 4x as well as manage the application of fees or not. In addition to that, you will have the possibility to manage subscriptions as well as the recurrence of the payment according to your scenario. You will be able to propose the registration of bank details on a secure system in order to propose the payment in one click.
Moneytigo 3.0's dashboard is easy to use and complete enough to meet your company's expectations. You will have a global view of your financial performance, you will be able to know the performance according to the sales channel and the origin of your customers. You will be able to know your performance in each country of the world, you will have a very precise technical identification of your payer with the reconciliation of information such as its connectivity (country, relay city, information on the material used during the purchase), information on the credit card used (such as its type, its classification, the name of the issuing bank, the country of issue, its real currency) and much more...
Score&Go..., you will have a systematic rating of each of your transactions, you will know in a few seconds if MoneyTigo judges the transaction as risky or not and will indicate you the recommendations according to the result of the tool, never forget at MoneyTigo it is you who decide the conduct that you will hold!
Science&Co... The technicality of MoneyTigo interface is the result of many years of hard work to provide you with an effective application that meets your expectations, MoneyTigo is developed by entrepreneurs FOR entrepreneurs, who better than us is able to know what you need, we are sure that MoneyTigo payment solution will be the one your business will use tomorrow.
MoneyTeams... You can manage your team within your MoneyTigo "Master" account, an unlimited number of employees can be connected with several profile strains such as: the employee strain that will allow you to do everything an employee should be able to do without ever having access to information that only the business owner should know, or a webmaster strain to give your development manager some autonomy; you can also create "Accountant, Daf, EC" strains ... We will continue to develop and propose other strains in the future.
You are no longer the bank! ... We pay your sales on time, you decide how and when MoneyTigo should make the bank transfer, you can even choose D+1 payment to your business bank account or choose D0 payment, your sales of the day would be paid the same evening at 20:00.
Connect&Co... MoneyTigo always advocates the cutting edge of technology and has always been keen to offer integration solutions both simple but above all free, that's why we offer extensions that will allow you to connect your online store without knowledge, we are already plug and play with existing cms such as "Prestashop", "Magento", "Wordpress", "OpenCart", "Woocommerce" and many more...
Api&Co..., we provide you with a simple and clear documentation so you can develop your ideas, SDKs are available (compatible Composer ...).
By using MoneyTigo you automatically benefit from the protection of funds up to 100 000 Euros in addition to our financial guarantee that extends the latter to 500 000 Euros subscribed with an independent insurance of our group and our partners.
In other words, and we are not afraid to say it, the MoneyTigo solution is the solution of tomorrow, produced in France by French entrepreneurs and supported by trusted French partners.

See you soon on MoneyTigo ....
Its benefits
The payment of your sales D-0, it's up to you!
A pay-per-use pricing model
Uncomplicated instant opening
Certifications:DSP2, PCI-DSS, GDPR, Anti-fraude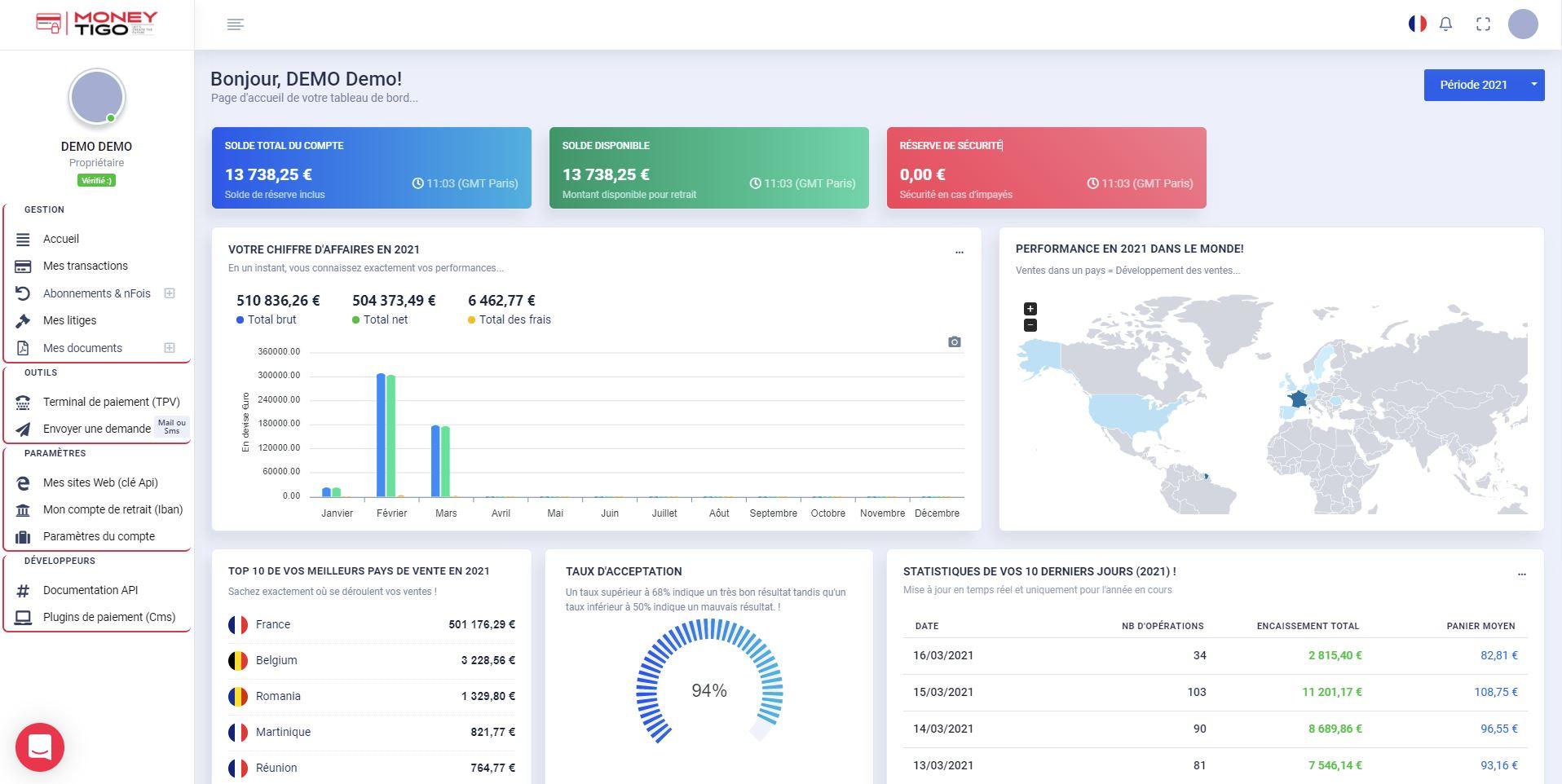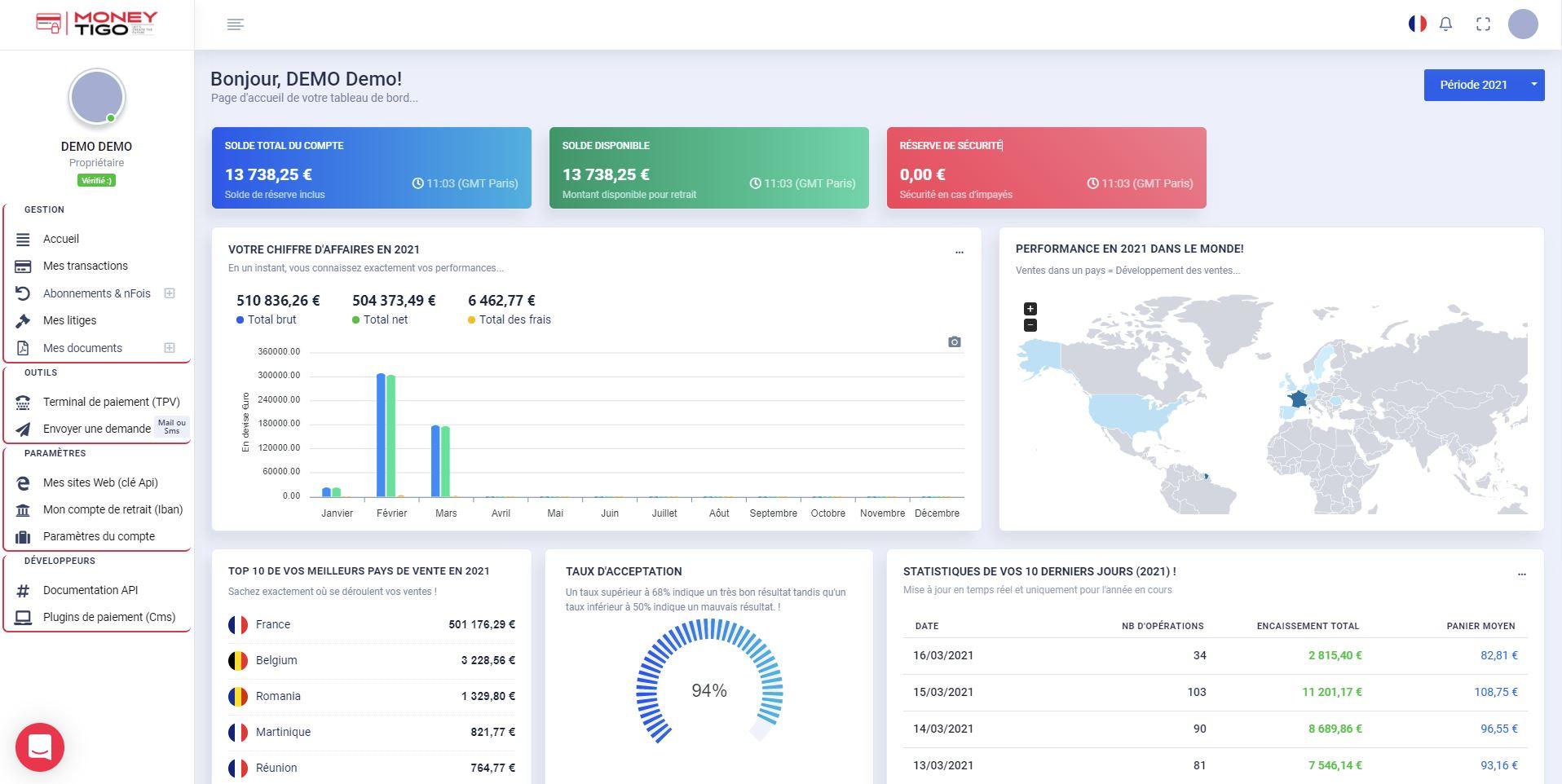 OVRI Banking (Ovri.com): its rates and features
| | | |
| --- | --- | --- |
| | | |
| | | |
| | | |
| Consolidation and Reconciliation | Consolidation and Reconciliation | Consolidation and Reconciliation |
| | | |
| | | |
| | | |
| Credit Card Payments and Direct Debits | Credit Card Payments and Direct Debits | Credit Card Payments and Direct Debits |
| | | |
| | | |
Appvizer Community Reviews (0)
The reviews left on Appvizer are verified by our team to ensure the authenticity of their submitters.
No reviews, be the first to submit yours.