Keeping your data safe at no cost
Cobian Backup allows you to backup your data on most local and online supports. It offers compression features to create archives, as well as data encryption support to keep your files secure.
Why choose Cobian Backup?
It is a software written in the Delphi language, extremely famous and appreciated worldwide for its reliability and quality. It can only be installed on Windows machines. For versions prior to 2009, it is still possible to find the source code in open source mode under the "Mozilla Public License". Regarding storage devices , it supports hard disks, online storage including FTP servers, pen drives, DVDs and so on.
At the interface level, it resembles the classic file manager that can be found on any desktop in order to make it as easy as possible to use and to improve the user experience.
The best features of Cobian Backup
Cobian Backup offers a wide range of solution to backup and secure your data. The most interesting features of this software are:
Support for incremental and differential backups
Support for external backups (over LAN or FTP)
Data compression, with the creation of archives in different formats (7z, ZIP, SQX)
Data encryption
Drag and drop features
Disk spanning
Shadow copy
File names up to 32000 characters
Multilingual UI
Editor: CobianSoft
Strengths of Cobian Backup
Completely free to use
Compression & encryption features
Support for both local and online supports
Cobian Backup demo and screenshots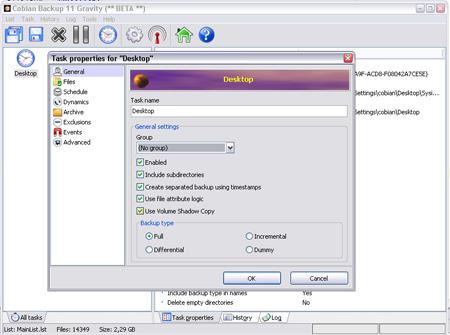 Cobian Backup customers
No customer reference