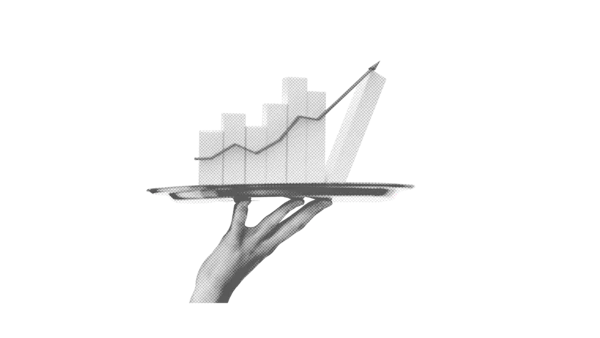 A Tour of HR Metrics: Piloting Your Employees Efficiently
What are the main HR metrics? Which ones should I track? SMEs and large businesses all ask themselves this same legitimate question when creating HR dashboards.
It is impossible to know every useful metric available to pilot and track the various activities of HR departments by heart. But Appvizer is here to guide you through this maze of numbers.
Keep reading to explore our extensive selection of Key Performance Indicators (KPIs) related to HR performance. These can help you measure key indicators such as recruitment, absenteeism, training, or even evaluate the social climate of your organisation.
What are HR metrics?
Definition
HR metrics are used to measure and track the performance of the different actions and processes conducted by HR departments. Analysing this data can uncover bottlenecks, failures and strengths.
It is necessary to define KPIs before launching HR campaigns, whether it be recruitment campaigns or training programmes. These metrics will then be used in decision-making. They provide insights to HR managers, who can choose the best course of action. Then, over the course of the campaign, they are used to track the performance of your actions.
Good HR metrics should be:
relevant: they need to be useful to answer important questions
simple: they should be easy to understand, not represent fuzzy concepts
easy to obtain: it should be relatively effortless and straightforward to measure it regularly
Put together, HR metrics should reflect a global, comprehensive and clear vision of the human capital of your company. They should give you an overview of the skills and talents available in your organisation, as well as the costs and performance of your employees.
Why use HR metrics
As we've seen, HR indicators should help you draw conclusions about the efficacy of the actions taken by the HR department.
Tracking the evolution of HR metrics over time should give information about the completion of HR objectives, and suggest areas for improvement and optimisation.
HR metrics are useful to:
measure HR performance in relation to specific areas such as:

the recruitment of new hires
the training of existing employees
employee engagement
talent retention and employee satisfaction

anticipate variations and revise forecasts over the course of the campaign to adapt your strategy dynamically
communicate reliable data to internal and external stakeholders
Key HR metrics you should track
The metrics you should take into account vary depending on the area of HR management you wish to improve. Have a look at the list of metrics to consider depending on the HR processes you plan to optimise.
HR performance metrics
The first type of metrics that comes to mind is performance metrics. They are designed to help measure employee performance and the value they bring to your business. Main HR performance KPIs include:
revenue per employee: revenue / total number of employees
the Performance Values Matrix: this visual representation of performance comprises 9 boxes and resembles the BCG Matrix. It divides employees into categories based on performance and potential.
Performance reviews: employee performance can be tracked by different means, such as self-assessment, manager reports, or peer reviews
Though these metrics are useful, they fail to represent the entire scope of HR strategies, which focus on much more than brute performance management. Thus, you should consider metrics related to other areas of human resource management.
Recruitment metrics
HR departments in any company know that recruitment is a highly strategic activity. Human capital, meaning talents and skills, are the most precious resources of any company. Casting errors can have dire consequences. Hiring mistakes can weigh on the work atmosphere, creating tensions that can lead to a decrease in productivity, and therefore in revenue.
Recruitment costs should be profitable investments, not burdens. This is why tracking metrics related to hires is paramount. This helps ensure your recruitment process brings real value to your organisation.
You can find the 10 main recruitment metrics below:
the number of recruitments needed for the current year
the number of interviews conducted
the number of applications per job opening
the number of applications received per recruitment channel
the average duration of recruitment campaigns
the average cost per hire, which is calculated from the time dedicated to recruitment by HR personnel
the quality of hire: this indicator can take into account the turnover, satisfaction and performance of newly recruited staff
the type of contract of new hires: internships, temporary or permanent employment contracts
the acceptance rate of job offers
👉 The turnover rate is calculated using this formula:
((number of employees who have left during the year + number of new hires during the year) / 2) / number of employees at the start of the year
Absence metrics
Absence rates have been on the rise year on year. This topic is of particular interest to companies evolving in a highly competitive environment. Absenteeism costs can undermine the competitiveness of businesses in all industries.
This is why tracking metrics related to absences can have a huge impact on the performance of your company. Relevant metrics can help you better understand the cause of high absenteeism rates. This way, you can take effective actions to solve the problem.
Here is a list of 10 indicators you can use to track absences:
the average absenteeism: total number of absent days / total number of employees
the absence rate: total number of absent hours or days / theoretical working hours or days
the distribution of absence causes, such as sick leave, work accident…
the average duration of absences
absenteeism rates by type of contract
absenteeism rates by department
the average number of employees absent per day
the average age of absent employees
the direct cost of absenteeism: absent hours x average hourly rate
the repartition of absence durations, from short leaves to long absences
Skill development metrics
A good talent management strategy is at the core of sustainable business development. Talent management reduces the costs associated with hiring externally. They also provide motivation for employees looking to further their careers with training sessions and promotion opportunities.
Some KPIs can show whether your company does enough to promote talents and develop their skills. We suggest using these indicators to track skill development and training:
the rate of employees with a college education: number of academic diploma holders / total number of employees
the number of training sessions offered by your company
the acceptance rate for training sessions: number of training sessions offered / number of training sessions accepted
the percentage of employees having accomplished training during the current year: number of employees trained / total number of employees
the rate of access to training: trained employees / number of employees
training time per employee: training hours / number of employees
training costs per employee: costs of training / number of employees
training success rate: number of training sessions organised / number of successful training sessions
internal recruitment rate: number of employees promoted to an open position / number of job openings
the average number of sessions on your training platform
Social climate metrics
How to measure the social climate of your company? Though it is hard to put a number on this concept, it is still possible to use data and indicators to assess the social environment of your employees. Good social metrics are of great help to ensure your employees enjoy optimal working conditions for increased productivity.
These measures should always be seen through the lens of the actual impression of your employees. People should always guide your decisions.
Helpful metrics to evaluate social climate include:
absence rate (number of absent hours or days divided by theoretical working hours or days)
employee turnover: total number of leaves / total number of employees
stability: number of hires still working with your company / total number of hires
number of thefts
number of complaints related to rude behaviours
average seniority: total seniority in months / number of employees
employee retention rate after a year
promotion rate
pay rise frequency rate
employee net promoter score: this metric measures employee satisfaction
💡 Using these social metrics will help you define a strategy to pilot your human resources. Once set up, these indicators will enhance your HR dashboard. This tool is the core of HR strategy, as it gives a holistic view of HR actions and objectives.
Tips for making the best use of HR metrics
Stick to a limited number of metrics
It would be tempting to use most HR metrics at your disposal. You might think this would give you the most accurate outlook of the state of Human Resources. But beware, the risk is to waste time and have little impact overall.
It is essential to think about what to measure and why it should be measured. Picking HR metrics must be done with clear goals in mind. Set yourself an objective first, like improving talent retention, and define metrics accordingly. Else, you'll just lose yourself in an unwieldy pool of irrelevant data, and this won't help you reach your goals.
Give context to your metrics
Your metrics are always grounded in a specific context. KPIs should be used to draw conclusions, then implement an action plan. For your strategies to be effective, you should always make sure your interpretation isn't biased.
Therefore, you should make sure your analysis includes data from different sources whenever possible. An expense should not only be seen as a cost. You should also consider the improvements it has made possible for example.
Use HR data management software
The best way to manage HR metrics is to use HR data management software. These can automate most of the tasks performed by HR professionals. They can help measure the metrics you need to manage employees with minimal effort.
These solutions provide great benefits to HR departments, who can enjoy improvements such as:
substantial gains of time
limited data input mistakes
secure HR data storage
automatic data import
These tools are designed to make HR management easy. They integrate options to facilitate decision making. They can calculate HR metrics, generate reports and create dashboards automatically. Spend less time measuring employee satisfaction or hiring results, and focus on improvement instead!
Conclusion
HR processes are central in the life of companies. Recruitment and talent management are key to succeeding and growing your business. For optimal performance, HR managers should strive to get insight from data analysis. Resolving problems and bottlenecks means having a good understanding of where they fall short, and what their strengths are.
To make the best out of your employees, they should be sourced and trained properly. A complete HR strategy should include employee retention. Engaging employees improves stability while furthering the skills of your workforce. Recruiting costs are also lower with internal recruitment. Promoting existing employees also means the risks associated with new hires are reduced.
HR metrics are essential for HR managers to measure and improve performance. They help ensure strategies are designed after a careful analysis of existing processes. Tracking their evolution makes it possible to improve and adjust decisions on the fly.
While there are infinite possibilities for choosing metrics, you should define yours carefully. HR metrics should be relevant, easy to measure and reliable. Set your goals beforehand and keep a clear vision of what you would like to change in your company. Finally, make sure it's people, not numbers, that guide your strategic HR choices!
Best tools for you