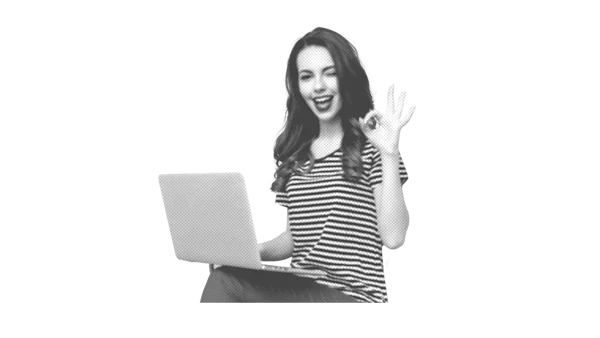 With its billions of websites, the Internet has become a center where it is difficult but vital to carve out a space of your own. Many tools allow you to easily create your online retail website, your blog, or simply your company website, but they don't all offer the same advantages.
The free CMS and Open Source
Free CMS (Content Management Systems) and Open Source constitute the vast majority of websites created. CMS allow you to create a website without fees apart from their hosting on a server which has a fee by necessity. Furthermore, if you wish to have the domain name of your choice, like "www.my-domain.com", you also have to pay a rental fee to a domain name registry service, such as OVH, Gandi or GoDaddy.
Estimate about 50 euros per year for hosting and reserving the domain name for a blog and 150 euros per year for an ecommerce site. The latter requires more storage space and a more powerful server. Here are the pros and cons you should know about before launching this solution:
Pros:
CMS are free
Many free themes available
Frequent updates
Multiple free and paid extensions available
Cons:
CMS equipment is aimed at technical specialists
You have to pay for hosting and the domain name
Higher quality themes are paid
How to create a free website?
Many free CMS are available but 3 leaders stand out: Wordpress, Joomla! and Drupal.
Wordpress
It's not a coincidence that more than half of websites are created with Wordpress. Its ergonomics are perfect and it is geared at less technically-apt users. Originally created for blogs, Wordpress has become very versatile: it allows you to create company and retail websites. The number of extensions allow you to do pretty much anything with Wordpress, provided that you don't want to make too big a platform.
Joomla!
Joomla! is a free CMS which allows you to design robust websites. Overshadowed for years by Wordpress, it seems that Joomla! is making its comeback in 2016, thanks to its ergonomics, numerous extensions and above all, its options which allow you to natively create strong ecommerce sites as well as intranets. Joomla! is aimed at an advanced public with a powerful need for functions and security. Bloggers however prefer Wordpress.
Drupal
In regards to free CMS, Drupal is the one that will evolve the most in 2016 with version 8. Drupal is designed to correctly implement sites with complex mechanics. Its interface is not its forte, but it greatly helps the work of developers. Drupal is highly recommended for its security and number of functions which require extensions from its competitors. The Drupal option is then recommended for developers rather than for users without technical know-how.
Wordpress, Joomla!, Drupal comparative
Wordpress:
+ Better ergonomics
+ Simpler CMS
+ Free extensions for everything!
- Frequent security issues
- Better adapted to blogs than professional sites
Joomla!
+ Very good media management
+ Adapted to any kind of websites, from blogs to ecommerce sites
+ Excellent functional coverage
- Simple actions are sometimes complicated to perform
- Fewer themes and plugins available than WordPress
Drupal
+ Excellent security level
+ Enormous selection of native functions
+ Adapted to very large sites
- Not very ergonomic
- Fewer themes and plugins available than WordPress
- Bad media management
The professional tools and services to create your website
Dozens of companies offer to relieve you of the installation issues of your CMS, hosting and domain name purchase, offering maximum comfort in creating a nice site without writing a single line of code.
These services, which take care of the actual design of your site, are logically more pricey than their Open Source competitors. On average it costs twice what the latter does. Here are the main pros and cons of these tools:
Pros No technical knowledge necessary Start to finish uptake and support Automatic listing in search engines Easier and faster site creation compared to an Open Source CMS Numerous free services like the themes and image galleries included
Cons Double the cost, on average, than Open Source CMS User dependency re the service supplier (impossible to change host) Dependent on the supplier's reputation for natural referencing
Wix.com: the leader in website creation
Wix is the world leader in the creation of websites for small companies. With more than 80 million users, Wix has become the standard and keeps improving. It offers a simplified experience to allow you to create your website without any technical knowledge. The Wix sites aren't however immune to surprises like the recent penalization of all Wix sites by Google (since then corrected).
memboGo: websites for associations
memboGo is a complete management package for associations, including a website creation tool. This option is particularly appropriate once you manage memberships and members. They can connect to their interface to access their account and private data. memboGo allows you to create pages, articles, contact forms, photo galleries and more.
WebSelf: simple and free website creation
Webself is an all-in-one option for creating a showcase site or an ecommerce retail website for small companies. In just a few clicks you can reserve your domain name, choose a theme for your site and create your first pages with your product catalogue. WebSelf is a really simple option for all companies wishing to quickly and simply launch an online presence.
Wix, memboGo, Webself comparitive
Wix:
Very simple
Very good referencing
Meticulous model designs
memboGo:
All of the functions needed by associations: members, memberships, polling
The price
WebSelf:
Very simple
Large range of models and images
An equivalent alternative to Wix
Website hosting and creation services are very practical for small companies because they allow you to avoid spending too much energy in an area which requires expertise if you wish to have a nice website which is well-positioned in Google results. On the flip side, they are more expensive and make you dependent on their services.
In contrast, CMS like Wordpress, Joomla! or Drupal offer complete freedom re the hosting service, and even the design of the site. They offer much more potential and functions, with a rise in the technical competences required however.
You have understood correctly; your company's website is a major stake these days. Compare the market solutions to find the one best adapted to your company's needs and check out our marketing guides to develop your business.
Software Recommendations