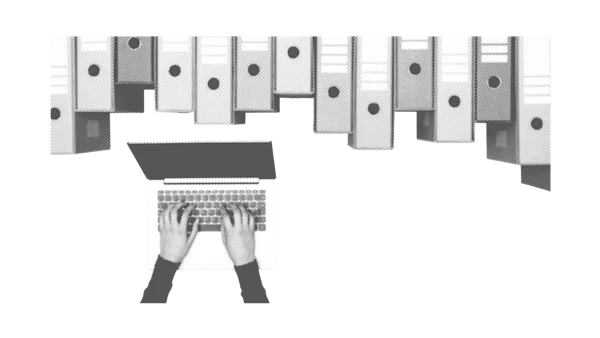 Every day, companies manage thousands if not millions of paperwork and information, which is why it is imperative for a centralised and standardised document management process, in order to decrease time spent on searching, filing, and storing paperwork.
27% of senior managers reported they've missed client deadlines because they couldn't find a document
This is just one of the countless solutions effective document management brings to companies, it helps you save time, in order to achieve your goals in a timely manner.
Nowadays some of the best practices for effective document management involve the electronic management of documents (EDMS) and the implementation of DMS: platforms dedicated to correct handling of documents. These solutions allow efficient management of data by automating tasks, thus saving time, money, and reducing errors.
Benefits of Document Management
By implementing a standardised document management process, enabling them to establish and comply with distribution and storage procedures that comply with the ISO 9001 standard.

Its Enterprise Content Management (ECM) architecture becomes an asset in the event of an audit, all information is gathered and structured in one place and is available for the tax authorities; meaning that the audit can be carried out faster and easier.
If you're using an EDM, Workflows can be automatically set up according to rules within the organization, allowing every employee to have access to their functions, furthermore, administrators are able to open or limit certain accesses.
Optimal information handling allows companies to be more agile when processing customer data, thus enabling better customer relation service, leading onwards customer loyalty and long-lasting client/server relations.
Because document processing is standardised, time is optimised, and employees have time to focus on more important tasks, in the end allowing companies to reduce costs on materials and make better-informed decisions.
Disadvantages of Poor Document Management
Poor document management can lead to a loss in profits and customers. In the long run, these can cause bankruptcy, due to companies not working optimally and not taking cautious care of what is most important for the correct progression of a company: information.
Negative effect on customers
The compliance problem
Material and Human costs
Paper Waist
How can you improve your Document Management?
With today's technology, reaching effective data management has never been so easy with DMS (Document Management System), companies optimise their workflow by using numerous automation tools for automated data management, which can bring major long-lasting benefits for a companies best practice
This tool transforms the way companies manage documents by automation, safekeeping, and data collection; which is why it is of utmost importance to do a careful selection of the platform for your company.
Still not sure, compare different tools on the Appvizer page and find the perfect software for you!