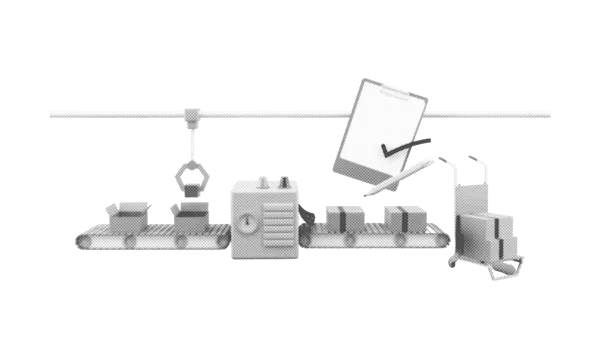 Time to Market: Optimise your Product-Process
In short, time-to-market (TTM) is about optimising the time needed before a new product hits the market, the objective being to be ahead of the competition.
Methods and tools such as PIM (Product Information Management) exist to reduce time to market and costs by rationalising the manufacturing lead times of a product.
How can you reduce your time to market to create and maintain a competitive advantage?
Find out how to guarantee the success of your company and make the most of innovation!
What is time to market?
Definition
The time to market (time-to-market) corresponds to two important factors:
The time to market of a product,
The launch of a new product or service on the market
The time to market is the time it takes to create and develop a product until it is considered mature enough to be put on the market. It is a crucial stage in the product life cycle and is essential to your business strategy.
Reducing your production time features several advantages. It allows you to:
have a faster and greater profitability
have a better positioning on the market
be more competitive by winning over early adopters
impose yourself as a reference since you are the first to offer a new technology
to focus on managing a side project quicker
to work with agile teams and continuous improvement methods: you have time to innovate.
There is another meaning of the term time to market. It refers to the very moment a product or service is launched on the market. This moment should not be chosen lightly: it should correspond to the "best time". That is to say when the market is mature enough, when your product or service is sufficiently developed, and when the competition is not too strong.
How to calculate the time to market?
We are talking here about the time it takes to bring a product or a service to market.
Calculating time in business is often a puzzle: what about this notion? How to measure time to market?
To measure a time to market, you need to know the start date and the end date. The difficulty lies in the fact that each company has its own context and does not use the same criteria. In other words, it is difficult to standardise the calculation of time to market.
However, we can give you a few tips on what you need to pay attention to when measuring your time to market. You should pay attention to:
The beginning of the product-design process
The proof of concept
The end of the product design and the beginning of the product-development process
The end of the development
The moment all resources are allocated
The start of production
The launch of the product on the market (the second meaning of time-to-market)
The establishment and application of clear production processes until it reaches its operational stage
The criteria for measuring time to market are not only subjective: they depend on the context of each company, which is also difficult to measure.
The very nature of the product, the technologies used to develop it, or the management of human resources are all factors that have an impact on the calculation of time to market.
How can time to market be accelerated?
No, there is no need for a time travel machine to accelerate your time-to-market. Reduce time to market or accelerate it: both express the same idea of trying to optimise the time to market of a product.
Note: it is about finding the right timing and reducing the time to market to a certain point. It is not about minimising it by sacrificing the quality of your product or the human resources allocated to it. Rushing is never a guarantee of quality or success. It is advisable to avoid launching a product on the market if it is not mature (the market or the product).
Here are a few tips to reduce your time to market:
Speed up decision-making
Adopt methods to structure the stage of your project quicker (six sigma, phase gate, to extend) while gaining in agility and efficiency
Focus on the steps with the highest added value
Control information from end to end
The last point is truly important, this is why we are going to focus on it.
Why control product information?
Data is both the foundation and the wealth of companies. Properly managed and exploited, it can bring unparalleled value and help your business.
This is also the case in a time to market context. Indeed, it is a situation in which you try to control time, or rather not lose some. Product Information Management then becomes a real asset.
Optimising time to market
While the use of ERP or CRM software is useful, it multiplies the data collection surfaces without giving overall consistency to the general organisation of the company.
It is estimated that about 80% of the information generated by a structure's activity is unstructured data (images, videos, social media, etc.).
Professionals waste 40% of their working time looking for them because of the tools at their disposal. They are inadequate or non-existent.
Yet it is essential to reduce your time to market to be profitable and innovative.
Poorly organised information: the potential consequences
You waste valuable time dealing with time-consuming administrative operations, repeating time-consuming and unnecessary tasks. This necessarily has a negative impact on the time to market. It is extremely important to have a reliable system on which you can count.
Here are the consequences of a poor organisation of assets and data:
A disappointing customer experience: loss of credibility
A longer time to market due to unnecessary time-wasting
Potential delays
De-motivation of staff and managerial difficulties
Potential loss of quality
The disappearance of information
Additional costs and therefore less competitiveness on the market
Less profitability and less innovation
However, let's not be defeatist! Time to market can be reduced by taking a few simple steps.
How to reduce the time-to-market?
Adopt collaborative management
Save time by eliminating the lack of internal communication, encouraging collaboration and agility of your team members. Collaborative management ensures a wider dissemination of information.
Optimise resources
The shorter the production process is, the lower its costs will be, the more competitive the price will be on the market. You need to decide whether to focus on resource efficiency or flow efficiency.
Therefore, you can lower costs by reducing the resources dedicated to the different phases required to release the product. You can also limit the waiting time between phases of product release. You increase your revenue and by reducing your costs.
Automate and distribute recurring tasks
It is essential to offload processes that are recurring and do not bring any value. Task managers must also ensure that all tasks are understood and clearly assigned: this will save you time.
Adapt as quickly as possible
A company cannot be successful in the long term without resilience and innovation: it takes time for information processing and research.
You need to be able to adapt and change in real time. It is necessary to be flexible to react to the ups and downs of the economy.
The sooner you hear about your sales, the sooner you can implement an agile sales strategy to drive continuous improvement and stay one step ahead. Continuous improvement is key.
Build customer loyalty
If your company is the only one to offer a given product or service, you set the benchmark for "early adopters", these buyers who are quick to acquire the latest innovations. The faster you respond to orders, the better people will see you.
If you have accelerated your production time, you have a better chance of satisfying consumers quickly. Therefore, you have more time to support them. You encourage trust and loyalty: you make yourself indispensable. You become more unique compared to your competitors.
Time to market: an indicator of your company's success?
All professionals aspire to have more time to devote to their customers, as well as to the innovation and development of their goods. In an increasingly competitive and demanding market, it is dangerous to waste time on daily tasks without added value.
New technologies have been developed to alleviate this frustration and increase the profitability of small and large companies. Today, they appear to be the best way to quickly accelerate your time-to-market, and thus your sales and turnover.
Best tools for you