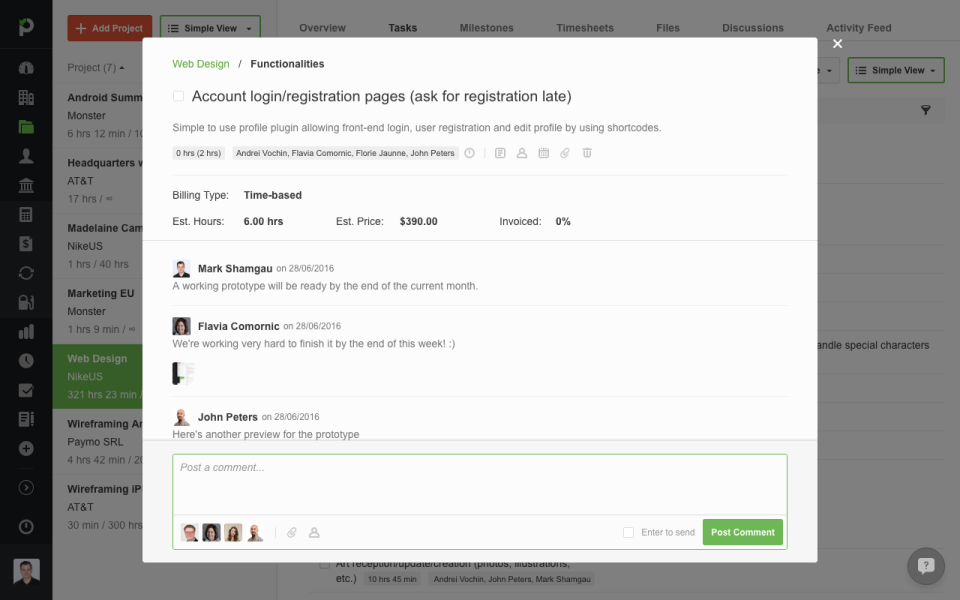 Paymo
Presentation of Paymo
What is Paymo and who is it for?
Paymo is a project management solution that helps small & medium companies and freelancers manage their work from start to finish. The solution is ideal for creative agencies, marketing, web design & development teams and departments, business consultants, and freelancers.
The benefits of using Paymo
Having all the necessary features under one roof, Paymo ensures a smooth and streamlined experience during work. There's no need to constantly switch between several apps, everything is available at your fingertips. The clean and intuitive interface allows everyone to know what needs to get done, who's responsible for what, and when it's due. This reduces bottlenecks and eliminates confusion among team members, keeping the team engaged and happy. Through its multiple time tracking options, Paymo is truly focused on making sure time spent working is being captured so you can accurately bill for it .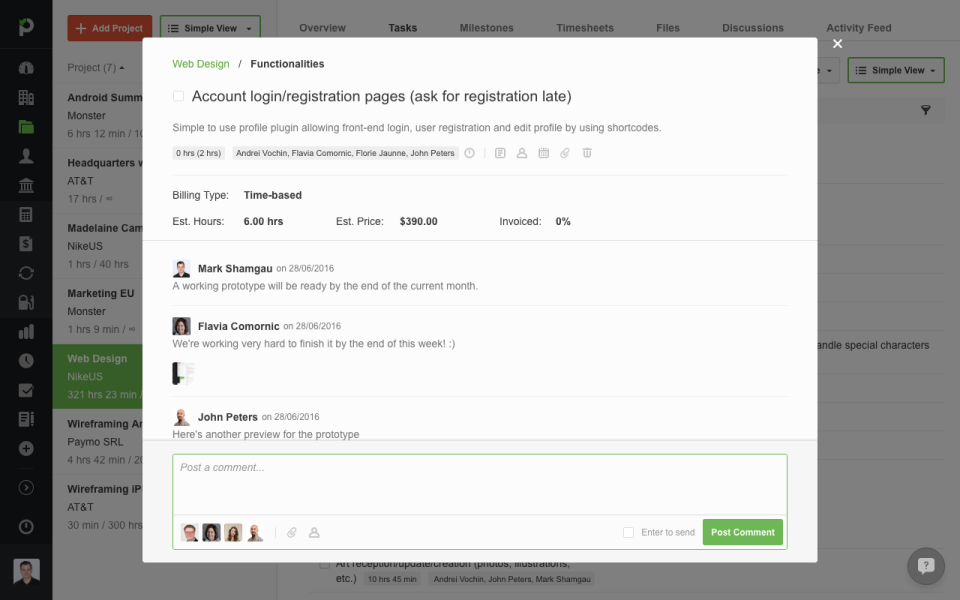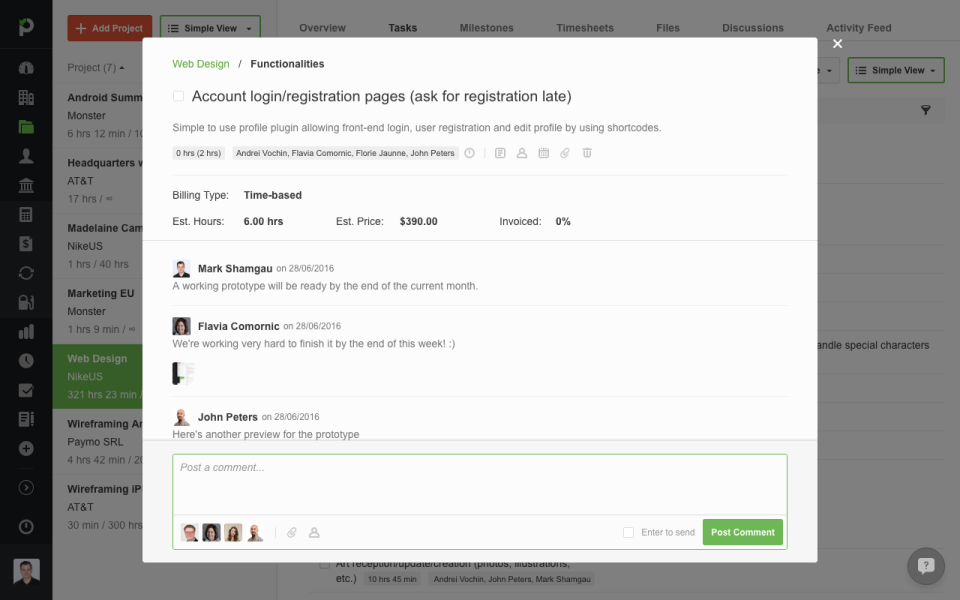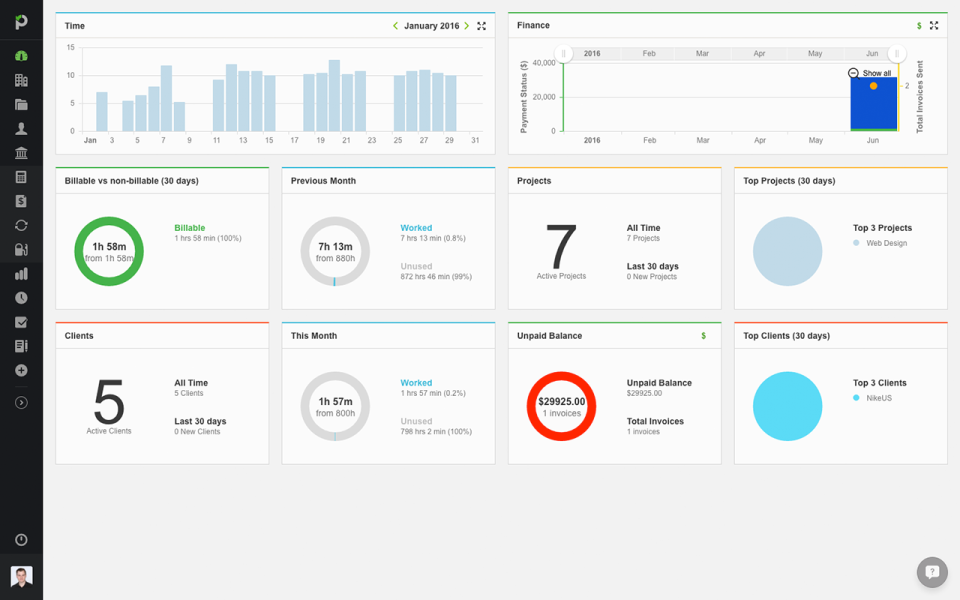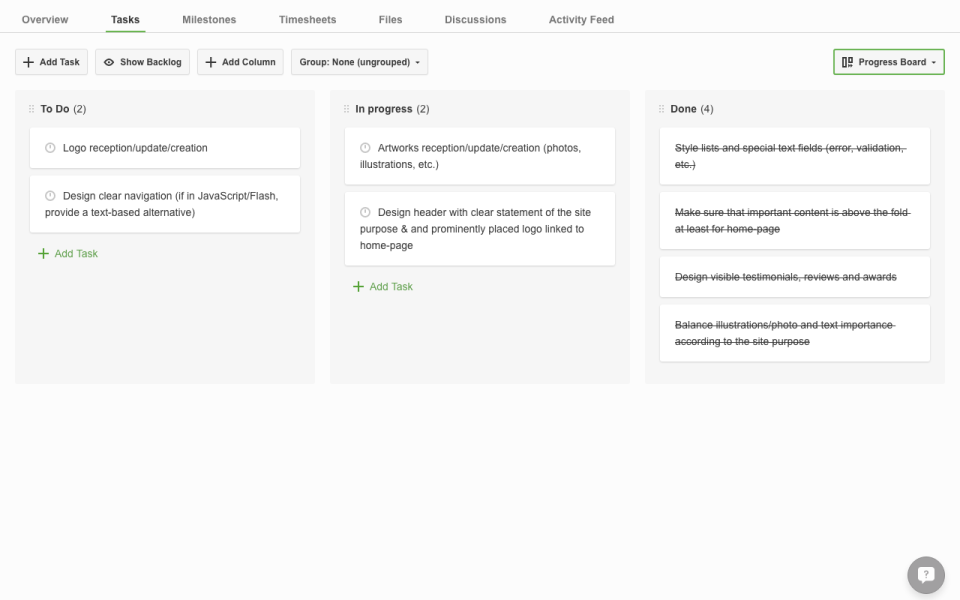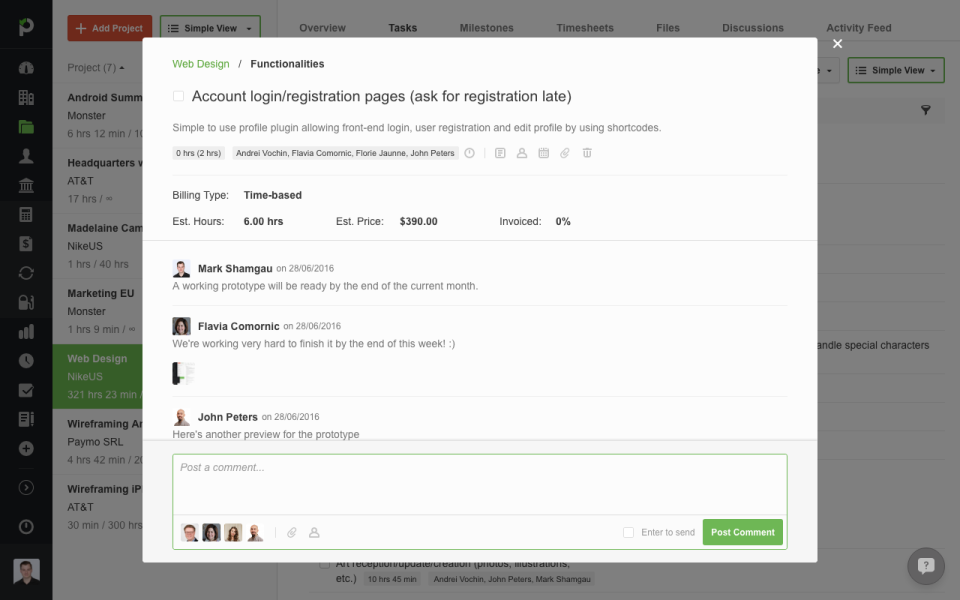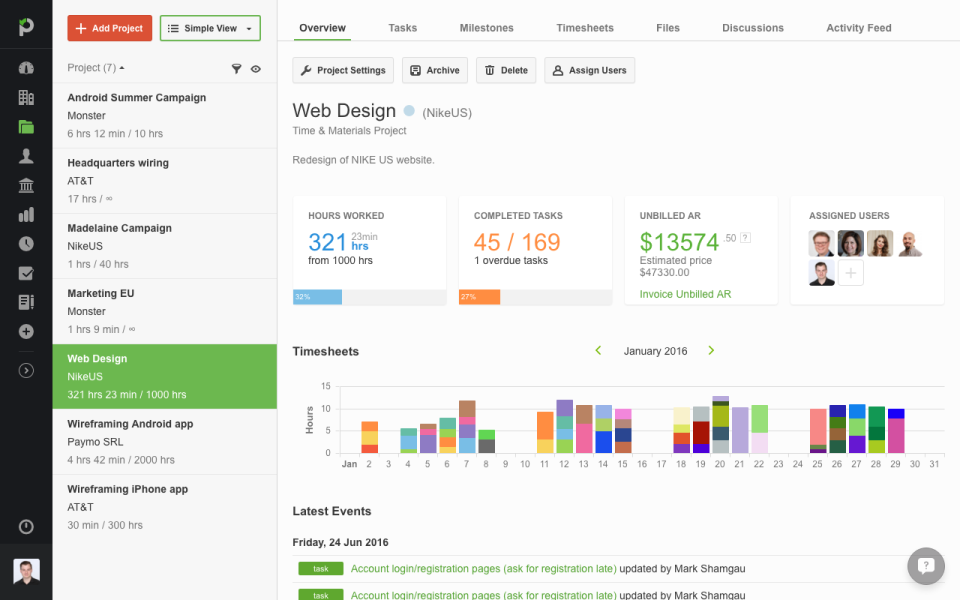 Prices and features of Paymo
Billing & Invoicing
Quote to Invoice Conversion
+ 26 other features
Billing & Invoicing
Quote to Invoice Conversion
+ 26 other features
Billing & Invoicing
Quote to Invoice Conversion
+ 26 other features
Customer reviews about Paymo (0)
No reviews, be the first to submit yours.
Our test on Paymo
What is Paymo?
Paymo is a work management platform that is meant to help you and your team complete objectives more smoothly. It is capable of managing projects and tasks, tracking the time spent working, as well as billing your clients.
These are just some of the features that allow you to keep your business organized, reduce delays, track projects, and more. Because of this, the Paymo software has been trusted by over 100,000 people and is also available in 22 languages.
The Paymo software is aimed towards small to medium-sized businesses as well as freelancers to successfully manage their projects. The software can be useful for a whole variety of industries including creative agencies, marketing teams, web design and development teams, business consultants, and more.
What can you do with Paymo?
The features that come with Paymo are extensive enough to take you all the way from the beginning of a project to the billing at the end. Features are spread out into various categories that touch on Task Management, Time Tracking, Planning and Scheduling, Resource Management, Financial Management, Analytics and Reporting, Invoicing and Online Payments, and more. We'll go over some of the most essential functionalities so that you can find out how this software can work for you.
Task Management
Have a global view of personal tasks and team tasks with different views (list, table, board, calendar, and Gantt)

Create templates for tasks and create recurring tasks

Enrich tasks by assigning multiple users, setting dependencies, priorities, task duration, and alerts

View projects and create custom workflows with Kanban Boards
Time Tracking
Track, log, and budget time for tasks and projects

View timesheets in a calendar format

Use tools such as Automatic Time Tracking, Time Clock, and Pomodoro Timer to accurately track work
Planning and Scheduling
Monitor the progress of tasks and projects with Gantt charts

You can create project templates and duplicate projects you already have to speed up work

Organise work by auto-scheduling, adjusting tasks, and setting milestones

Get information on critical tasks based on when they need to be completed
Resource Management
Determine your resource capacity through various tools such as load charts, resource calendar views, and holiday and leave management

View unscheduled work and create automatic bookings easily

Set user permissions for different employee access
Financial Management
You can choose billing priorities for projects and also set up fixed price rates and time-based rates

Track the health of projects with financial indicators

Manage finances by setting project budgets and tracking expenses for items or projects
Analytics and Reporting
Create, Share, and Export various types of time reports such as static time spent on tasks and projects, live time reports that update automatically, and user reports with logged hours

Have a good project overview by looking at the time worked, tasks finished, unbilled AR, timesheets, and milestones

Get a better understanding of employees with a user overview showing workday length, hourly rates, leave requirements, and performance

Understand client health with a client overview showing unbilled AR, billed and received invoices, and pending invoices
Invoicing and Online Payments
Easily manage invoices by creating invoices in 15 different languages with templates, recurring invoices, or by exporting them

Create estimates to be turned into invoices or convert projects into estimates with time and costs

Create and use email templates to send estimates, invoices, and payment reminders

Accept online payments from PayPal, Stripe, Authorize.net, or Square and choose between 85 currencies when billing clients
Pricing for Paymo
Paymo offers three different plans, each one is priced differently and offers more features than the last. Paid plans also have a free 15-day trial period where you can test features before buying. Plans can either be charged monthly or annually for a discounted price and all the plans are paid per user per month.
Free Plan ($0)
This plan for small teams costs has a limit of 10 users, it includes the following features:
Unlimited Projects & Clients

Task Views (List, Table, Calendar & Board)

Tasks (limited to 100)

Project templates (limited to 3)

Native Time Tracking

Time Entries (limited to 250)

Desktop & Mobile Apps

Invoices, Estimates, Expenses (limited to 3)

Time reports (limited to 3)

Integrations

Community Support
Small Office ($9.95 Annually or $11.95 monthly)
This plan is the popular choice for growing teams and departments costs and has no user limit. It includes all the features in the Free Plan and adds:
Meta Task Board

Recurring Tasks

Unlimited Tasks

Unlimited Time Entries

Unlimited Project Templates

Unlimited Time Reports

Unlimited Invoices, Estimates & Expenses

Active Timers

In-App Tech Support

50 GB Storage
Business ($15.79 Annually or $18.95 monthly)
Their most expensive plan for large teams with no user limit includes all the previous features and adds:
Free Onboarding & Training

Employee Scheduling & Workload

Gantt Charts

Portfolio Gantt Chart

Employee Leave Management

Priority Support

Online Remote Assistance

100 GB Storage
Reviews
The Paymo management software is well-reviewed receiving an average of 4.5/5 from major testing platforms. Users, in particular, enjoy the ease of use of the software and the useful and professional invoice services.
The Advantages of Using Paymo
Multi-platform Support
One of the advantages of using the Paymo software is the open-access that you have to the application and its features. You have either the option of accessing your projects, invoices, and more on a computer, but you can just as easily do the same on either the iOS or Android applications. This way, you can access your information whenever and wherever you need it.
Easy to use
What a business looks for in any software is ease of use. With the clean user interface and layout, you'll have no trouble getting into this software. With all the different types of features that make up Paymo, it may take some time to set things up as you like, but you'll be ready to go soon after.
Everything in one place
Having all the different tools at your disposal such as task management, planning and scheduling, and invoicing allows you to have everything at your fingertips. The functional capabilities of the platform cover the whole process from the beginning to the end. This way, you don't have to worry about switching between other apps to find what you need.
Paymo's Disadvantages
Integration Options
Paymo has its own API and is able to integrate with some popular tools such as Google, Google Calendar, Zapier, Slack, Quickbooks Online, Xero, and more. Despite this, in comparison to other tools, the list isn't very extensive, and some teams may not be able to use all the integrations that they'd like.
Payment Gateway Options
With the ability to send out invoices and accept online payments, most companies will have everything they need to efficiently bill clients. Although there are already payment gateways that are accepted such as PayPal, Stripe, Authorize.net, or Square, they may not offer the payment system that you use which isn't ideal when it comes to billing.

Our opinion on Paymo
The Paymo project management solution is an all-around boost toward your project management, task management tools, and more. If your company is looking to make less effort when tracking time, creating invoices, and billing clients, this software would work well for you.