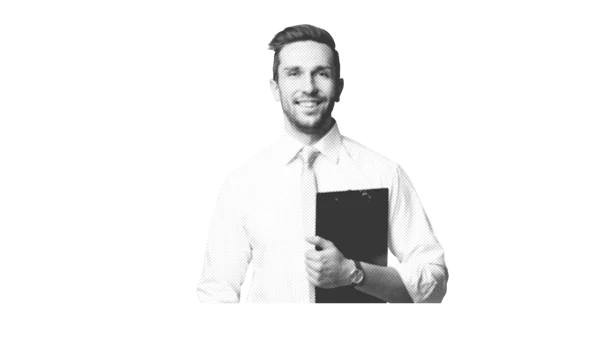 5 Secrets to Great Customer Service
As an entrepreneur, an SMB or a large company, what importance do customer service skills hold for the success of your business? Customers are the most essential element in establishing and keeping a business thriving. So, what are the secrets for finding and keeping happy and loyal customers?
appvizer has listed 5 top hacks to achieve a great customer service.
1. Provide quick service
You have customers, with questions, but you want to reduce your company's daily call time, as this causes hold-ups. What can you do to respond as quickly and as accurately as possible to the needs of your customers?
Set up a detailed FAQ page
Include links and frequently asked questions. Customers can find an answer without having to join the long queue of people waiting to speak to a representative. This saves time on both ends and reduces the number of disappointed or frustrated clients.
Get in contact via online chat platforms
Nowadays, the internet has taken the pressure off phone conversations. Live chat cuts down on the number of phone calls but still allows customers to speak to a representative in real-time.
Emails: answer within 3 hours
Usually, sent with regards to issues that are not as serious, giving companies some leeway for the response time. However, it is still important to notify the customer that their request is being taken care of, and a response is on its way. This can be done by an automated reply which acknowledges the receipt of the email. The optimum response time for companies who have the best customer service was found to be under 3 hours.
2. Personalise service
Interpersonal skills are very important for your employees. Great customer service cannot be provided without a human touch. Make your customers feel special and provide comfort.
Well-trained representative
Should be part of a professional team with good knowledge of the company and its policies, meaning that any problem or complaint that should arise may be dealt with in the best manner. This individual should be good at communicating.
When interacting with customers, they value:
Good listening,
Showing empathy,
Resolving their frustration.
Industries with good soft skills will find a rise in customer retention and reduce churn.
We have all been there; the dreaded waiting time, the automated voice recordings, music playing on repeat. Not very ideal, is it? With the previous measures in place, the number of phone calls that a company receives is minimized. Therefore, the time it takes for an individual customer to be connected with a representative is shorter, and the level of customer abandonment is reduced.
When a customer does wish to ring, to speak to someone on the phone, the following steps should be in place:
Free call number
Should be displayed clearly on each page of your website. This way representatives only deal with genuine queries, and not the same cases day in day out.
Alternative options
If you know that you will not be able to answer their question right away, you may offer to call them back at an agreed time or compose an email with all of the necessary information. Explain that this would be the best solution to avoid you both wasting your time. Poor customer service lacks clear communication, therefore delivering a service which outdoes the expectations of the customer will help to empower your business.
A customer will be willing to wait and receive one piece of valuable information which will solve their problem, rather than being passed from one representative to another with no further progress. It is important to implement the correct measures so that each customer leaves feeling satisfied.
3. Build trust and gain loyalty
Building a good rapport is key. In this way, they will not hesitate to return to your company in the future. If a customer likes your attitude they will pass on recommendations to their family and friends. Soon enough, your small business which is founded upon trust, customer loyalty, and customer support begins to expand!
Personalization: Getting to know your customers; remembering their names. This hospitality is appreciated and makes them feel valued.
Make notes: Take down a few points of the previous discussion so that the next time you have a conversation you are up to date. Therefore you can take up where you left off the next time they ring!
Admit when you are wrong: If you do make a mistake, which may happen from time to time, it is better to own up and apologize for any inconveniences which this may have caused. The customer will value you more for this truthful approach, and trust you more for it too.
Make sure they return: Returning customers are what gives your company a turnover. One time sales are not profitable, nor sustainable. For good revenue you want customers to pick your company every time. They will do this if they feel that you provide excellent customer service and top class customer support.
4. Show that you care
The customer experience extends right until the post-sale period thus taking customer care the extra mile is what will make you stand out from the crowd. But what is the best way to go about it?
Get in touch: In the same way that the automated service informs customers of their request being acknowledged, an email will be sent automatically to ask customers what they thought of their experience.
Take their comments into consideration: This is one of the best ways to see if something is lacking, or not adequate. By paying attention to their suggestions you can make changes to reach a service which is more effective and efficient. After all, the customer is always right!
Word-of-mouth is your best friend if you gain a reputation for good customer service, it will allow you to hold on to current customers and gain plenty more future ones!
5. Automise your workflows
Whether you are self-employed or part of a larger team, the right equipment is essential to make your team and your business thrive. Keeping on top of a mountain of data can be a very tedious task. That is why we are here to tell you about some clever software that can free you of the hassle!
Happy customers thanks to customer support software
Customer support software allows you to organize, manage and track your customer inquiries all within the one user platform.
Conversations and issues are integrated and linked with customer records and profiles.
A ticketing system allows of reach request; be that via email, telephone, live chat, social media, etc. to be assigned to individual representatives, whose task it then is to deal with these queries.
Thanks to the following software, your company may stay up to date with daily tasks, view data, and statistics and use that to see the necessary changes for improvement of the service:
Comparison table of customer support software

| Software | Characteristics | Designed for |
| --- | --- | --- |
| RingCentral Engage (ex-Dimelo) | Simple, reliable, and perfect for getting started right away | Small businesses |
| Zendesk | Stay connected-communicate from any location or device | Companies of all sizes |
| Freshdesk | Organization and centralization of information | All enterprises |
RingCentral Engage (ex-Dimelo)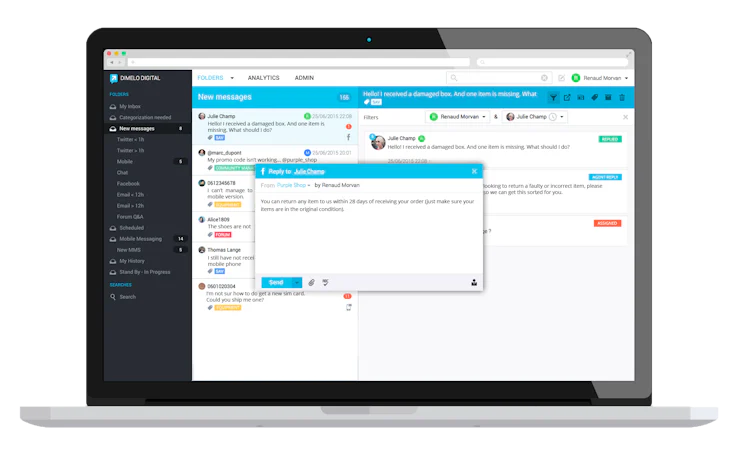 RingCentral Engage, formerly known as Dimelo, is a SaaS software that facilitates the expansion and management of customer relationships. With this tool, you may deliver quicker, and better quality customer service with the confidence that the swift and accurate flow of information will be maintained, and unaffected even during the busiest of periods. With a platform that is easy to use and understand, you can get down to business right away. Your agents can give customers the attention they require, whilst Engage takes care of the rest. Including tasks such as agent allocations and resource management to give accurate results.
What we like about RingCentral Engage:
Social Media (Facebook, Twitter, Youtube, Instagram…)
Messaging (Facebook Messenger, Instant messaging in-app)
Live-Chat
Email & web form
Forums and customers communities
Recognizes up to 72 different languages
Integrated CRM tool
Free Demo available
This gives companies a full history and precise account of each interaction to analyze and better manage their activity while increasing customer satisfaction, as it allows companies to track and analyze performance with advanced statistics. Integrate RingCentral Engage into your CRM for a 360° view.

RingCentral Centre de Contact
Offer seamless omnichannel customer experiences
Learn more about RingCentral Centre de Contact
Zendesk
With 40,000 clients in the world, Zendesk is one of the leading software systems for customer service and support. This online software offers an interface for the management of demands, chat to communicate with those who visit the site, online knowledge base, shared messaging and a data analysis tool.
Other features of Zendesk include:
Omni-channel
6 tools for creating exceptional customer service: support, guide, chat, talk, message and explore.
All of these tools enable communication and interaction with clients in a clear and effective manner, no matter where they may reach out from; website, email, client support interface (ticketing system), social networking sites, etc.
Compatible with iPhone, Android, Windows Phone, BB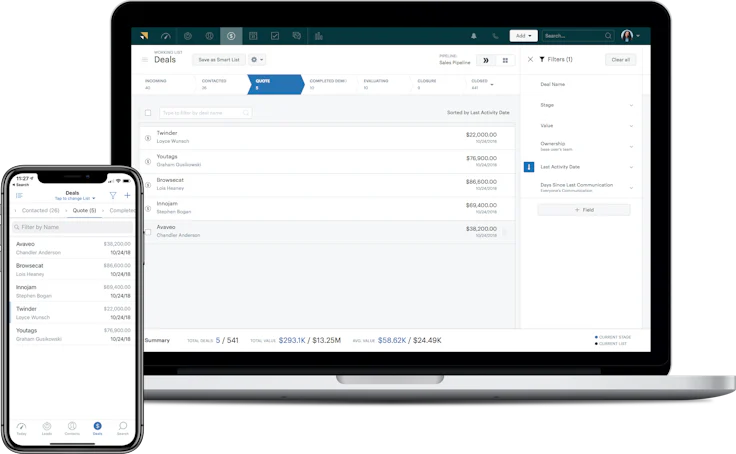 Zendesk centralizes all of its client data in one place, which means you will never lose track. Allows you access to customer information, enabling you to act quickly upon their requests. Zendesk considerably reduces the time spent with clients and guarantees them a high-level of satisfaction in order to win their loyalty and engage them with new products.
Freshdesk
Freshdesk is a SaaS customer support based software and has over 100,000 users in the world. The leading online customer support service, providing you with a helpdesk for excellent client support, thanks to its many functions. All of which can be found in a user-friendly space. Freshdesk allows for:
Centralization of: All the customer demands that come from the ticket platform, first-time telephone calls, chats, emails or social media. Be present in any location where your clients may be but it also allows for the manual or automatic distribution of tickets to the representatives who are going to handle them.
Automatic filters mean you can assign a task and its level of importance/urgency to an agent: They mean that you never lose control of the situation, regardless of the number of inquiries.
The opportunity to buy several telephone numbers and to control the calls from the online software.
The gathering of costs and usages.
Management of all the channels that enter and leave.
The advantage of Freshdesk faced with Salesforce or Zendesk is its exceptional functional coverage and the fact that it is so simple to use, at a very competitive price.
Article modified on 23/11/2020
Best tools for you