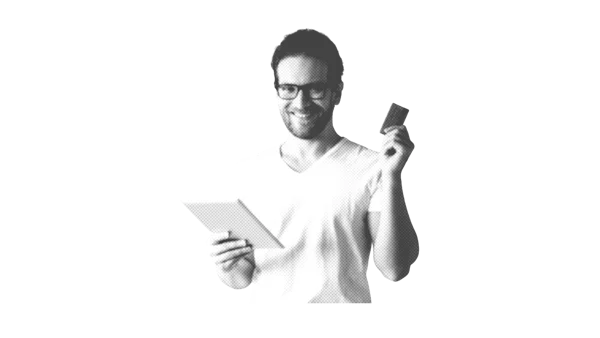 Digitalisation has now also arrived in the insurance industry. Consumers can now benefit not only from the digital services of traditional insurance companies, but completely new business areas and insurance products are being created. InsurTech startups are very popular with venture capital investors. But what exactly is InsurTech? Let's take a closer look at this phenomenon that can change our understanding of insurance, and its innovations.
What does InsurTech mean?
InsurTech (or InsuranceTech) refers to the use of modern technologies in the insurance industry. The term is composed of "Insurance" and "Technology". InsurTech companies are a sector of FinTechs. They are particularly popular because of the low interest rates.
InsurTech initiatives are designed to make insurance processes more efficient and user-friendly overall, in order to offer customers better functionality. For example, insurance contracts can be designed individually and additionally be dynamically priced by using data streams from devices with Internet access.
InsurTechs include technologies such as:
digital platforms or apps that aggregate insurance services, on-demand insurances for small events, and peer-to-peer insurances;
artificial intelligence, e.g. as a basis for chatbots, for the automated evaluation of damage claims or for the analysis of big data;
and blockchain/distributed ledgers, e.g. for automated insurance contracts in the form of smart contracts.
To better understand InsurTech, watch a video on how it works using machine learning, artificial intelligence, and automation.
Typical segments for InsurTechs
| Health Insurance | These insurtech start-up companies use data from new sources such as smartphones or smart wearables, for example, to offer insurance rates based on physical activity. |
| --- | --- |
| Peer-to-peer Insurance | In this segment, policyholders join together to provide mutual financial support in the case of a damage claim. This segment now has the largest number of providers. |
| Contract Management/Brokerage | This group consists of online providers who are active in the classic brokerage segment. Brokerage mandates are mainly processed via the Internet. |
| Spot Insurance | These InsurTechs focus primarily on short-term insurance for many different areas. For example, special car insurance policies are offered that are only valid for 24 hours. |
| E-Commerce Insurance | This segment includes providers who offer additional insurance policies for electronic equipment or other purchases through online retailers. |
| Usage Driven Insurance | These InsurTechs tailor insurance tariffs to the user or driving behaviour. For example, in the case of car insurance, Usage Driven Insurance or Pay-as-you-drive is known as a "telematics tariff". |
The most important in brief
Critics of InsurTech Businesses
However, traditional insurance companies criticise their online counterparts for lack of transparency and lack of trustworthy customer advice. In addition, most FinTechs stand for a trial-and-error attitude, rapidity, and the goal of daring to try something new. This culture is difficult to reconcile with the insurance business. After all, the main focus here is on trust and long-term commitment.
Who are InsurTechs of interest to?
The products of InsurTech startups are of interest to:
brokers,
insurance agents,
private end customers,
B2B sector.
Private consumers as well as B2B customers can benefit from low prices and simple administration, while brokers can use them to open up new distribution channels.
Examples of InsurTech businesses in the UK
Wrisk sets up partnerships with many insurers and brands, helping them design and provide customer-friendly and simple coverages. It makes it easier for businesses to manage their relations with customers concerning insurances and at the same time easier for customers to understand how their insurance works and what they are paying for.
Zego is a London-based insurtech that offers an opportunity to choose among flexible motor, professional and commercial insurance coverage options. Zego creates new products all the time and makes them flexible and easy-to-use.
By Miles is a real-time pay-per-mile car insurance provider. The drivers pay based on the number of miles that they drive. It is a great concept for those with low mileage use.
Focus on digital InsurTech trends
As all these InsurTech startups try to keep up with the digital transformation of the insurance market and customers' tendency to use digital channels for engaging with the company's services, they collaborate with management platforms.
For example, the insurance company AXA that became one of the biggest insurance providers in the world tries not only to offer all types of policies but also to deliver a great experience for customers. To digitalise and bring their customer relationship service to a whole new level, AXA Switzerland collaborates with RingCentral Engage Digital - a unified management platform that keeps all the client data in one place, increases customer satisfaction, manages all customer interactions, as well as scales and grows together with the business.
The future of Insurtech
The more data on potential policyholders is available, the more individual insurance solutions can be. Blockchain, i.e. a decentralised database that can be processed by many users simultaneously, offers potential for making Insurtech solutions even more efficient in the future or for developing new offers. With the help of smart contracts based on blockchain technology, micro-insurances are possible, for example, which only cover certain incidents and automatically take effect in the case of an insurance claim.
Especially millennials are willing to give personal data to insurance companies and use innovative technology. As the demand for insurance solutions is particularly high at a young age, InsurTechs are likely to find customers quickly and hence attract investments.
Software quoted in this article