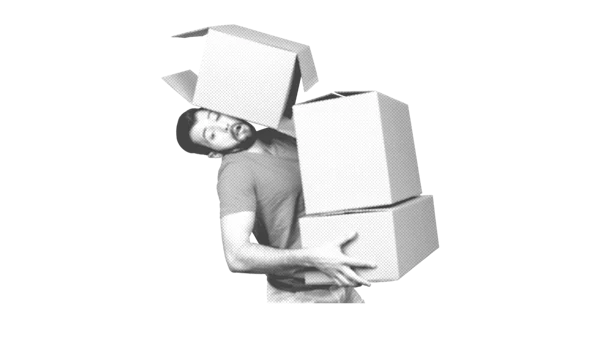 We are moving more towards marketing automation. This saves time, of course, but its impact depends exclusively on the quality of the upstream data.
Automation of marketing and targeting
Targeting vs. mass marketing
As individuals, we are bombared by "ads". We go out of our way to avoid spam. But this doesn't mean we aren't interested in the information we look for, or information we're likely to be interested in. Amazon understood this well, saying: "You like this. You may also like...". The suggestion is based on an algorithm linked to our personal history. It is individualized: this is called BtoC targeting.
How can you reproduce a similar targeting strategy for professionals? You need to adapt to their profile and behaviour. This involves:
first, being well-informed
then, develop case scenarios to make the right offer at the right moment.
Become well-informed about your contacts
Lead scoring tools allow you to monitor your contacts' changes in real time. With a solution like Sparklane, your overview becomes active. You choose a certain number of business cues linked to your contacts: a move, the appointment of an officer, a product development, international growth, a partner or even fundraising... And the leads software monitors the indicators for you. When one changes to green, you receive an alert (by email or text). It's a great way:
to stay aware of all your leads, even when you manage multiple
to have a 360 degree continuous overview of each lead
The business cues bring a greater reactivity to your sales force and a better contextualization of actions. By intersecting the data, lead scoring can even become predictive and allow you to anticipate future needs and prospects.
Develop your scenarios
In BtoB, sales cycles are longer. The prospection endeavor spreads over the medium/long term. The challenge is to keep prospects "at the right temperature" until maturity. This is called lead nurturing. Keeping discrete but efficient contact in order to be present at the right moment. To do this, you have to program actions to spread over a standard course. After the first meeting, I send this email. If the person responds, I send this other email. You automize your marketing by constructing an optimal conversion tunnel.
The data: determining raw material
If the formula is foolproof, it must nevertheless be based on qualified data. On what information are your business cues based? How are they kept up to date?
A tool to conduct a qualified and updated overview
This is what Sparklane for Marketing offers with its Datalake tool. Based on a big data technology, it collects current events data circulated via websites like Les Echos, Le Figaro, etc. It connects to their information source bank and refreshes your database continually. Your sales staff can thus base their actions on information which is not only up-to-date, but above all more qualified than any standard prospection file which you could buy.
Hyper-targeting to refine your approach
Having fresh and reliable data at your disposal is one thing, but to use it appropriately, you need to be able to consult it with ease. You have to be able to filter your database in accordance with personalized requests. On Sparklane, you refine your segmentation with the help of hyper-criteria chosen beforehand, individual growth indicators, distribution channels or even presence on social media.
A marketplace analysis to place your performance
A software like Sparklane integrates with your CRM to deepen your database and refine your approach. The depth of market information is linked to your leads on the one hand, but can offer you a broader industry analysis. The Dataviz tool thus highlights your "basket" of contacts compared to the number of similar existing contacts in the industry. This view highlights your current coverage of the market in relation to the untapped potential.
By subtlely linking hyper-targeting with marketing automation, we efficiently personalize the commercial approach. A more refined targeting upstream, carefully monitored actions downstream. The unfolding follows a pre-planned individual course, to be precise and appropriate. This new marketing strategy is a powerful lever for maximizing your conversion rates.