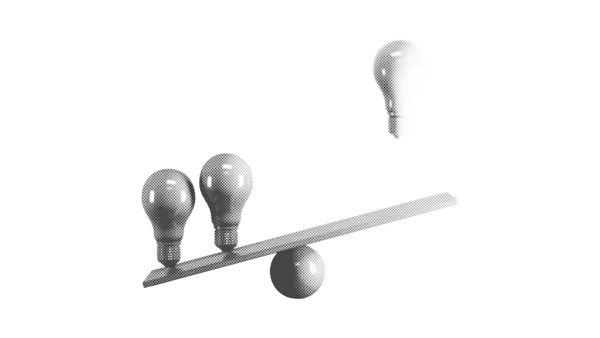 Get Your Project Feasibility Study Right With Our Excel Template
Who said you had to rush the initiation phase of your project? You'd be much better off if you took the time to conduct a proper project feasibility study before getting your engine running.
Indeed, this crucial step will reveal whether your project could really be successful and if your efforts will ever lead to tangible, positive results. This insight could not be more valuable when deciding between kickstarting your project or shelving it.
However, many project managers are put off by the apparent complexity of evaluating the feasibility of their project. But don't let the initial impression fool you: being rigorous and following the proper method is more than enough to complete this task.
You can even cheat a little, with our free Excel template: this file and our foolproof 6-step method will guide you throughout the feasibility study.
But let's start with the basics first, shall we?
What is a feasibility study?
Definition and characteristics
The feasibility study is conducted during the first phase of the project life cycle. This process aims at determining whether the project is viable (or doable), based on the analysis of its different aspects, including:
Economic and financial feasibility: look closely at the resources that will be required to complete the project, and compare them to the expected returns. Doing so allows you to evaluate the profitability of your project.
Technical feasibility: think about the technologies available to your organisation. Is it realistic to carry out this project? Would you need to acquire new equipment, or adapt existing technologies?
Operational and organisational feasibility: what are the organisational resources available to your business? Does it have access to the desired skills and knowledge? If not, could you train your employees, or would recruiting new staff be more appropriate?
Legal feasibility: check if specific legal requirements are applicable, for example, laws relative to personal data protection.
Commercial feasibility: identify the opportunities offered by your market, describe your potential leads and target customers. In short, conduct thorough market research to ensure your project is adapted to specific needs.
As always in the field of project management, these perspectives are to be analysed in view of the delays, quality and deliverables expected for the project.
This study should include the objectives of the project and its timeline. This ensures it can later be used as a basis for the project manager during the next step, mostly throughout the project planning phase.
Feasibility study vs. business plan
Both documents address important aspects of the project. However, they do so from different perspectives.
The feasibility study is designed to convince external stakeholders such as investors that the project is realistic and profitable. It is a demonstration of the soundness of your idea.
The business plan is mostly directed at people within your company: it describes how you'll be able to achieve your results, in terms of the methods and operational strategies used to reach your goals.
What is it useful for?
Regardless of the nature of your project (creating your own company, launching a new product, building a house…), there are many advantages to conducting a feasibility study. This study assesses the practicality of a proposed project, and can help you:
Determine the Key Success Factors of your project and the efforts to ensure success,
Anticipate the risks and constraints associated with the project,
Identify the resources needed to facilitate capacity planning,
Calculate the budget and financial indicators such as the Return on Investment (ROI),
Analyse the different possible scenarios and choose the best strategy,
Communicate clearly on the milestones of your project to all stakeholders,
Ensure that goals are met and needs are fulfilled.
The study should give you an overview of the technical, organisational and economic feasibility of your project. If it is not profitable, evaluate different options or revise your strategy before carrying out the next phase. If nothing seems realistically achievable, consider postponing or scrapping the idea altogether.
Example & Excel template
Carrying out a feasibility study generally implies producing a thorough report. But some elements can be summarised via a simple table or organised on a spreadsheet.
Our free project feasibility template will help you get started. This simple Excel file can be customised to suit the specific needs of your project using any spreadsheet software (Microsoft Excel, Google Sheets…).
Project Feasibility Study Excel Template
Download
How to conduct a feasibility study in 6 steps
Step 1: Define concrete objectives
The feasibility study will bear its fruits only if the final objectives of the project are designed to bring concrete benefits to the company. Setting clear goals will enable you to make the inventory of the means and resources to employ to reach your target.
💡 To help you define meaningful objectives, use the SMART method. An objective should be:
Specific,
Measurable,
Attainable,
Relevant,
Time-bound.
Step 2: Analyse your environment
As much as the success of your project may depend on the internal resources and strengths of your company, no project is free of external influences. Positive or negative externalities can affect the course of your project:
New opportunities could arise or be discovered,
New constraints could be encountered, such as the passing of a new law,
Technological innovations could happen,
Customer habits may change…
💡 Use the PESTEL analysis to help you navigate these external factors, including:
Political factors,
Economic factors,
Social factors,
Technological factors,
Ecological factors,
Legal factors.
Getting a clear picture of the environment of your project will help you evaluate and anticipate risks, but also seize opportunities along the way.
Step 3: Define your needs and budget
What will your project require to succeed? You should list all the needs, among which:
Material needs:

IT equipment,
Machines,
Tools…

Technical needs:

Technologies,
Specifications,
Innovations…

Human Resources:

Skills,
Training,
Consultants…

Production needs:

Stocks,
Factories,
Raw materials…

Sales & marketing needs:

Marketing channels,
Sales pitches,
Communication campaigns...
After listing all the requirements, associate them with their cost based on data analysis. This will give you reliable estimates for your provisional budget and a way to map out cash flows.
Step 4: Calculate your ROI
What would be the use of putting your efforts into a project that doesn't generate sufficient returns, or is a source of losses? This concern is why the feasibility study contains a cost/benefit analysis, designed to evaluate the Return on Investment (ROI).
By estimating the budget and identifying future business opportunities, you can determine whether the project will generate revenue, and if so, how long it will take. This could take months or even years in the case of very long-term oriented endeavours. Therefore, you need to make sure that your business can keep operating until the project becomes a source of cash.
💡 Depending on the nature of your project, and especially if it's a complex enterprise, we advise you to proceed in two steps:
Conduct the first estimation to serve as a preliminary basis. This rough outline allows you to determine if the project is realistic before carrying out a more detailed analysis.
Only then can you calculate the precise expected ROI for different scenarios.
Step 5: Imagine different scenarios
To account for the different ways the execution of your project could play out, you should define three possible scenarios:
An optimistic scenario,
A most likely scenario,
A pessimistic scenario.
Each should provide returns, even the last!
These scenarios should be as detailed as possible, and each could include:
Cash Flow tables to estimate ROI,
Expected delays and timelines,
An outline of the different steps of the project,
The resources that would be needed,
Your strategies (stakeholder engagement plan, sales strategy…).
💡 You may find the SWOT matrix helpful when developing your scenarios. It regroups your strengths and weaknesses, as well as each opportunity and threat.
Step 6: Choose the optimal course of action
Once you have defined all these key elements and weighed the advantages and disadvantages of possible scenarios, you may choose the ideal path to completing your project. You can then proceed to the next phase with confidence and execute your vision.
☝️Don't discard the other scenarios! They could come in handy if you need to adapt your progress to unforeseen circumstances or external changes.
Executive summary
The feasibility study is essential to all kinds of projects. With this guide and our Excel template, you should be able to improve your chances of achieving success! Preparation is key, and this assessment of the practicality of your goals ensures no time and resources are wasted on fruitless efforts.
Be sure to analyse future projects from all angles, assess your strengths and weaknesses and create scenarios to help you make the best decisions. Come prepared and you'll be able to respond to change more efficiently!
Free content
Project Feasibility Study Excel Template
Download
Best tools for you