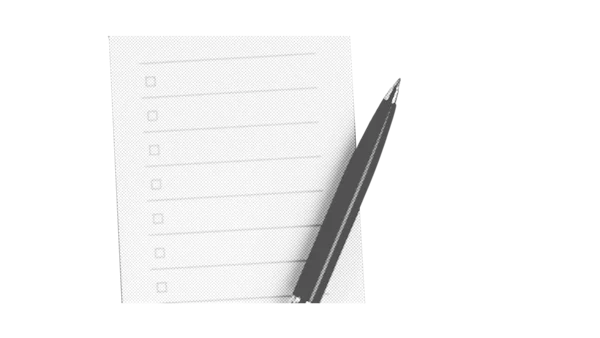 In project management, having a project timeline is essential. It gives a global vision of what you have to do and in which order. It is an essential part of project planning.
It is super important to be organized in order to accomplish different missions, particularly when we speak about project schedules.
Thanks to a project timeline you can situate yourself and evaluate your speed while completing your tasks. With a process like that, you encourage teamwork and inter-communication. Collaborators can share their progress with other team members, customers or management teams.
You want to build a great project management timeline but don't know how? Don't worry, Appvizer is here to guide you through the entire process!
What is a project timeline?
The objective of a project timeline is to determine and schedule the tasks to be carried out within a project, and then to estimate their duration and the resources needed to accomplish them. Project timeline is also called task managing in project management, so we will use both terms for better understanding.
There are several techniques for breaking down a large project into a task list and distributing them on a schedule.
The process of creating a project management timeline consists of a set of actions:
Identification of tasks, thanks to the breakdown of the project and the definition of the project scope,
Prioritization of tasks: the scheduling of tasks in relation to each other,
Task scheduling: their distribution over time,
Task distribution: allocation of resources.
Interconnected, these actions sometimes require moving on to the next step and then readjusting. For example, constraints in the distribution of human resources may lead to a review of the planning.
Planning is of course closely linked to the time factor (when?), but also to:
the objectives (what?)
stakeholders (who?),
methods and tools (how?),
constraints:

resources are often limited (manpower, material);
the duration of the project must be as short as possible;
the cost must be as low as possible and fit within the initial budget;
the quality must be optimal and in accordance with the forecasts.
Thus, 5 essential parameters are to be taken into account:
the quality,
the cost,
the deadline,
performance,
risks.
Why is a project management timeline important?
A project timeline is essential because it allows:
to define the logical sequence of tasks between each and in time,
to express a need for resources or means,
to analyse the workload,
to take into account the risk factors (constraints outside the project),
to compare actual progress with forecasts,
to analyse the consequences of a difference between what was planned and what was actually done,
to identify the "latest" start and "earliest" finish dates of tasks,
to simulate optimistic, pessimistic, or probable assumptions,
to prioritize tasks.
How to create a project timeline?
Step 1: Defining and scheduling tasks
To improve the feasibility of the project, it is necessary to make the tasks more accessible and less frightening, to mobilize and motivate the collaborators. Each completed task then becomes a comforting success.
The division of tasks also makes it easier to estimate the duration and costs and to avoid many risk factors due to projections that are too far off in time. This is called the tunnel effect: it is impossible to evaluate the workload otherwise.
Ideally, the task that is cut out is quick (one day for example) and atomic: it is a unit of the project, it can be carried out alone.
If it depends on the others and its contours are too vague, the breakdown must be reviewed. To do this, several methods can help you.
Mind mapping
This method, which allows you to organize your mind and make well-thought-out decisions by looking at a problem, can be used individually or in groups. You can create mind maps on whiteboards, on a wall or on your computer by writing your ideas on virtual cards or real-life post-its.
The main objective is written in the centre, giving rise to branches of keywords that are created as you go along, from which other ideas, tasks, and constraints start. The diagram goes from the general (in the centre) to the specific.
Project manager, project team, your work does not stop there: now that the different tasks are well identified, you need to establish their interconnection (or interdependence).
The tasks can be :
successive,
simultaneous,
convergent.
But which ones should be done first for a logical and fluid sequence?
Two criteria come into play:
The importance of the task in the overall project,
Its degree of urgency.
The Work Breakdown Structure (WBS)
The Work Breakdown Structure is one of the best-known operational methods for dividing a project into manageable units.
It is a hierarchical mapping that starts from the major activities to be performed, i.e. the main deliverables and sub-deliverables (hereafter mother project and child tasks) to the tasks required to perform them and the sub-tasks.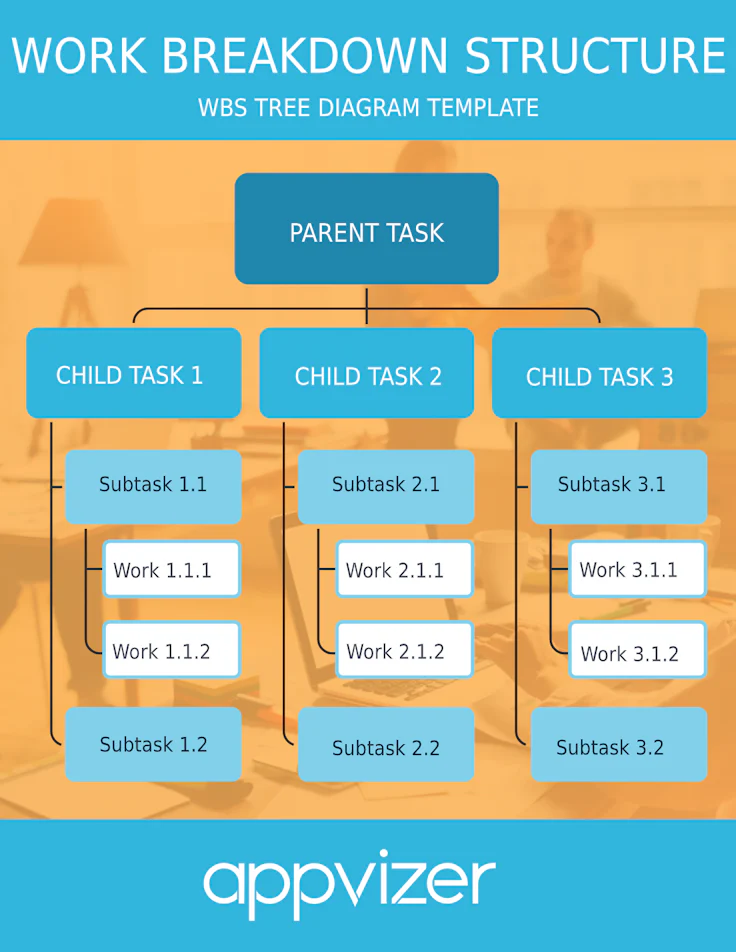 To do this, you must:
have completed a comprehensive inventory of all these deliverables and tasks upstream,
identify the interdependent tasks linked to well-defined deliverables and sub-deliverables (organized above in columns).
The MoSCoW method
In agile project management, the MoSCoW prioritization method focuses precisely on the importance of the task and its impact on the project's completion.
There are tasks :
Must have: indispensable,
Should have: important,
Could have: little impact,
Won't have but would like: optional.
The Eisenhower matrix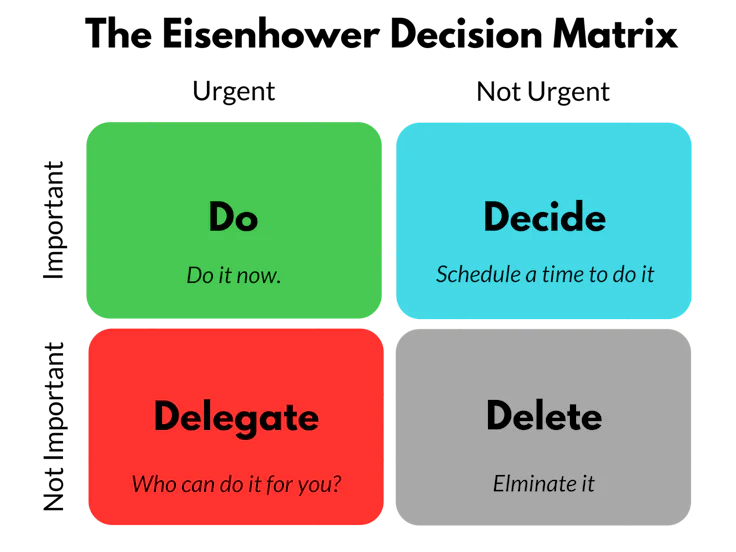 © Medium
The Eisenhower matrix allows you to understand what is important or not and what is urgent or not. It helps you to define an order of priority.
PERT chart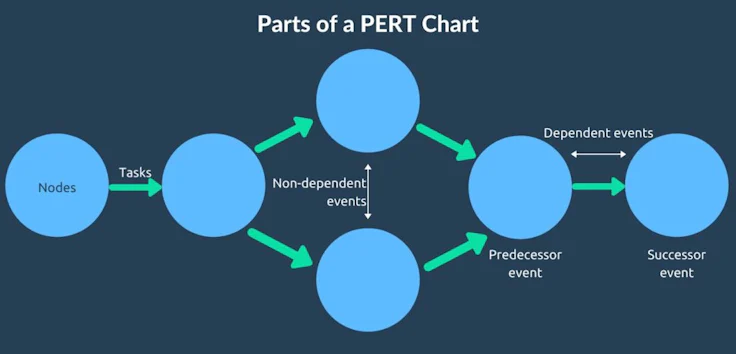 © HubstaffBlog
The arrow that links bubbles together should also indicate time. This estimated time establishes the shortest path, but also leads to the critical path method, which identifies the most critical path to reach the goal.
This diagram scopes all the events that will occur for the project. It also shows task dependencies. You are free to add or change the tasks. The PERT chart exposes the milestones of your projects.
A well-made PERT chart will naturally lead you to a Gantt chart.
Step 2: Planning and task allocation
As with the task breakdown and scheduling methods, these two phases are combined in one point because they go hand in hand.
Many project timeline planning tools exist to help you. Excel can be seen as complex for novices, but also:
time-consuming,
not adapted to collaborative work,
not mobile,
not very readable when many tasks are planned.
The critical chain method (CCM)
To compensate for the shortcomings of the critical path method, many project managers recommend the critical chain method instead, because it takes into account:
the available resources, their levelling,
the risk factors (hidden costs, delays, failures),
the different priority conflicts due to the multitasking of employees
the pooling of safety margins for critical tasks (project buffer)
The Gantt chart
It graphically presents the progress of tasks and their deadlines, with the list of activities (on the ordinate) and the time units (on the abscissa).
Each of these tasks can be linked to :
resources (human or material resources),
connections (with other tasks),
dates (start and end).
The Gantt chart is widely used because it is :
easy to use,
convenient to update,
easily understood by both experts and novices,
very visual,
structuring,
collaborative,
dynamic.
Project timeline template
If you haven't acquired a dedicated project timeline software yet, you'll be pleased to know it's easy to create a project timeline in Excel! To help you with your project, Appvizer has created a free Excel project timeline template: download your own Gantt chart in one click!
Work smarter, use the right tools!
Building your project management timeline might seem like a tough task. Taking it step by step and using the right project management software will make the whole process easier.
You can create a project timeline in real-time and manage your project from start to finish easily with the right project management tools, while enjoying convenient communication and collaboration features.
Regardless of the way to work and tools chosen, be sure to not forget key elements, define a clear project scope and organise tasks in chronological order.
Always remember: when you have the right tools in hand, you work smarter!
Software Recommendations