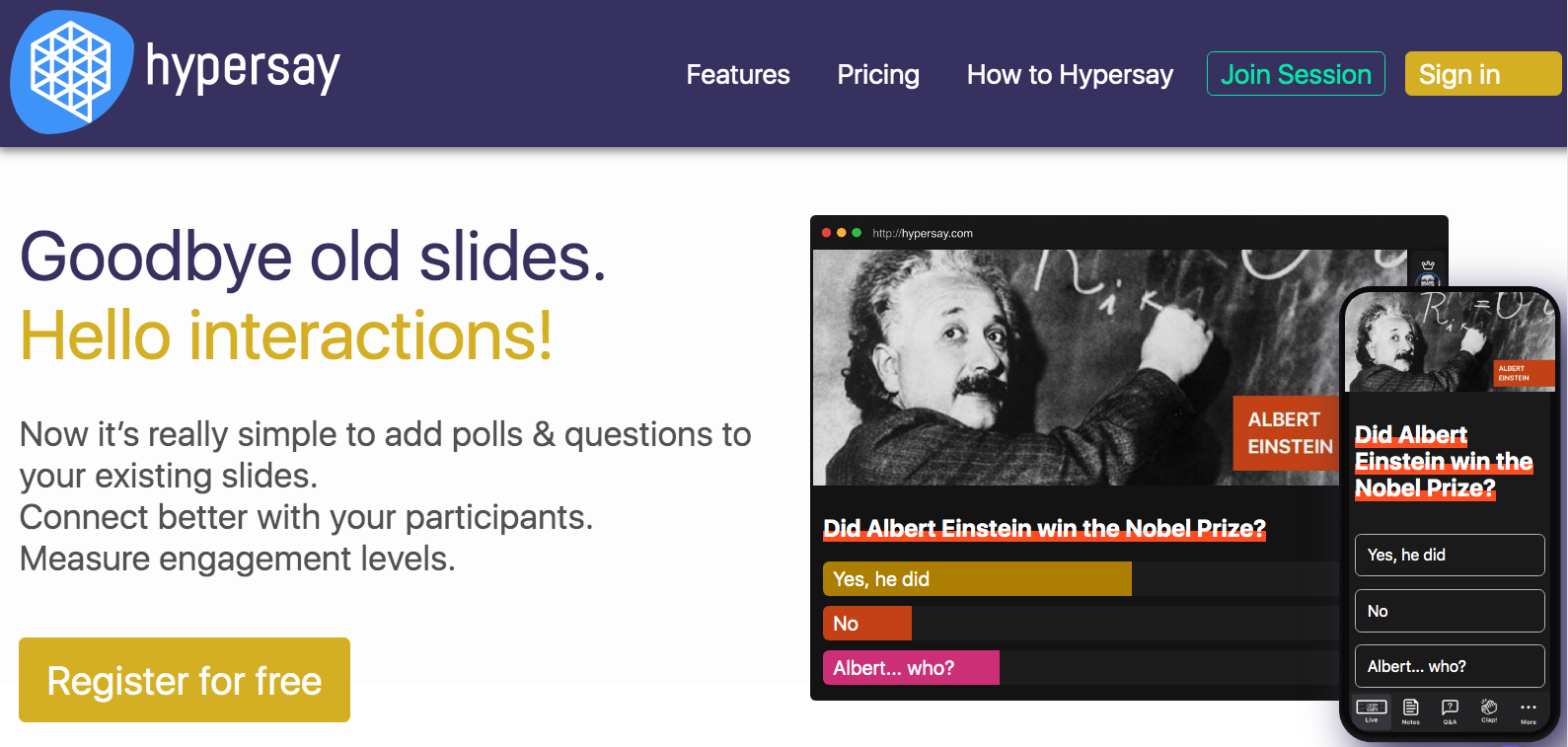 Hypersay Education
Presentation of Hypersay Education
Good presenters have great slides
Great presenters know how to get their audience involved.
Hypersay gives you an easy way add live polls, quizzes, open questions, interactive images and videos.
Add interactions to your slides
Once you've uploaded your slides, you are ready to start adding interactions. We provide templates from simple yes/no polls to complex opinion (Likert) scales to suit all your enquiring needs. Diversify by using open-ended questions, interactive images and other quirky ways to capture your audience's attention.
Show time! Go live!
Now you are ready to start your presentation. Use the "welcome screen" to share the secret code with your audience, see how they connect to your session and, when ready, hit the "start session button". Show time!
We offer you fine controls such as freezing the questions and revealing the answers only when needed. Gather questions on the question wall and keep an eye on their participation levels. All from one screen.
How did it go? See analytics
Great presentations don't end when you leave the room! After you close the session you can immediately access session analytics. Here you can take the "digital pulse" of your participants: see how engaged they were, who lagged behind and who performed above expectations and even learn about your own time spent on specific slides. A wealth of data to improve your next sessions.
All features
Before session
Upload Presentations - Start by uploading your slides (Powerpoint, PDF or Google Slides).
Polls / Quizzes - Use templates to define live polls & quizzes and add them to your slides.
Opinion Scales - Use 5-step Likert scales to assess your audience opinions.
Live Open Questions - Add open questions with limited length answers.
Interactive Images - Upload images & allow participants to drag dots.
Videos - Embed YouTube / Vimeo videos in your presentation.
Secure OTP Authentication Sign in using social media or a secure One Time Password.
Multiple Language Interface - Switch from English to Italian, Romaninan, French, Spanish or Portuguese.
Go live
Live Slide Sharing - Share slides with participants in real-time on their devices.
Freeze Answers - You can freeze answers on a specific quiz.
Audience Q&A Wall- Crowdsource questions from participants displayed in order of votes received
Question Wall Moderation - Presenters can moderate the questions asked by participants.
Claps - Participants can send claps during the presentation.
Clicker - Use a clicker to advance slides. Stay handsfree during your presentation.
Private Notes - Participants can take private notes which stay linked to specific slides.
Feedback - Gather instantaneous feedback at the end of your session.
Phonetic Codes - Share your session using easy-to-pronounce codes.
Anonymity - Allow unregistered participants to join.
Post Session
Download data as CSV - Export data from your presentation into CSV format.
Digital Pulse - Analyse how engaged your participants were during your session. Actionable session analytics.
Follow up - Quickly email your registered participants after your session.
Embedded feedback form - Encourage feedback by asking your participants to use the embedded form.
Pricing
Pay for what you need. Start with free session of up to 20 participants. For more, upgrade a single session or purchase a subscription. Having an event? Choose the right package.
Single presentation
$3.99 per presentation
Max. participants / session: 20
Pro sessions: 1
Unlimited interactions
Session Analytics
Advanced session control
Individual plan
$9.99 per month, billed annually
Max. participants / session: 20-200
Pro sessions: unlimited
Unlimited interactions
Session Analytics
Advanced session control
Events
up to 500
$50 per day, up to 500 participants
Max. participants / session: 20-500
Pro sessions: 3
Unlimited interactions
Session Analytics
Advanced session control
Advantages of Hypersay Education
live slide sharing

presentation tool

Certifications:Anti-fraude, Cloud confidence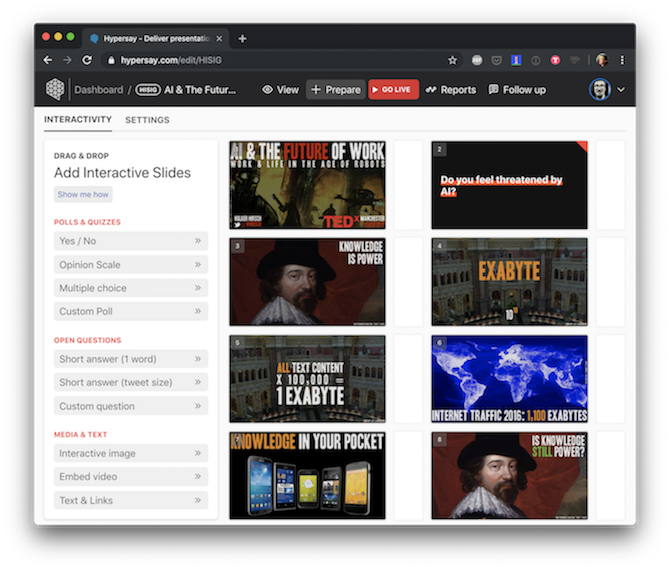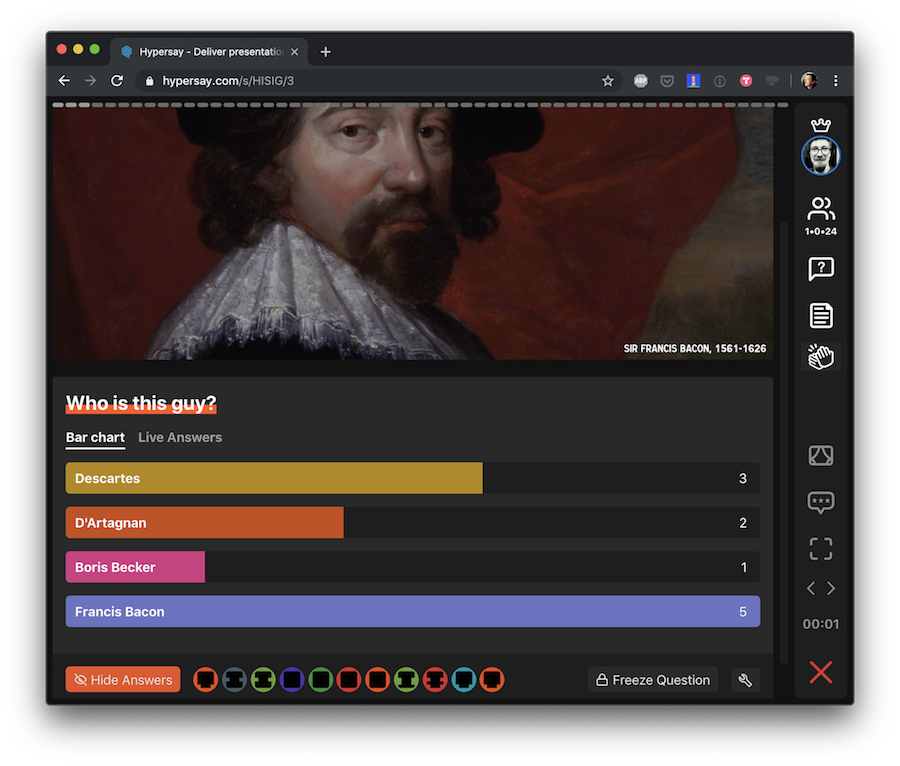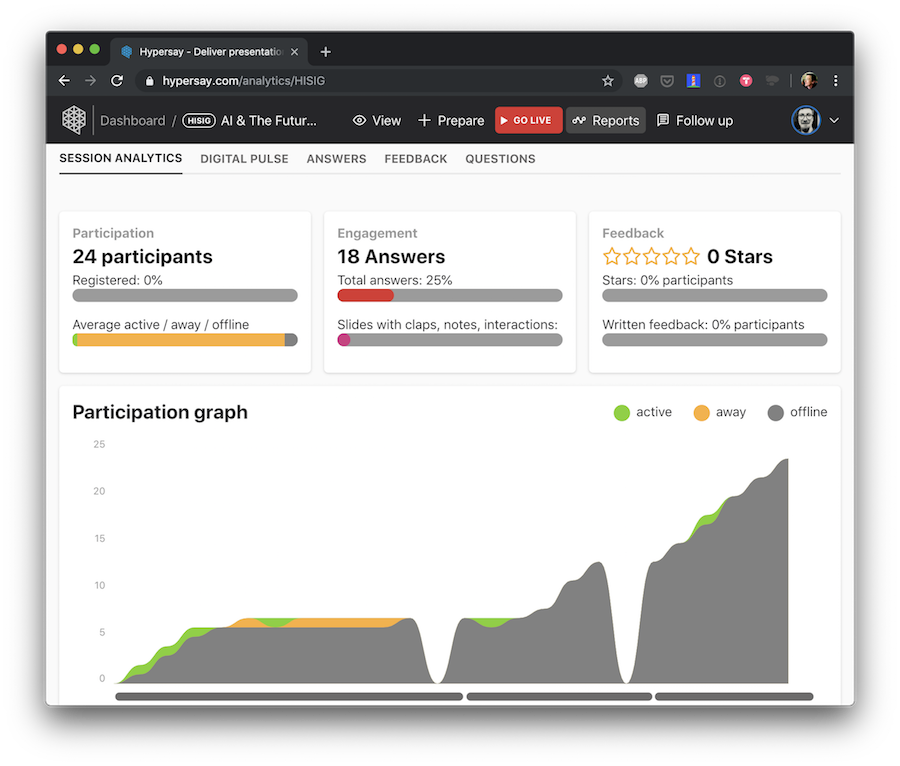 Prices and features of Hypersay Education
Collaboration
Private Connections Between Users
+ 6 other features
Collaboration
Private Connections Between Users
+ 6 other features
Customer reviews about Hypersay Education (0)
No reviews, be the first to submit yours.