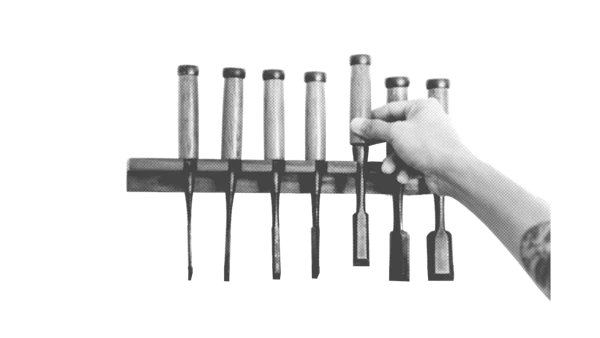 Invoicing software for SMEs are tools dedicated to the management of budgets and invoices adapted to small and medium-sized companies.
The use of these is not mandatory, however, they have multiple advantages, especially ensuring that your invoicing management meets the standards set by the tax authorities.
With an online invoicing solution (or in SaaS mode), you get flexibility and speed in the preparation of your invoices.
Which invoicing software to choose for your company? Follow the tips in this article, where we compare our selection of invoicing software's features and benefits for a perfect financial control and organization for small businesses.
Software name
Features
Benefits
Target companies
Brightbook

Invoicing

Web-based

Multi-currency

Bills and expense

Create invoices, statements and quotes with your own logo in any currency

PayPal & bank statements integration

Freelancers, contractors and small businesses

Hiveage

Free Invoice making

Payment gateways

Recurring bills

Updates of invoices' status

Every transaction recap

Freelancers, contractors and small businesses

Square

Invoices tracking

Custom invoice templates

Quicker payments

Access to unlimited invoices, estimates & more

Customer directory: client's info synchronization with every square tool

Small business owners

Wave

Invoice on the go

Multi-currency

iOS and Android apps

Payment reminders

Free sync of Wave invoice & accounting for better finance organization

Small businesses

Zoho Invoice

Client portal

Time tracking

Expenses tracking

Mobile application

Option of free invoices in any currency and in 17 languages

ESIGN and eIDAS e-signature laws

Small to medium-sized companies
Brightbook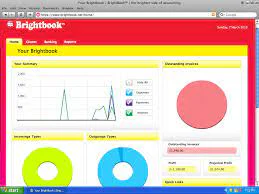 ©Brightbook
For whom? Brightbook is for freelancers, contractors and small businesses.
What is Brightbook?
Brightbook is a secure, web-based and free online accounting system that requires no previous experience.
Features
Invoicing
Web-based
Banking
Multi-currency
Bills and expenses
Multiple users
Advantages
Invoicing: Upload your company's logo onto Brightbook and you can create emails, quotes, statements with your company's logo in any currency. And if you want to duplicate your invoices for another company, client, you can easily click on the "copy' icon and change the necessary information.
Dashboard: Represented both in graphs, which indicate your invoices, revenue and expenses and in pie chart, for the amount you're over a certain period of time. So, thanks to this representation you can quickly see your cashflow, the money that you are owed and how much you owe.
Multi-currency: Create invoices, statements and quotes with your own logo in any currency and directly email them by clicking on "Save and Email" where you get to review before sending them.
Banking: Involves importing bank statements in a QIF format to track your transactions. For money, you've received, you'll need to choose who the payment was from and for expenses, the type of bill and payment method. Thanks to these options and the "save" button you will have clicked, Brightbook will remember this information for future transactions, simplifying the entire process.
Integration: If you've got a PayPal account, you can receive payments even quicker. If the client is given access to his account, the part that details what he owes you will be highlighted, making him aware of his debts and incite him to pay it.
Track your bills & expenses: Thanks to the dashboard, your bills and expenses are visible in the gallery view. You can check from who owes, to who paid you and even claim back expenses.
Why we recommend it?
It is free and easy to use and basically simplifies your life. You can send unlimited invoices. The platform is accessible anywhere and anytime, information is indicated in real-time to control your cashflow. Finally, if you feel like you want to export your data, you can.

Free Invoicing Software
Learn more about Brightbook
Hiveage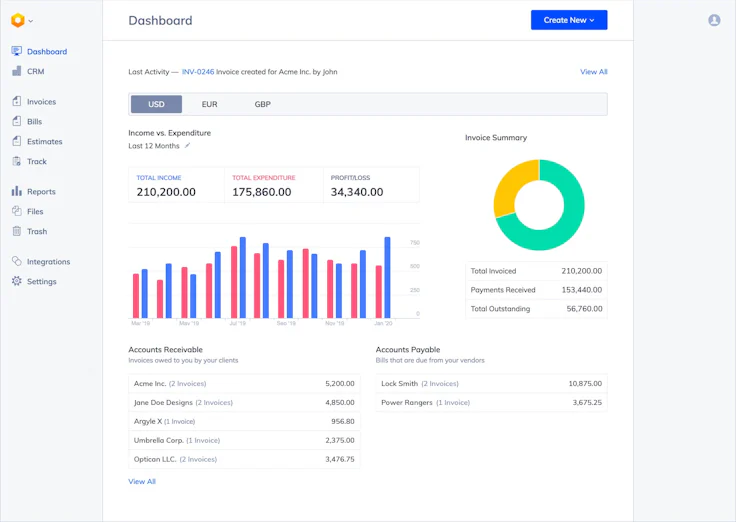 ©Hiveage
For whom? Hiveage is for freelancers and small businesses.
What is Hiveage
Hiveage is an online invoicing software
Features
Free Invoice making
Payment gateways
Recurring bills
Time tracking
Expense tracking
Financial reports
Benefits
Free invoices: Pre-designed invoices to choose from to send to your clients, or estimates that you can easily convert into invoices. Simply integrate your data and click "send".
There is no need to be stressed out, Hiveage even tracks all your payments by giving you updates about your invoices' status to even sending you payment reminders.
Tax and fees calculations: Hiveage will deal with those for you. Simply save them in Hiveage, and they will deal with the rest for you.
Financial report: That is represented in charts that recap every transaction, even monthly if you'd like to measure your performance.
Time tracking: You can conserve tasks that you want to reuse in the Hiveage's 'saved' category to avoid refilling the same information of a recurring client. In addition, Hiveage lets you record the time it took for you to work on a task thanks to the billable rate option. You can get paid exactly for the amount of hours it took you to do the job.
Recurring billing/ auto-billing: If you regularly deal with a client who has to pay you, just set up set recurring payments so that Hiveage can remind you.
Teamwork: If you have more than one business, you can comment, share statements with the rest of your team members and can manage every one of your company's finances in your Hiveage account.
Mileage tracking: Set up business mileage rates. Just enter the rate for the concerned trip.
Why we recommend Hiveage?
We recommend Hiveage because it is trusted by more than 50,000 users. They are accessible everywhere, meaning intuitive, thanks to their app. One important fact as well, is that, not only do they believe in customer's satisfaction but team members' wellness. Remember, the internal is the result of the external result and employees' happiness can only benefit customer's experience.

Online Invoicing for small businesses
Learn more about Hiveage
Square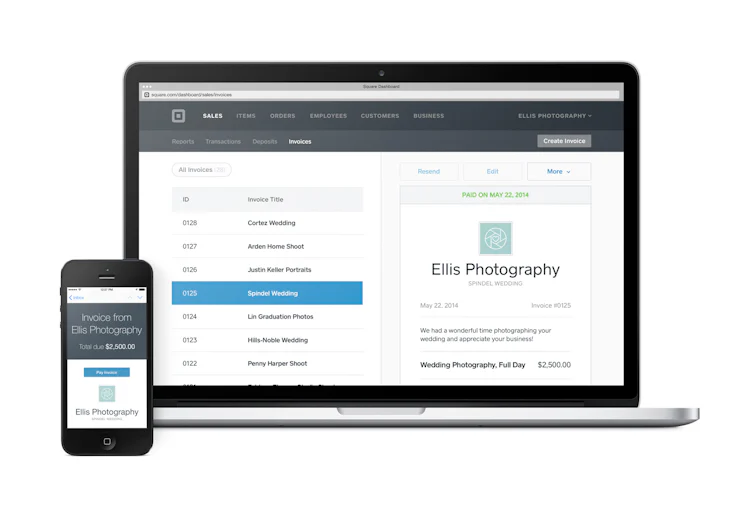 ©Square
For whom? Square is great for small business owners.
What is Square?
Square is a free invoicing software.
Features
Invoices tracking
Custom invoice templates
Quicker payments
24/7 payments
Integration
Estimates
Benefits:
No monthly fees: Get access to unlimited invoices, estimates and contracts. You can download free invoice template for your business.
Application available: The app helps you to keep of finances anywhere. Quickly send estimates, invoices, reminders, which saves an immense amount of time. Plus, it is free to download and to use.
Integration: Clients can send you money 24/7 with a credit card, Apple Pay, Google Pay, ACH bank transfer, or Square Gift Card.
Customer directory: After a sale with a client or customer, you can integrate this information with every square product to facilitate customer's response and communication in real-time. It is important to keep them coming back. And if it seems too good to be true, it is free.
Why we recommend Square?
We recommend Square because not only do they speak of the benefits of their features, they also have written articles on how to create a business and be successful at it. It is a thoroughly thought out brand that truly believe in customer's and small businesses' prosperity.

Billing and Invoicing Software
Learn more about Square Invoices
Wave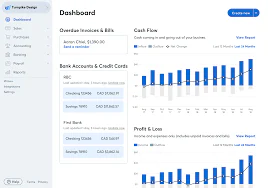 ©Wave
What is Wave?
Wave is an easy and free financial software for small businesses.
Features
Invoice on the go
Multi-currency
iOS and Android apps
Payment reminders
invoice personalization
Benefits
Send personalized invoices: from the free invoicing templates that are Wave offers, you can send invoices to your clients, letting of old-time method of spreadsheets.
Synchronization: Every invoicing and payment information is automatically synced with the Wave Accounting software to track your finances. And, not one single payment is required for this feature.
Invoicing prioritising: Waves lets you view the history of your invoices and reminders for a perfect organization and handling of your finances.
Notification: You get notifications, so you can know what needs to be done and dealt with.
Online payment: Thanks to a pay now button on Wave, your customers will receive their invoices and can directly pay you online. Which is quite effective for everyone and prevents unnecessary business trips.
Why we recommend Wave?
It takes small businesses' budget into consideration. Their platform has unlimited free access.

Free invoicing software
Learn more about Wave Invoicing
Zoho invoice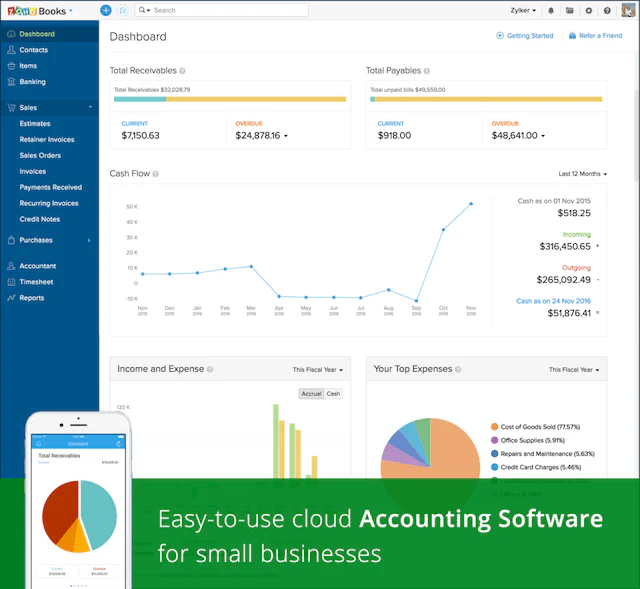 ©Zoho invoice
For whom?
Zoho is suited for small businesses.
What is Zoho invoice?
Zoho invoice is a software that automates your quotes, invoices and customer reminders. Its fast and intuitive interface makes invoicing less tedious and helps you wherever you are through its mobile application.
Feature
Client portal
Time tracking
Expenses tracking
Estimates conversion
Payments tracking
Mobile application.
Simple and fun interface.
Integrations with: PayPal, G Suite, Dropbox, One Drive.
Benefits
Invoicing & billing automation: is beneficial for small businesses' organization as they do not have the means to possess a finance department.
Security: Prevent signature forgery thanks to their Zoho sign compliance with ESIGN and eIDAS e-signature laws.
Multilingual and multi-currency: Design invoices in the 17 languages and any currency of your client.
Invoice sharing: You can send or print invoices if you like.
Invoice check: You can verify invoices before you send them to avoid transaction errors.
Why we recommend Zoho invoice?
As they truly believe in simplicity, you can arrange a free 2-hour demo with their expert of how to use their software based on your business needs and workflow. It simplifies payments with integrations, 24/7 accessibility.
Don't forget to let us know what you think.

Online billing and invoicing software for small businesses
Learn more about Zoho Invoice
Software Recommendations