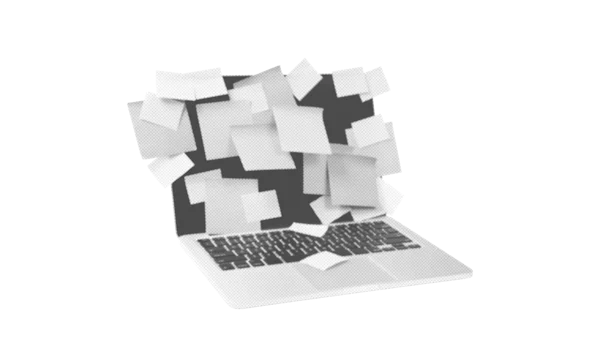 The Fours Pillars of Digital Transformation: SMAC
Social, Mobile, Analytics, and Cloud or SMAC represent the 4 main investments in IT to make for your business to embrace the unavoidable trend towards digital transformation. A successful transition process means retaining or gaining a decisive competitive advantage in the digital age.
SMAC can be seen as indicators of your technological maturity. Indeed, undergoing a change toward digitization is not only about innovation anymore. It's about adapting business models, value propositions and workflows to long-term market trends.
A wide range of key areas can be streamlined and optimised, from customer experience to most business processes.
Below you'll find an overview of the four pillars of SMAC, and the challenges they tackle.
What does SMAC stand for?
This acronym stands for 4 interdependent technological advances that have already started to play a key role in the way businesses function in the 21st century. These are the main trends that are expected to shape markets and customer habits, and are at the root of the digital transformation.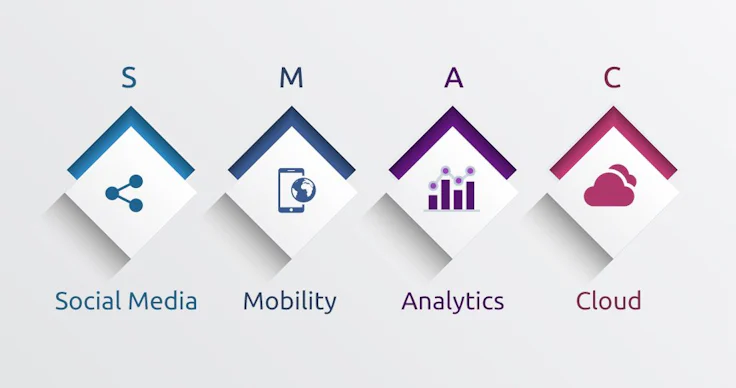 The four letters stand for:
Social
Mobile
Analytics
Cloud
Each of these technologies can help tackle key challenges. They have given rise to new habits, social customs and standards.
The challenges tackled by SMAC
Social
Social media have taken a central role in the creation, diffusion and sharing of content. They affect more and more aspects of our lives, and their influence extends to people from all social and age groups.
Social media are essential to:
Communication, including corporate communication, with the rise of corporate social networks
Marketing, through the ever-growing role of influencers and social selling
Sales, thanks to social commerce: Facebook and Instagram both offer services for vendors to promote their products directly within their networks
Customer Relationship Management: Social CRMs integrate social media channels to communicate with your customers directly
Human Resources: HR communication and the promotion of your employer brand could leverage social networks
☝️ To implement Social in your strategy, you could:
integrate Facebook, Twitter or LinkedIn into your communication and marketing budget: these social media could help you develop your e-reputation via impactful tweets or posts
invest in collaboration tools (videoconference, chat software..): these could help share knowledge in real-time and favour participative management
Mobility
You've probably heard the word "responsive" a million times before. This concept means adapting digital content to all screen sizes and devices (smartphones, tablets, laptops and desktop).
Lately, "mobile first" has become the watchword. Your web design strategy should focus on delivering the best experience for mobile devices first.
Google favours websites optimised for mobile browsing, or ATAWAD (anytime, anywhere, any device). The majority of web searches are done through mobile since 2017.
The latest evolution of mobile technology include:
geolocation, which has enabled finer behavioural analysis and more helpful content to be pushed to customers
mobile payment
electronic signatures
☝️ To make your strategy more Mobile, you could:
equip your sales team with a mobile CRM to plan sales trips and share data in real-time
develop teleworking: the entire office can be digitized and become mobile, turning into a digital workplace
develop mobile apps to build more interactive and personalised interfaces and services, which could integrate geolocation
Analytics
A key issue in the digital age is data, and its exploitation by Artificial Intelligence (AI) and machine learning. Businesses leverage big data, small data and smart data to obtain statistics and gain meaningful insights on the best course of action to take.
Data analytics can be used for the following purposes:
knowing your customers better
managing and maintaining machines more efficiently
anticipating the needs of your business and customers
automating processes (marketing automation, chatbots…)
☝️ Below are a few use cases in which you could make use of Analytics:
you could exploit data from machines through sensors (with the help of the Internet of Things or IoT) to improve the performance and stability of your production chain, and therefore customer loyalty
you could use customer data to adapt your value proposition and message: a customer-centric approach means choosing the right marketing channels and helping your sales team focus on the most qualified leads
Cloud
Without a robust cloud infrastructure, SMAC cannot be implemented properly. Cloud services serve as an essential base to:
store massive amounts of data on remote servers
share this data and access your data online
view your data anywhere, from any device and in real-time
To make other SMAC investments possible, a robust cloud solution should be available first. This is where you should start if you haven't already.
☝️ Some services which rely on the Cloud:
SaaS software, which enables collaboration, mobile use, real-time synchronisation and data collection. Cloud applications are developed by specialised editors like SAP, and offer multiple advantages compared to traditional tools
dedicated portals for stakeholders such as users, collaborators, suppliers and clients to access relevant information, including administrative and financial documents
Bonus: Security
Following the development of data analysis, artificial intelligence and cloud computing, cybersecurity has had to evolve to:
create a regulatory framework to control the rise of SMAC
ensure these developments are made in the best interest of the public
Countries and governments across the world are becoming increasingly aware of the importance of guaranteeing privacy laws and ethics are enforced.
☝️ To take Security into account in your approach, you could:
use software dedicated to data backups and archiving
integrate privacy by design, ensuring your website and platforms comply with the latest international standards from their inception
Ready to adopt Social Mobile Analytics & Cloud?
As we've seen, SMAC is the 4 pillars for the implementation of a successful digital transformation. These technologies should be integrated into your HR, marketing, product and sales strategies to improve:
productivity
revenue
competitiveness
reputation
If your company has the means to do so, you could hire a Chief Digital Officer to provide guidance and achieve the best results.
Investing in systems capable of using the full potential of social mobile analytics and cloud could offer great returns in the long run!
Best tools for you