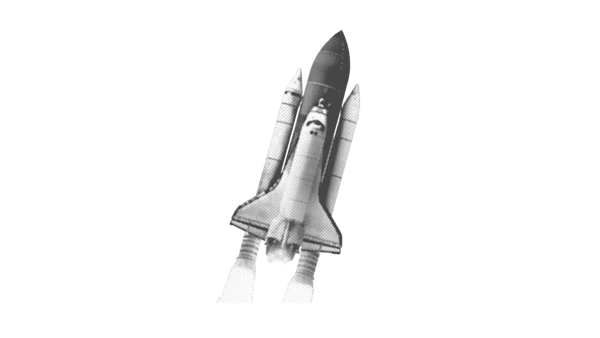 Lead generation in digital marketing has become a major challenge for any company and digital marketers wishing to grow their business.
According to SLN Web, 65% to 90% of B2B buyers make their own purchasing decisions, thanks in particular to Internet research. Moreover, 90% of decision-makers say they never answer a telephone prospecting call.
This is one of the reasons why it is time for companies to implement a winning lead generation strategy, in order to boost their turnover thanks to sales and marketing techniques that embrace new consumer habits.
But how to establish such a strategy? What are the steps to follow?
This article sheds light on the techniques and habits to adopt to convert your targets into quality leads!
Lead generation in digital marketing
Definition
Lead generation in digital marketing refers to all actions that create more or less qualified commercial contacts, most often referred to as leads, in the digital world.
💡 When a lead becomes "mature" enough to be entrusted to a salesperson, it is then called a prospect.
Why generate leads?
A lead, by nature, has shown enough interest in your products and services to leave you their personal data, by filling out a contact form for example.
Lead generation in digital marketing is therefore an excellent business development lever.
But in order to qualify a contact and determine if it will be appropriate to develop, it is necessary to put in place a strategy whose ultimate goal is conversion.
Appvizer gives you all the tips to create the perfect lead generation strategy!
How to build a strong lead generation in digital marketing
Step #1: Set your business goals
The volume and quality of the leads you want to generate are linked to the objectives you set beforehand.
Before starting any acquisition campaign, you need to find a compromise between:
the investment to be made in lead generation and research,
the expected results.
It is then possible to define a budget, as well as performance indicators to measure the return on investment (ROI).
Step #2: Determine how to address your target
Identifying your persona
Working on the buyer persona allows you to gather relevant information about your potential buyer:
sociodemographic characteristics:

age,
profession,
geographical location, etc.

their needs,
their buying behaviour,
their evolution, etc.
Thanks to the construction of this typical profile, you are better able to target your actions.
💡 To build your personas, some information research approaches are possible:
probe the multi-channel database,
analyse external files,
study partner sites, etc.
Analysing search intentions
Through the analysis of search engine intentions, through the pages positioned on a query, you identify the motivations of your targets.
You are now armed to create content that is relevant!
Understanding the buyer's journey
Understanding the buyer's journey means knowing exactly what type of actions and content to deliver at each stage.
In other words, your target's state of mind and degree of maturity regarding their buying intention evolves throughout this journey. Your lead generation strategy must be refined in accordance with this process.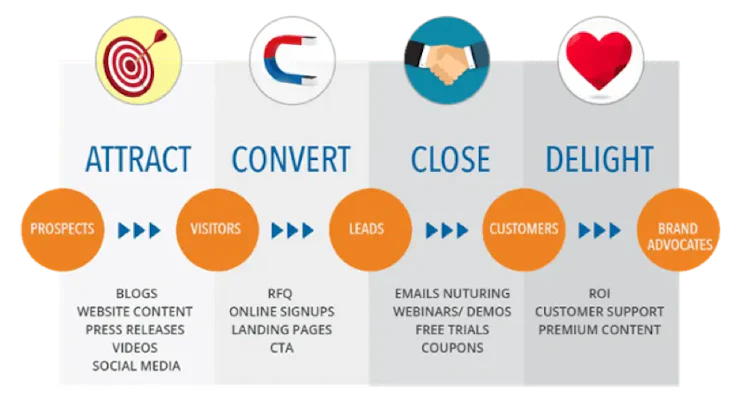 © Sevenatoms
Conducting competitive intelligence
Finally, by examining the strategy adopted by your competitors, you will unearth information on:
your main targets,
where they are,
what is required to engage them.
Step #3: Develop a content marketing strategy
Improving your SEO strategies
To promote your online business, you should optimize your website so that it comes up in Google results when your target audience searches the web.
The work on natural referencing allows you to position your site and generate traffic, through actions related to semantics, including:
keywords,
tags,
titles,
meta description, etc.
💡 This SEO work can be judiciously completed by SEA actions (paid referencing): the purchase of sponsored links indeed allows your site to be displayed at the top of the results.
Offering quality content
Your target audience has been guided to your site, good job! However, the work is not over!
Your pages must offer quality content, with high added value, to encourage visitors to discover your brand and, ideally, to leave their contact information.
This is one of the main techniques used in inbound marketing: to make prospects come "naturally" to your site and encourage them to discover your products or services. For this, a knowledge of the target audience, their needs and motivations, is essential.
💡 Have you considered the lead magnet? It is a free offer that you make available in exchange for information (most often contact information). It can be:
a white paper to download,
a contact form,
an online information request,
participation in an online event or training, etc.
Step #4: Consider other channels
While we know, for example, that generating leads in B2B is mainly done through SEO, it is important to diversify the channels. This way, you benefit from the advantages of each one.
This reflection must be based on:
your offer,
your persona,
your budgetary resources,
the time resources you have available.
☝️ Always analyse the performance related to each channel, in order to readjust your strategy as needed.
Social networks
Engaging your audience is essential, especially in a digital context. With the now-widespread use of social media, it becomes essential, even for BtoB companies, to federate a community and create a bond with their customers.
💡 Beyond engagement, the social selling technique is now used to generate leads on Facebook, Instagram, LinkedIn, etc. Indeed, it aims to use social media to identify new prospects, and thus increase sales.
Online advertising
The lever of online advertising should be considered seriously, especially in digital marketing. It is certainly an investment but combined with other actions, it can pay off.
You can, for example, broadcast banner ads on a previously chosen third-party site: any click of the Internet user will redirect the latter directly to the page of your offer or to a registration form.
💡 In addition, tracking tools are often offered. This way, you track the target audience throughout their internet browsing.
Step #5: Convert your site visitors
To get the data that will turn your visitors into qualified leads, implement a number of actions directly on the pages of your site, once the previous strategies have paid off.
Don't neglect call-to-actions and landing pages
A call-to-action button (or CTA), inciting to click, redirects visitors to a landing page. On this page, there are fields to fill out in order to collect their names and email addresses.
These call-to-actions, as their name indicates, are intended to really incite the action! Visible on your site, your blog posts or your emails, at different stages of the conversion funnel, they must benefit from:
an impactful design,
a message that makes you want to take action. Example: Download your 100% free guide.
As for landing pages, they are no exception to these rules. In fact, they are often the first point of entry for Internet users on your site! That's why we recommend that you work on them to make them engaging, through contact forms that:
are well-designed,
correctly presented,
and provide a sincere answer to your audience's problems.
Work on the user experience
To complete your content strategy, it is necessary that your whole website offers an optimal user experience.
However, an attractive website is not the only prerequisite. Take an interest in its functional aspect, in order to make the interface pleasant and the navigation fluid to facilitate the search for information.
For this, it is necessary to know the profile of your target (identified earlier), and in particular its preferences and tastes. These will influence your design choices.
💡 To encourage your audience to act, it is important to:
grab their attention with engaging visuals,
prioritize the information in a clear and fluid way to remove any obstacle to action,
respond to their expectations, with a study conducted beforehand,
optimize navigation by taking care of the performance and the functionalities of your site,
avoid intrusive content or any feature that could be harmful to their visit to the site.
Step 6: Care for your lead relationships
Launch emailing campaigns
The principle is as follows: once you have obtained contacts, send information or promotional offers by email in order to arouse their interest and make them want to contact you again.
💡 This emailing approach carries the risk that the email will be filtered as spam or not considered, lost in numerous emails received every day. To avoid this, it is necessary to:
find a catchy subject line,
work on attractive content that answers the demand,
not neglect the call to action to redirect the prospect to your website or a landing page.
Adopt lead nurturing
Once a relationship has been created with your leads, and once you have obtained the contact information of a potential customer, don't risk letting people go!
To do this, plan to accompany them and maintain the relationship by taking care of them.
💡 Lead nurturing refers to all the methods that bring a new contact to the level of maturity required to make a purchase. Achieving this goal involves, among other things, advice and the desire to provide them with a real solution to their problems and needs.
Step 7: Analyse the impact and ROI
To evaluate the impact of any strategy and improve its performance, it is necessary to analyse it and make reports.
Depending on the results, you may need to modify pages, messages or buttons to improve your lead generation performance.
Well-configured tracking tools will help you in your analysis, like Google Analytics or HubSpot.
Examples of indicators to track:
Conversion rate: this is one of the criteria to evaluate the profitability of a lead generation campaign. It is based on the ratio between the number of visitors and the number of qualified leads.
Costs: per qualified contact, per sale and for a given action, they also prove to be indicators of ROI.
Ready, Steady, Generate!
Ultimately, the lead management process contributes to spreading a positive image of your company to your potential customers. It guides them along a path that, in the best case, will end with a purchase.
But to transform your qualified leads into customers and guarantee a good ROI, don't hesitate to opt for an adapted software solution: the results will speak for themselves, so do the test!
And you, what actions do you take to boost lead generation in digital marketing?