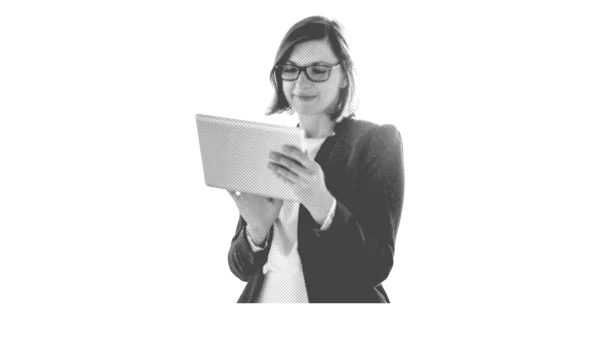 In this article we explain the basics of visitor tracking and how Visiblee might be the software for your business.
Why unmask your website's visitors?
While there are some clear risks involved in gathering information about visitors to your website, the intention is to use the information responsibly and merely get in touch with potential customers – it is the ultimate targeted marketing tool. This practise is now becoming commonplace and companies are paying anywhere between around 50 and 2000 dollars a month for this service. So is following up visitors of your website with emails spamming or just intelligent business? It comes down to your approach and the ethics of your organisation.
Visiblee: Making the invisible visible
"Make the invisible visible": this is Visiblee's motto. The first of its kind, the Visiblee Lead Generation solution identifies individual website visitors for you, enabling the sales teams to increase their sales by transforming otherwise anonymous website visitors into qualified leads. While similar products have been able to offer general information about visitors – such as the geographic region and company of the visitor, Visiblee offers much more in-depth information about visitors, such as email addresses, phone numbers and job positions, for example. Visiblee is thus an excellent software choice for web marketers since they can develop targeted marketing campaigns and capitalize on highly valuable information about their potential clients, rather than casting their nets out wide and blindly.
Generating leads is a tough business; B2B (business to business) companies are big investors in the digital marketing scene, attempting to attract website visitors through emails, content marketing, Adwords, etc. However, the conversion rate of these efforts is generally very low - below 3% on a good day, generally speaking. Visiblee offers an undeniably potent solution to this problem - by identifying leads that are already showing an interest in your offer (by visiting your website) there is a strong chance that the person already wants your product, so it's possible for you to generate 3 times as many qualified leads from your website using Visiblee. Visiblee is a dream come true for sales teams, and the investment returns of the solution can be demonstrated in under just 3 months.
The process is simple, and follows these three steps:
Identify: You identify individual website visitors from all over the world in real time. Enjoy instant access to the visitors' names, positions, company information, emails and even phone numbers. All information is business-related. All of your visitors' information is helpfully stored in your Visible account, from which it is very easy to export them in a CVS or Excel file in order to import them into your CRM or marketing automation tool. Visiblee's clients paste a little script on their website in order to track visitors' IP addresses. These IP addresses are then sent to Visiblee and a match is made within a huge database of people. This database is updated on a daily basis by the crowd.
Qualify: You can then choose to contact the hottest leads first; enjoy Lead Scoring with Visiblee in terms of your target market and their browsing behaviour. This prioritisation helps you to focus on the most profitable line of sales first and foremost.
Transform: Lead Nurturing and Marketing Automation transform your leads into actual business deals. It's a well-rounded solution.
So are you still on the fence about Visiblee? Here are the most compelling reasons to choose this software:
Visiblee identifies individual website visitors, not just companies
It identifies visitors in real time
Leads are scored by browsing behaviour and visitors' profiles, so you can see who the biggest leads are
Visitors from all around the world are identified
Visiblee is a comprehensive SaaS (Software as a Service) solution, including a lead nurturing feature through to email automation
It includes a detailed report of website visitors, lead generation and the transformation needed to calculate your digital marketing ROI