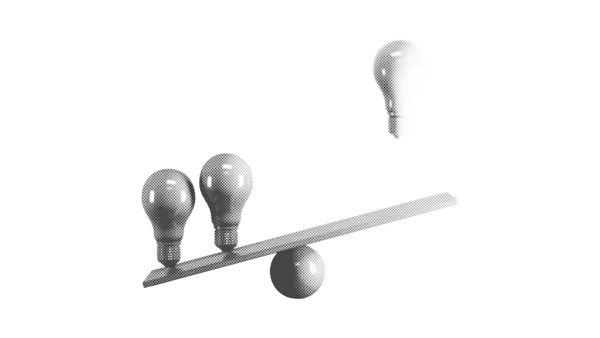 Kanban board examples can be used as a source of inspiration to improve organisation, distribution, and task planning.
If you've ever heard the term Kanban, you can certainly imagine what it looks like. Kanban boards rely on a system of labels that indicate the work that has to be done, is in progress or has to be completed.
Although the Kanban method was inspired by the automotive industry in Japan and used for inventory and supply chain management, today, it can be used to manage multiple types of projects.
So, what is Kanban, how is it used, and what are kanban board examples?
Here is a complete guide on the Kanban method for better project management:
Kanban: definition
What is the Kanban method?
💡 Kanban or "Kamban" is a Japanese term that translates to"card", "signboard" or "billboard".
The Kanban method was originally a Japanese scheduling system for lean manufacturing based on the "just-in-time" principle that is used to maintain a balance between demand and supply. A company would manufacture a good once the order has been issued by the customer, instead of building up stocks.
Today, the Kanban method is widely used in project management and it is described as a visual organisation system that consists of labels (or kanbans). Each label corresponds to a customer request that activates the production line when necessary. This optimises resource management.
How do Kanban boards work?
In Kanban boards, tasks are represented by coloured labels or cards (usually post-it notes).
Tasks are categorised and placed on the kanban board in the column corresponding to its status, for example :
stories
to do,
in progress,
testing,
done.
💡 Your Kanban board should contain the number of columns that correspond to your organisation the most. We recommend using at least three columns: To Do, In Progress, and Done.
When you start a project, you must divide the tasks, and therefore the labels, per team member. The first step is to place all of the labels in the first "To Do" column.
As the project progresses, the kanban board visually reflects the completion of the tasks: the label moves from column to column until it reaches the "Done" column.
A colour code can be used depending on the nature of the request ("task", "bug", "feature", etc.) or the person responsible for the task.
What are the benefits of using Kanban boards?
Advantages
easy to implement and understand,
inexpensive to set up and manage,
optimizes manufacturing lead times and storage costs,
has a clear and logical system,
uses transparent processes,
anticipates blockages,
suitable for all team organizations and a variety of situations,
limits multi-tasking,
continuous improvement process.
Disadvantages
can not be used if the demand is too irregular; it would then be too complex to manage production properly,
an error in the kanban system can cause the production line to stop and slow down the activity,
this method cannot be applied to all industries,
if the method and its principles are not understood and integrated by the teams, it becomes useless.
ℹ️ Note: except for the last one, these disadvantages do not apply to the IT field.
Kanban board examples
Simple Kanban board
Basic Kanban boards can be used to manage workflows as they offer a highly visual way to organise a team's work so that nothing gets forgotten about or blocked.
There can be separate boards for each of your projects or dedicated boards to different sets of activities that your team needs to execute.
Here is an example of a simple Kanban board using Trello: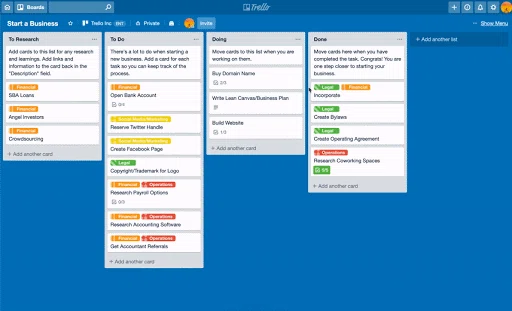 Kanban boards for agile software development
With the emergence of SaaS businesses and agile project management, Kanban boards can now be used in agile software development to improve organisation, distribution, and task planning.
Kanban and agile software development work well together because :
they improve project management,
they optimise, and visualise workflows and task distribution,
they use visual tools, online kanban boards, and labels to promote collaboration and ameliorate the work process.
Here is an example of a Kanban board in agile project management: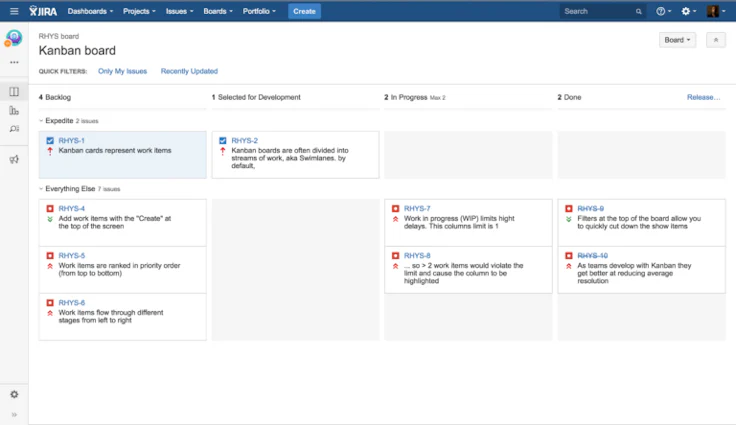 Kanban boards for manufacturing
In manufacturing, Kanban boards can be used to list items that are used in production. They will allow you to keep track of your stock to make sure that you always have enough.
Moreover, every time an item is used, team members can update the new amount of items left, and once your stock is running low,, you can simply drag and drop this item into a group of items "Need to be ordered".
Here is an example of a Kanban board for manufacturing using monday.com: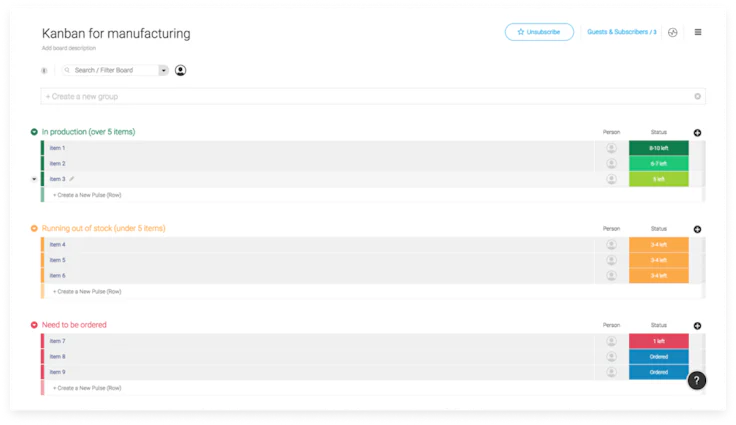 Kanban boards for portfolio management
Kanban boards can also be used in portfolio management to visualise goals and make sure that they flow to completion. The key is to connect each goal to specific high-level deliverables, that can be broken down into smaller work items that have to be completed in short cycles.
There are four different ways to use the Kanban method for portfolio management:
Team Portfolio Kanban
Portfolio Kanban on the Project/Product level
Portfolio Kanban on the Program level
Portfolio Kanban on the Strategy level
Here is an example of a Kanban board for portfolio management: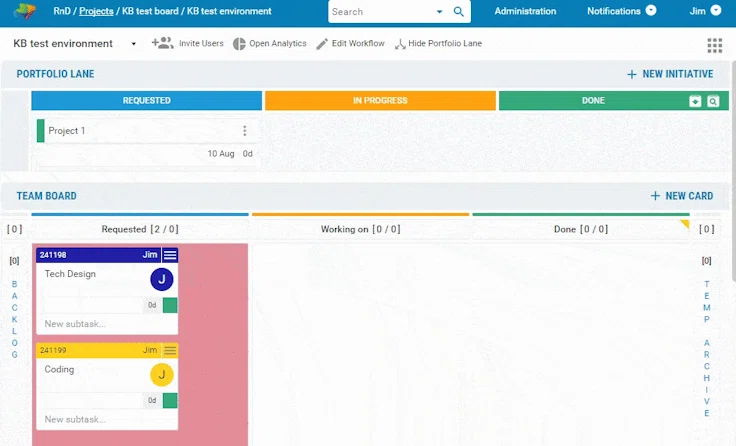 Kanban boards for customer support
The main goal of customer support is to provide answers and solutions to users questions and issues.
With Kanban boards, you will be able to bridge the communication gap between customer support and IT teams with the use of a visual management tool.
Here is an example of a Kanban board for customer support:
Improve collaboration with a dedicated tool
To make sure that all stakeholders are aware of the latest updates of your team, it is essential to promote a collaborative working environment. This is even more important for remote teams or teams working on different sites.
❓ How do you monitor the Kanban workflow when not each team member has access to the table to view the tasks?
✅ With SaaS software of course! With software that is available online, team members can view projects, Kanban team boards, and share information. With online team Kanaban board tools you can:
get quick responses,
use indicators and notifications to support your daily kanban management,
become more reactive and react quickly when your team needs it.
Here are some project management tools that can be used to manage Kanban workflows:
Jira: a project management tool that was designed for software development and planning with Scrum, Kanban or mixed methods;
monday.com: an intuitive work management platform that offers a very complete Kanban view and an ergonomic online portal that integrates into your IT environment thanks to its numerous interfaces;
Trello: An intuitive and free task management tool in the form of a virtual Kanban board, very easy to use with drag & drop features.
Have you already tested the Kanban method? If so, how do you use it, and how does it help you to manage your projects more efficiently?