Accelo: in summary
What is Accelo?
Accelo is a project management software that will help you with your customer management. This tool lets you streamline your business and automate repeatable processes and helps to save time and money by running your business on one, integrated system.
With Accelo, client accounts, projects, timesheets, and more are tracked for you – so you can spend less time in meetings and dealing with admin work, and more time focusing on your clients.
Plan Projects, Track Results, Deliver
With Accelo all of your project management problems are solved, it simplifies tasks that need to be done so that you can get them done quicker and focus on what really matters.
Features
Contract management,

Support (phone, email, ticket, chat),

Knowledge Base (tutorials, demos),

Customizable Templates,

Email Marketing

Client Portal,

Scheduling,

Calendar/Reminder System,

Segmentation,

Marketing Automation Integration,

Document Storage.
Reviews
Accelo has an average rating of 4.5/5 across most websites, making it one of the most trusted and reliable project management software programs out there. Most people really enjoy the ease of use and great customer support, however some users have reported an initial usability hurdle, and have said that the interface can sometimes be clunky and hard-to-use at the beginning.
Highlights
Using Accelo gives you a bird's eye view of your business, it's an all-in one program with features that cover everything from billing to sales and reports. It lets you find everything you need to manage your business and projects in one place.
Pricing
Accelo comes in two different versions, Plus and Premium. Plus gives you access to:
Client and contact databases
Tasks and checklists
Client activity feed
Timesheets and timers
Task, email, and calendar sync
Custom fields
Premium gives you access to all the features found in the Plus version, and:
Scheduling and resource management
Rules and triggers
Templates and approvals
Custom statuses and workflows
Client portal
Branded workspace
Divisions
Materials and expenses
Enhanced security
The Plus version starts at $24/month/user, with a minimum of 5 users, and the Premium version starts at $39/month/user. You can also try it out with their 14-day free trial.
What We Think
Accelo packs a punch, you'd be hard-pressed to find another project management software program that packs this many features into one product. Accelo is a highly qualified software program for any business looking to better organize itself and its operations.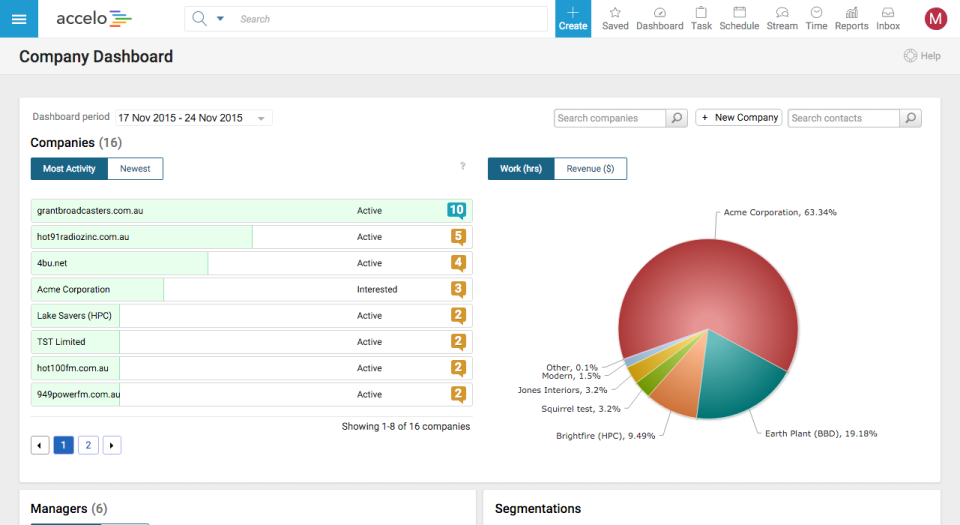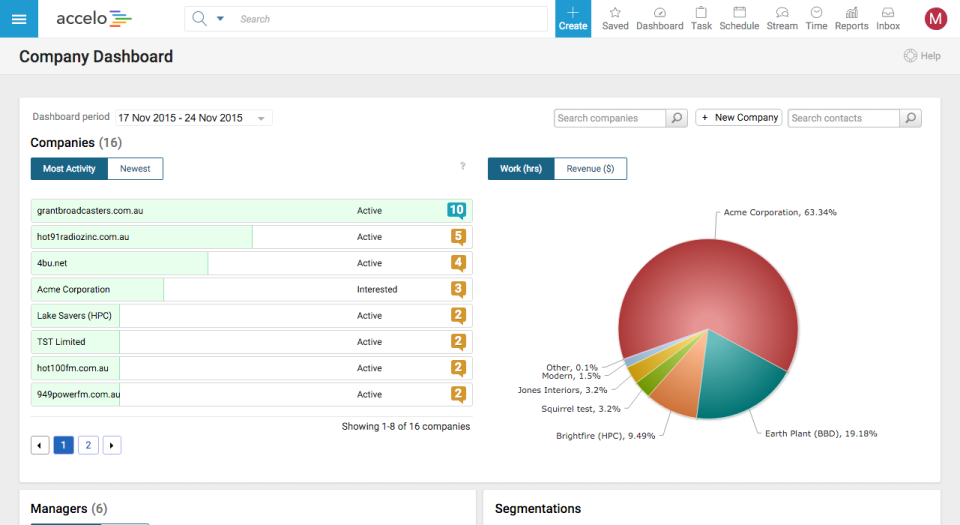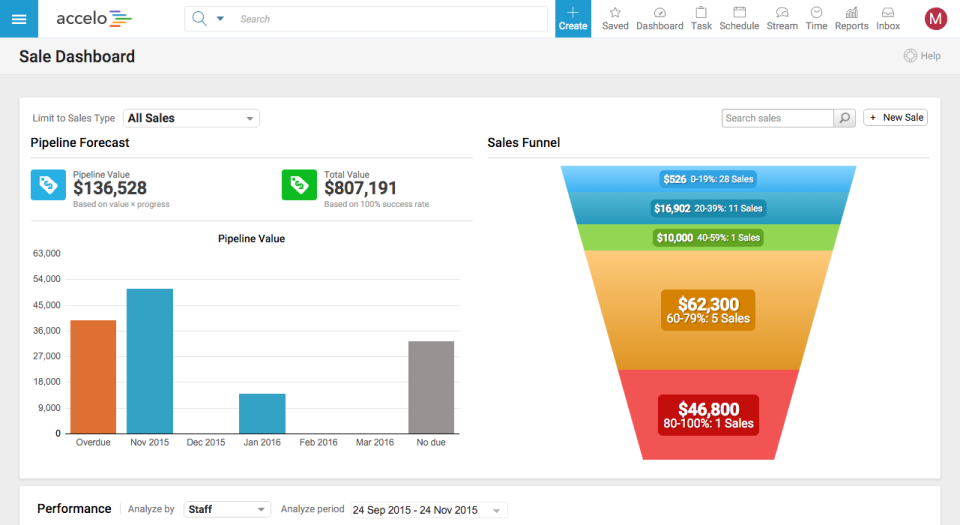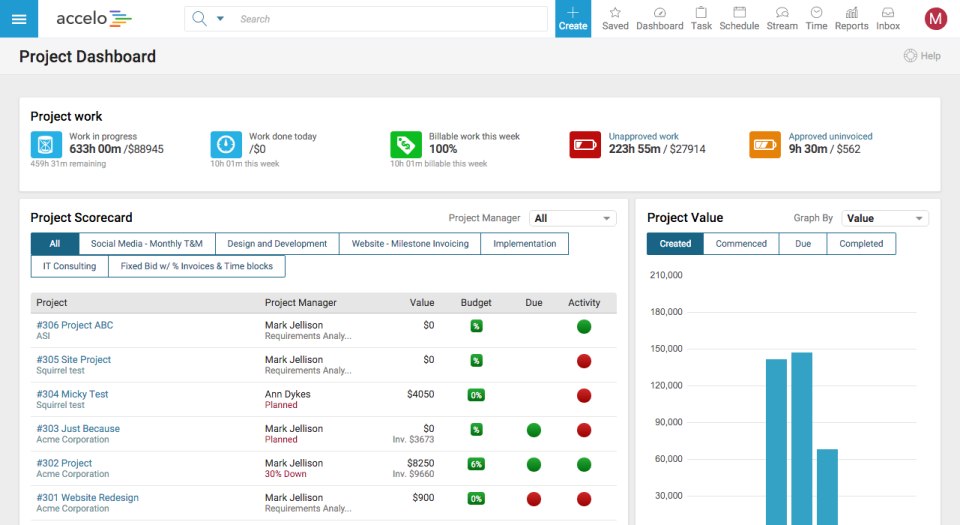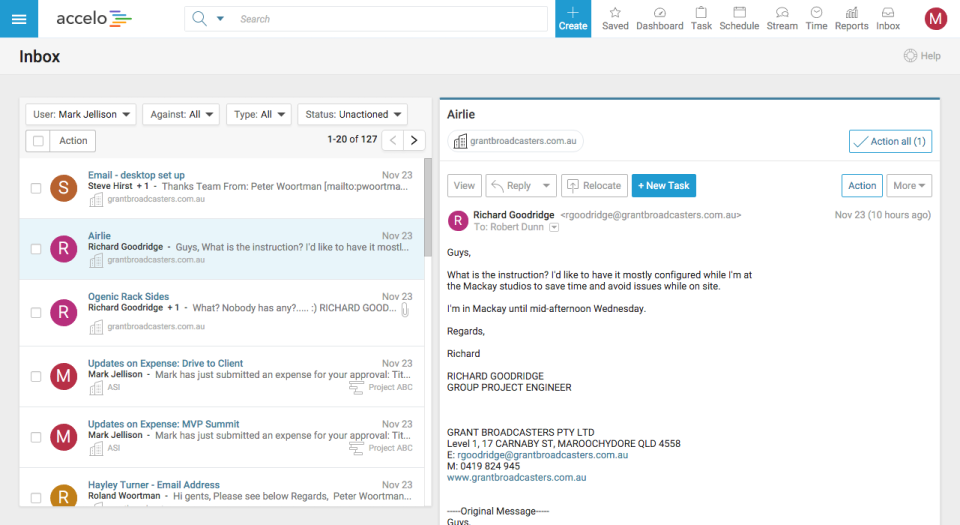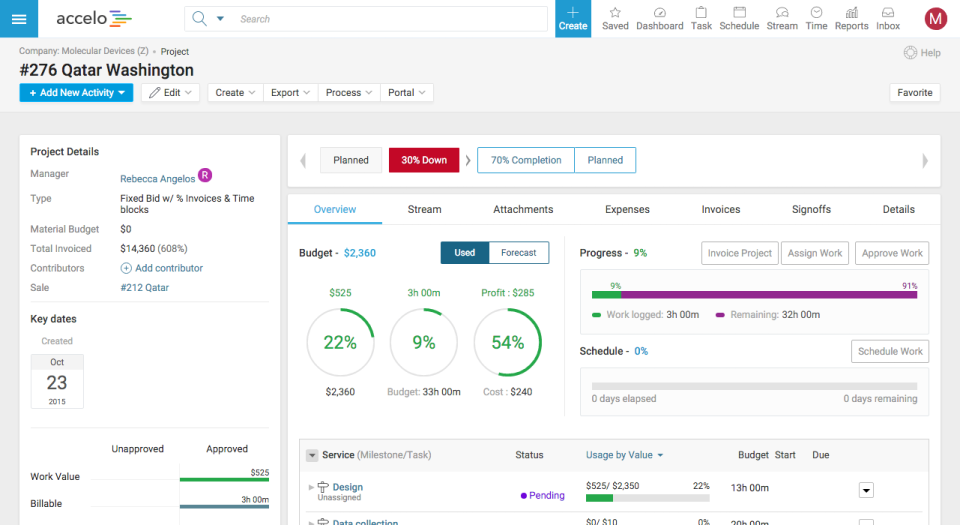 Accelo: its rates and features
| | | |
| --- | --- | --- |
| | | |
| | | |
| | | |
| | | |
| | | |
| | | |
| | | |
| | | |
| | | |
| Integration & Interoperability | Integration & Interoperability | Integration & Interoperability |
| | | |
| | | |
Appvizer Community Reviews (0)
The reviews left on Appvizer are verified by our team to ensure the authenticity of their submitters.
No reviews, be the first to submit yours.