Buffer for Business is the best way to generate traffic, engage users and reduce time spent on social networks. More than 2.5 million people are already using Buffer. It is an essential web communication tool to ensure a very good presence on social networks and develop a social media strategy. Buffer facilitates the work of community managers and allows the project manager to improve the brand's reputation.
Simple and efficient operation
If a company finds an article on the Internet that it would like to share, simply add the free extension to the browser. Then there is a "Buffer" icon next to the web address that opens a window that allows you to select the account(s) you want to push the article to. Buffer has a simple operation that makes him a very good community manager.
Indeed, the tool allows to quickly carry out a competitive social media monitoring. It is then easier to create content and highlight publications that improve e-reputation and brand awareness.
Buffer's dashboard
The solution has a list of the accounts of the different social networks connected to Buffer whether it is facebook, Instagram, LinkedIn or a twitter account. There is a wall on which it is possible to compose social updates.
The power of the Buffer for Business management tool comes from its programming and queuing functionality. It is possible to create, for each profile, a default time to send posts: just select the preferred days and times for your publications and Buffer does the rest. Like Hootsuite, the solution allows you to configure publications with hashtags or even photos, videos. This publication automation feature improves a company's digital marketing performance while improving natural referencing.
Managing your team members
If you work with a team of Community Managers, Marketers, Communication Managers etc., you will need to be able to You will be able to manage each member according to the roles they have. The solution works like a Swiss Army knife with many easy-to-access network management features. It is possible to follow in real-time the comments on the different social networks so that you can quickly respond and follow the different influencers and optimize your project management. All buffer features lead to better customer relations via social networks. This presence strategy allows companies to obtain new customers through another channel.
Analysis of the activity with Buffer. Once your publication actions are done, you can measure the results and see the impact of publications and content creation. Graphs showing the evolution of the total number of followers or the intensity of your daily activity are available by default. You can also export your data to further analyze your results, for example.
Editor: Buffer
Buffer demo and screenshots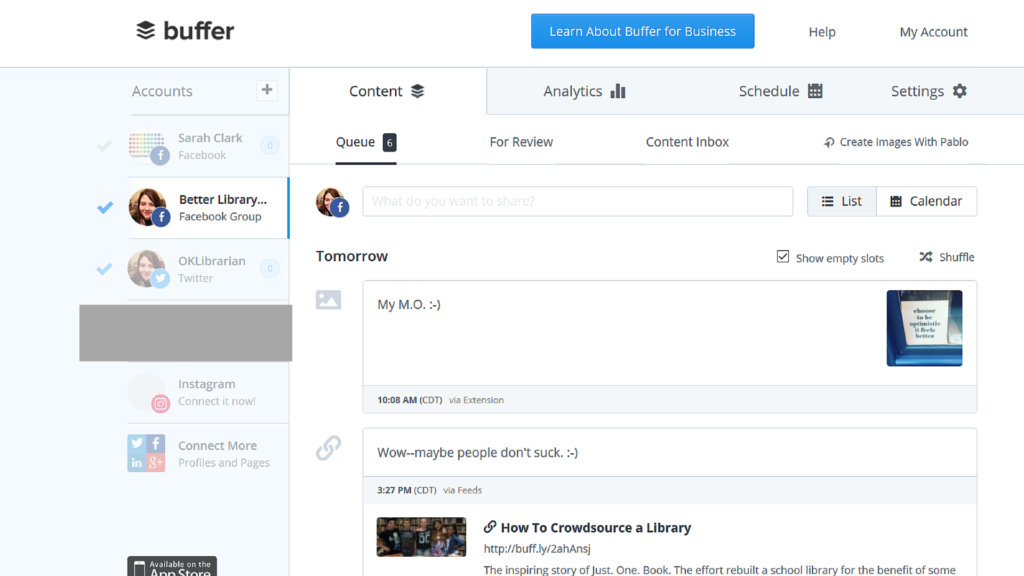 Buffer customers
No customer reference