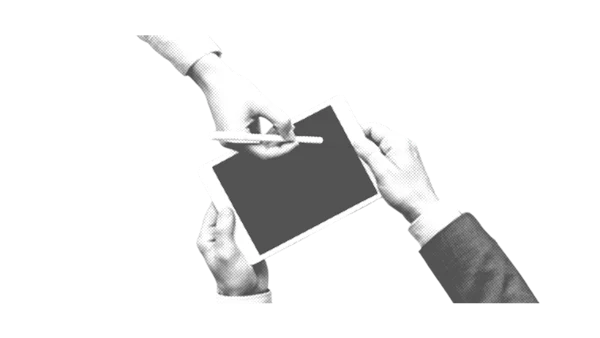 Do you want to learn how to create an electronic signature?
Today, many businesses want to sign documents electronically and this can be done in a few different ways. The challenge is to ensure that these signatures are secure and follow legal values.
To do so, you may need a certificate from a trusted third party. However, it's not that simple.
Throughout this article, you will find a complete guide on e-signatures, along with a list of the best electronic signature software.
What is an electronic signature?
Definition
An e-signature is a digital form of a traditional handwritten signature. It is used to sign documents online without the need to print them.
Electronic signatures can be divided into three groups:
Simple – these include scanned signatures and tickbox plus declarations.
Advanced – these are uniquely linked to the signatory, are capable of identifying the signatory, and are linked to data within the signature that can detect any changes made.
Qualified – this is an advanced electronic signature that is created by a qualified device, and which is based on a qualified certificate for electronic signatures.
What is the difference between e-signatures and digital signatures?
Please note that this article deals with electronic signatures, not digital signatures. Digital signatures use cryptography security whereas e-signatures don't.
Here are the main differences: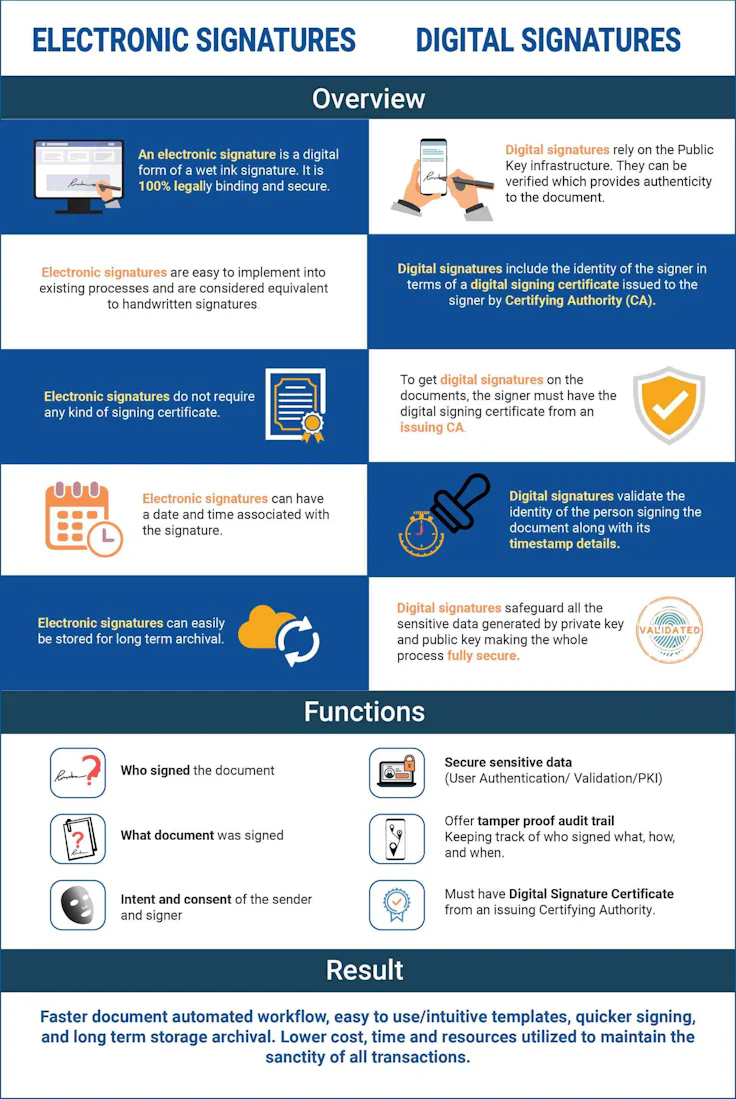 How to create an electronic signature in 5 simple steps
1. Know the legal framework for electronic signatures
An e-signature is a legal way to get consent or approval on electronic documents or forms. It can replace a handwritten signature in virtually any process.
To have the same legal values as a handwritten signature, e-signatures must meet the following conditions:
The signatory must have an electronic certificate authenticating his identity.
The digital signature procedure must be secure and certified as compliant.
Once the signature is final, the signatory cannot make changes.
The documents must be original, locked and not modifiable.
Signed documents must be kept in an electronic safe for 10 years.
Electronic signatures are just as legally binding as handwritten signatures and they are recognized by EU law via the eIDAS regulation.
2. Use a certified provider
To meet eIDAS regulations, you must use trusted third party software called certified providers. Certified providers can deliver legal signatures on behalf of their clients to safeguard their contracts.
A document signed online offers guarantees that strengthen your agreements, this includes:
Strong authentication: the certified provider can authenticate the identity of all parties
Security: an electronically signed document can not be modified
Time-proof file stamp: all data from signatures including date, time and location are stored
3. Choose a document format
Files of all types of formats can be signed electronically, this includes: DOC, XML, PDF, and JPG documents. However, it is recommended to use a PDF document to preserve and protect content. You can not be sure that your contract is protected with a word document for example, as they can be modified.
4. Upload an image of your signature yo your software
After choosing a software that is a certified provider, you must sign in and upload your PDF file to the software.
The next step is to select the signing parties, check the document, and draw your signature!
5. Collect signatures
Now that you have provided a trustworthy e-signature, you must send the signed document to other signing parties and save your own copy!
Our selection of electronic signature software
Here is appvizer's hand-picked selection of e-signature software. The solutions listed below are certified providers which means that they have regular updates to comply with current regulations.
Yousign
Yousign is an easy-to-use and legally-binding electronic signature software that can be used for all types of documents.
The benefits of using Yousign include:
It is an eIDAS certified provider,
There is a digital filing system to ensure safe storage,
It can adapt perfectly to your business processes, your teams and the structure of your company.

The simpler way of saying yes
Learn more about Yousign
DocuSign
DocuSign is a 100% online software solution that simplifies electronic signature processes. Recognized as an eIDAS certified provider, DocuSign is authorised to issue digital certificates, electronic seals and timestamps.
The benefits of using DocuSign include:
It is an eIDAS certified provider,
Its digital agreement processes are available in over 188 countries and 43 languages,
It is available on-premise or as a cloud-based solution that can be customised to your business needs,
You can create a DocuSign account with a free trial.

Electronic Signature Software
Learn more about DocuSign
Eversign
Eversign is a cloud-based e-signature platform that can be used by businesses of all types and sizes.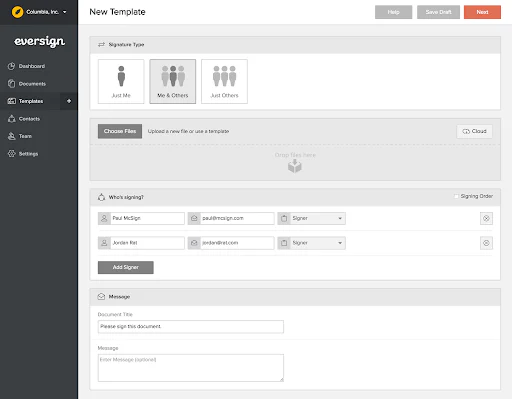 Eversign is easy-to-use and provides users with templates for multiple types of contracts or forms. Document signing will be much easier!
In these templates, in one click you can:
Pre-fill custom texts
Add dropdown menus
Add checkboxes
Set specific fonts
Etc.

Electronic Signature Software
Learn more about eversign
Click, it's signed!
Going paperless is not a trend, but an operational reality that speeds-up many business and administration processes.
And, by using online tools and promoting paper-free office, businesses of all types and sizes can save time, money, automate their workflows, and become more competitive!
The world of digital contracts is just a click away: have you chosen your trusted third party for your e-signatures yet?
Software quoted in this article