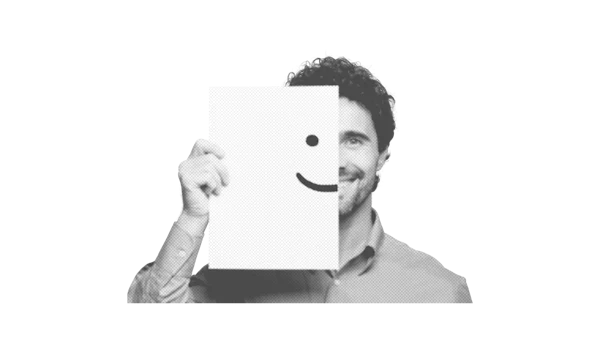 The order is delivered, the service has been provided... mission accomplished? You wish! The customer relationship has just started. One of the major benefits of customer service is creating customer loyalty. Once the transaction is done, any company must work to reach the best customer satisfaction level through its customer service.
With nearly 63% of consumers demanding quality customer assistance, it is clear that customer services require all the necessary care to become a key factor in customer satisfaction and loyalty. Besides, it is a marketing showcase for your brand, not only to your customers and prospects but also to your competitors. In this sense, innovation and the integration of new technologies can provide a competitive advantage.
Whether it is a return, repair or technical problem, or a request for information on current offers, prices or the guarantee of a product, customer service management becomes a priority. Well managed and integrated into your customer care policy, this will have a positive impact on your revenue too. So how can you do better? Discover the keys to the efficiency of your customer care service and find out our tips to make the most of this pillar of customer relations.
The benefits of Customer service
What is customer service?
Customer service refers to the range of provisions given to customers before, during and after the sale, depending on the company's activities and core business:
follow-up after the purchase of a product,
maintenance,
troubleshooting,
return or exchange, etc.
Customer service may also include other services, such as delivery, setup of goods or equipment, physical or online assistance to the customer, training, advice and, more generally, all interactions between company and customers.
"Service" is a keyword here, as it refers to customer relations, in a broader meaning of the word. It is essential and is at the heart of customer relationship management.
Customer service is imperative to improve a company's image and is a key factor in customer satisfaction and loyalty. Let's see why.
Enhancement of brand image
The quality of the goods or services provided is fundamental for your brand image. But so is the possibility of having your problems solved by well-organised assistance:
97% of consumers consider the quality of customer service as an important criterion in choosing a brand.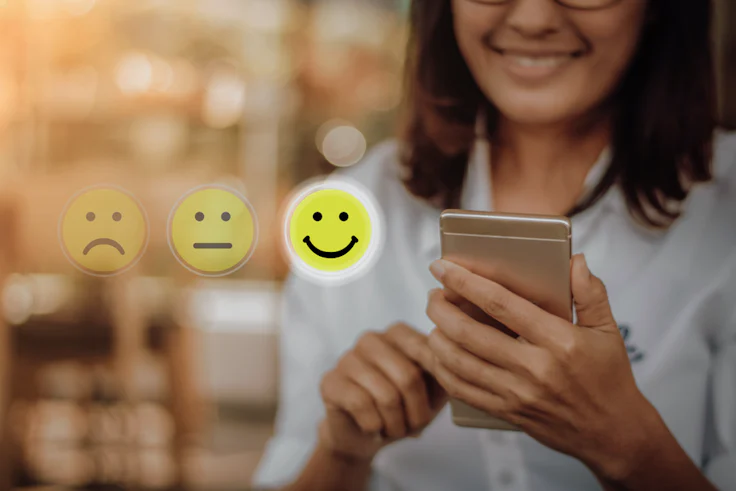 Customer service is the entry point to establish a quality communication with your customers, but at the same time, it is also the last contact you may have with them: if it satisfies them, it can represent a real added value for your company. Heeded customers, with their needs taken into consideration and treated effectively, will be more able to recommend you and leave a positive review on your site.
On the other hand, any dissatisfaction can damage the brand's reputation and in the long run, harm sales. Customer service management is therefore crucial. On a well-constructed customer journey, it will then be able to extend beyond simple customer follow-up and build a solid relationship with your customers.
Taking care of your brand image, you stand out from the competition.
A customer loyalty tool
Qualitative customer service can be crucial in the customer's buying decision process, especially for high-value goods. Customers invest in a product, but they also buy the service which goes with it, as it is fundamental in maintaining customer relations, which will ultimately result in their loyalty.
It is an open secret that retaining your customers will cost you less than acquiring new ones. The quality of what you sell is essential but is no longer enough. To ensure healthy growth and a positive reputation, your customers must trust your customer service.
What is an efficient customer service?
A smooth and efficient customer experience
What exactly do customers want when they reach out to your brand?
✔ Speed and efficiency: customers want to be reassured, and obtain information and solutions quickly, without going through several intermediaries;
✔ A simple and personalised process: customers will feel closer to the business if he will see some efforts to meet their expectations. For example, try and solve their specific problems by establishing a personal and positive exchange;
✔ The quality of the exchange: the content and form of the exchanges, whatever the channel used, must be taken care of.
A value creation driver...
Even if the customer service may be viewed as an extra, it is generally included in the contract of the product.
To successfully generate part of the turnover via this service - and no longer consider it a "cost centre" - its actions and objectives must be linked to the company's overall pricing policy.
... thanks to the synergy between services
Customer service qualitative performances can also be the result of effective collaboration between different business departments. Your team will benefit from the feedbacks of people in direct contact with end customers.
Thus, working hand-in-hand will ease reaching a crucial goal: to take care of customer relations and, finally, to increase sales.
An example of efficient customer service thanks to Omni-digital channels
Even if the telephone is still one of the customers' favourite channels, diversifying and digitizing contact points may be a winning strategy. To harmonise and ease customer experience, a brand should look for digital omnipresence to meet the customer's needs wherever he is: social networks, chats, websites, etc.
Orange has clearly understood that digital platforms can be a source of value: in the increasingly competitive telecommunications sector, the operator made the quality of its customer service one of its top priorities and optimised its management thanks to new technologies. The core of its strategy? To stand out thanks to a careful customer relationship service.
To respond as well as possible to customer expectations, the provider works with RingCentral Engage Digital (formerly Dimelo), a multi-channel interaction management platform, to control the many digital communication channels is has with customers.
It helps manage all communications through a centralised interface, becoming finally more productive and responsive. This tool, which also includes reporting and activities monitoring, makes it possible to optimise the customer experience through customer service.
6 hints to make your customer service more efficient
Turn your customer service into a profit centre
To optimise costs related to this kind of operation, the issue of customer service performance must be integrated into the company's development. Through the implementation of a strategic project at this level of the organisation, your team will bring you benefits such as:
clearly defined financial objectives
a range of services that goes beyond the "problem-solving" aspect to proactively increase turnover (training, remote assistance, etc.)
management tools and monitoring indicators
the implementation of a realistic approach to track customer satisfaction levels
The well-thought-out management of your customer service will empower you to control costs and develop a range of services to improve your company's profitability.
💡 This strategy can be refined thanks to the customers' feedback based on their experience with your customer service team. For example, a satisfaction questionnaire sent just after an intervention can be effective in improving the performance of the customer service and adapting it to customer expectations.
Automate recurring responses
To facilitate the work of your customer service teams, why not automatically send part of the answers sent? Some questions are often the same - or at least similar - and bring little added value. If it is not necessary to process them through a call centre, answers can be automated to free up time for your teams for higher value-added issues and reduce waiting times for your customers.
Moreover, people are becoming more connected every day and tend to want to solve their problems independently and immediately. Nowadays they are looking for answers on their own, at any time and from any platform. How? Through digital channels.
Thus, dynamic FAQ or chatbot tools can be used to provide as much information as possible to your customers. Solutions such as BOTNATION.AI can support the management of your customer service, by directly addressing simple and recurring issues, and by finding the right contact person in the event of more complex requests.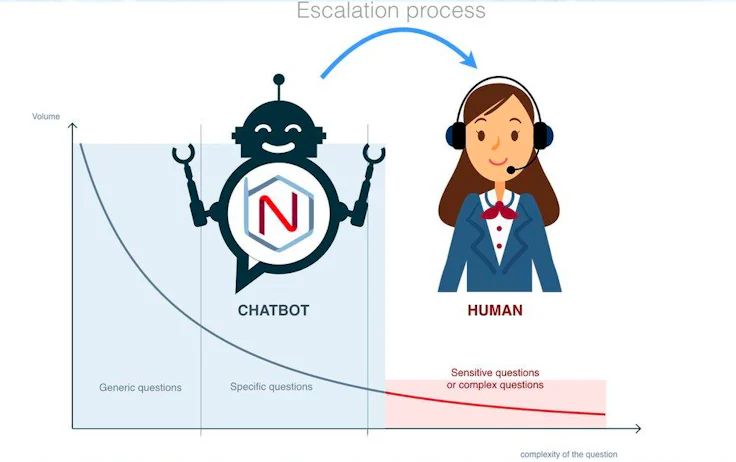 Depending on the subject difficulty, we can see an escalation process from chatbot to customer service
By instantly responding to customers, 24/7, you offer a smoothened customer experience. This also lightens the workload for customer service teams by filtering requests. With shorter response times, your customers are reassured, their confidence in your brand increases and your image is enhanced.
Develop your employees' skills
Your teams relate directly to your customers. This is why they need to be aware of your products and services, special offers and company processes. Furthermore, given the proximity to the customers, social skills are essential.
Thus, we advise you to plan training, such as:
business knowledge: to provide quality information and accurate answers. Technicians and consultants must be familiar with their field of activity and their brand to provide customers with quality support;
listening skills: to identify the costumers' request, to ensure a good understanding of the problem and to guide them towards the best solution. Empathy and patience are qualities that consumers expect from a customer adviser;
calm and people-orientation: to be kind in all circumstances, be it via calls, emails or chats. Patience and respect are essential, especially in managing complaints and potentially aggressive behaviors (dissatisfaction, impatience, customer frustration). Customer advisers must be able to adapt themselves to the situation to gain the customer's trust. It is the only way to have the solution listened by an angry customer;
communication: to be able to express yourself pleasantly and reassuringly, with clear speech. Let us not forget that the ability to communicate well transmits confidence and remains one of the keys to the quality of customer service.
Strengthen your customer knowledge
Knowing your customers means being able to meet their expectations. If their needs are taken into account, in a personal and unique way, your customer feels listened to and considered. A positive emotion plays an important role in feeling attached to a brand. By focusing on personalizing customer relations, you are focusing on increasing customer satisfaction.
A tool such as Kizeo Forms can be the missing piece you need to complete your puzzle. Let's picture you sold a fridge to a restaurant, quite an important thing right? Well, something goes wrong and your client calls your customer service panicking because his kitchen is flooded. At this point, you need to create a ticket, send a technical equipe on-field and solve the problem. Kizeo Forms is the pain reliever that will boost the communication between your team on the field and your customer service. Thanks to the mobile app your team will be able to take note of all the elements of the issues and to transmit them. No need to get back to the office, no need of paper, no time wasted in re-writing reports.
In the same way, the customer service itself will collect information about your consumers. To better exploit all these data, you should encourage the sharing of feedback between teams. Collecting all the teams' different points of view, you will be able to better understand your customer from a 360° perspective. Analyzing exchanges between departments, you will have an instrument of continuous improvement.
Promote internal communication
So far we have mainly focused on listening to your customers, but that is not enough. You should consider collecting feedback from customer service teams on their feelings towards customers. Their feedbacks can be cross-checked with those of customers to identify potential areas for improvement and provide a more comprehensive understanding of the customer experience.
💡Collecting internal feedbacks can be game-changing. Different issues can be addressed: tools used, environment, well-being at work, etc. By listening to specific requests, you create the optimal conditions for your teams to perform.
Fostering the internal communication you will experience another relevant benefit: taking into account everyone's constraints, employees see their work considered and acknowledged. This will enhance employees' engagement and motivation. Highly involved employees often have a positive impact on customer satisfaction, and ultimately on business performance.
Measure the performance of your customer service
It is fundamental to measure the impact of your customer service actions. If efforts and policies are made to improve customer relations in companies, it is necessary to develop management tools and implement performance indicators (or KPIs) to measure the effectiveness and profitability of these service activities.
What should be evaluated? This depends on your company. Define goals and choose the best indicators to observe them. Here are some examples of metrics:
productivity and responsiveness of customer adviser,
quality of the answers provided,
level of customer satisfaction,
channels used (phone, chat, emails, social networks, etc.),
first call resolution time or customers' online waiting time for the phone, etc.
If you analyse the interactions on the different communication channels, you have better instruments to identify the strengths and weaknesses of your customer service. This gives you room for improvement.
Customer service becomes an asset to your sales!
Customer service is a service in its own that should not be neglected, no matter the industry. Being customers more and more exigent, customer service quality remains one of the main standards to meet customer's expectations.
Accurate management and efficient organisation are essential to meet customer needs at the lowest cost. The expenses incurred must be balanced by investments that will allow you to turn customer claims into opportunities.
To achieve this, one solution is digitizing and adopting a multichannel strategy. Acquiring digital tools, your company will improve the productivity and well-being of the customer service management staff, while improving the customer experience.
And you, what value do you give to your customer service? Are you ready to take the necessary care to enhance your image and boost your sales?
Software Recommendations