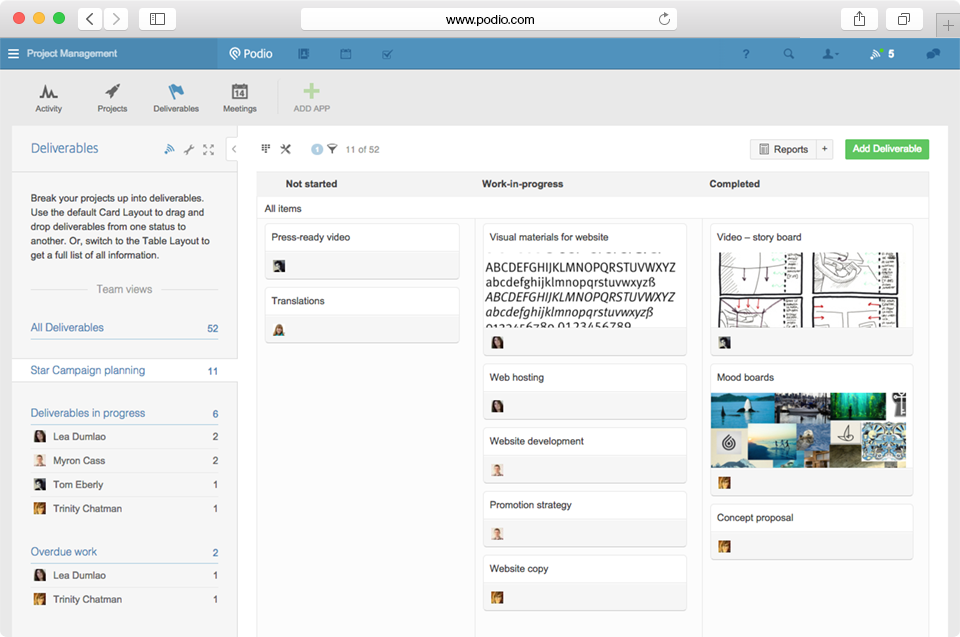 Podio
Presentation of Podio
Developed by software publisher Citrix, this application is a tool that doesn't simply manage customer relationships, but integrates them into a more global perspective to provide the most complete experience possible. It is a SaaS tool that is always accessible, as well as agile, so it can adapt to any business. Depending on your needs, this CRM system is available in different versions: Podio just provides what you need without overwhelming you with unnecessary features.
How does Podio work?
The software has a modular structure, which means that you can use just the functions intended primarily for a CRM tool or integrate them with more collaborative or workflow management functions. The flexibility of this solution is also underlined by the mobile application, which allows anyone to work anywhere and communicate with employees.
The Podio software easily integrates with all major applications on the market, such as Dropbox, Google, Office, or SugarSync.
Strengths of Podio
Reliable and secure tool
As a Citrix member, Podio adheres to the strictest security standards. The solution complies with ISO27001 security policies, uses advanced encryption standards, and also provides access through secure Single Sockets Layer connections.
Mobile application
Podio's app for IOS and Android allows you to track the progress of your projects and coordinate with your teams. Whether you're on a computer or smartphone, at home, or in the office, you can stay connected with the entire company.
Integrated platform
Podio is compatible with many services such as Dropbox, Zapier, Google Drive, etc. This means you can connect Podio with existing apps and software in your company.
In addition to the standard integrations, Podio develops extensions to give you the possibility to go further in the use of the tool.
Pricing
Podio has four plans with each being more extensive than the previous one. All plans are priced per employee per month. There are also slightly lower costs for the software if you choose to pay annually instead of monthly.
Free (for 5 employees)

Basic ($7.20 Annually $9 Monthly)

Plus ($11.20 Annually $14 Monthly)

Premium ($19.20 Annually $24 Monthly)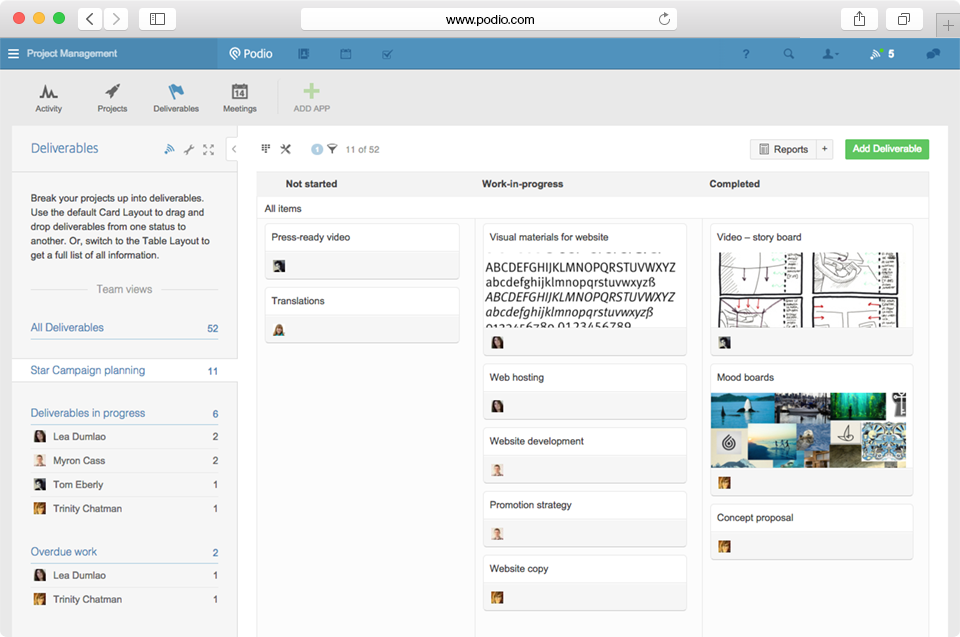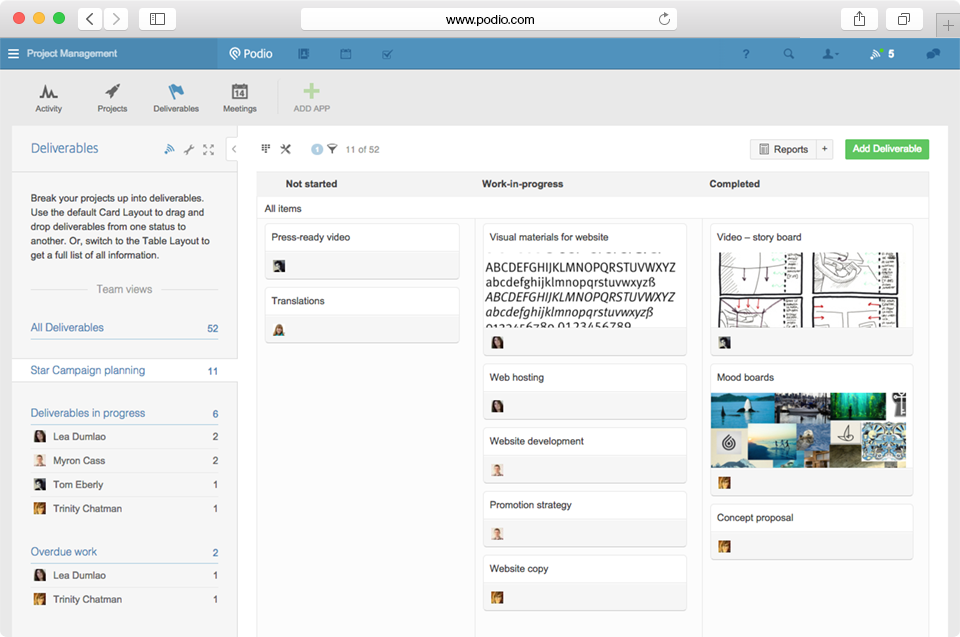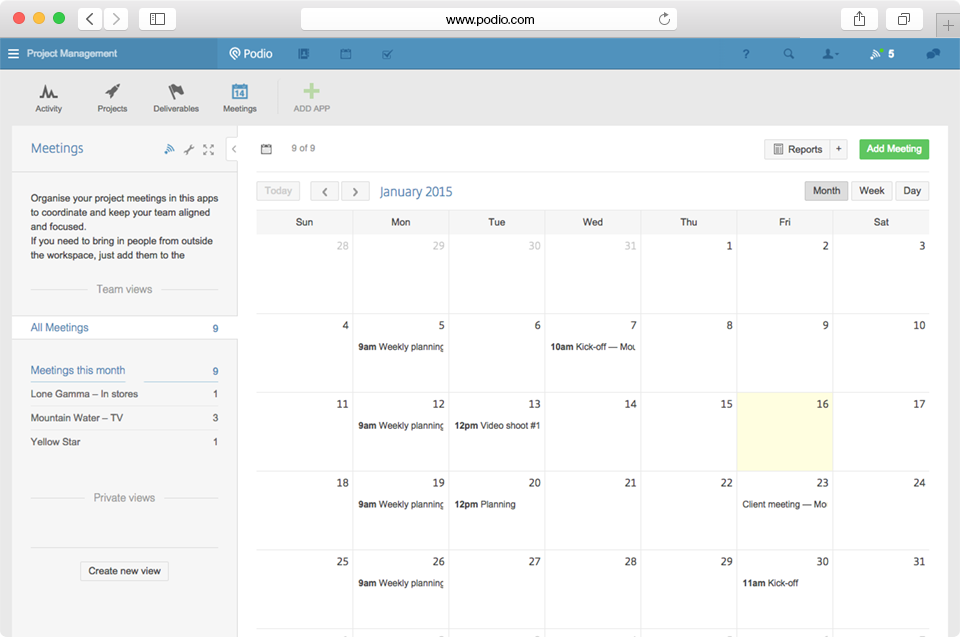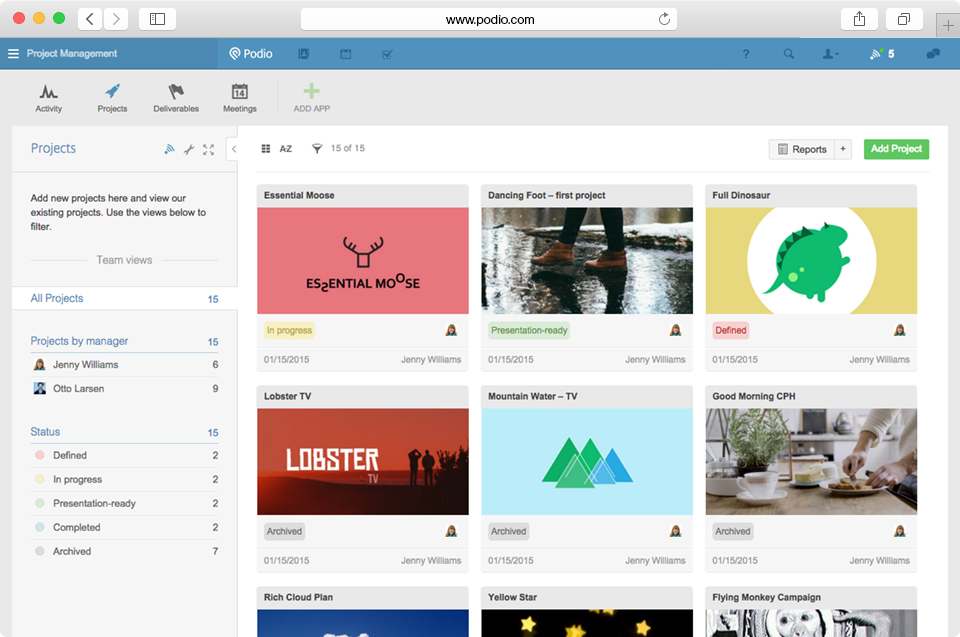 Prices and features of Podio
Customer reviews about Podio (0)
No reviews, be the first to submit yours.
Our test on Podio
Podio is a web-based platform that uses apps like tools to respond to different needs that might come up in a business. It is an accessible SaaS tool that can be used for various purposes such as project management, CRM, workflow management, collaboration, and more. Beyond making this system agile, this means that it can adapt to many businesses. Podio provides the tools and features to do what you need, letting you customise apps without overwhelming you with features.
What is Podio?
Podio is a software solution that relies on a modular structure to respond to the functions required by a company. This way, your business can choose to use functions in a customised application that can serve as a Project Management tool, a CRM, a Scrum Management tool, or a multitude of other uses. Apps can also be uploaded to the Podio App Market to be shared with others and to download apps that fall into categories ranging from Business Development and Human resources, to Legal and IT Management.
Podio doesn't focus on any one type of business. The organisation offers several packages to suit both the size of the company and its needs. You can choose from 4 packages, from the least advanced to the most complete. Each one with different pricing and features.
Some popular industries that use Podio can include Real Estate, Accounting, Agencies, Marketing & Communications, Healthcare, Consulting, Education, Legal, and Construction.
Podio in a Nutshell
Podio has various functionalities that will help you on your way through any project and most processes that your team works on. Whether your company is choosing it for its modular apps or strict security standards, you'll be able to rely on features that relate to customisable apps, workspaces, communications and online meetings, task management, and file sharing, and integrations.
Podio Apps Features
When creating and customising apps you'll be able to combine various fields to make your optimal app including Text, Category, Date, Relationship, Contact, Number, Link, Image, Money, Progress, Calculations, Maps, or Duration

Use data from your apps and filters for reports

Create automated workflows using if-this-then-that logic for increased efficiency

Embed Podio webforms on your website to get direct information to your apps

Share items, info, and projects from apps with anyone, whether they use Podio or not
Workspaces
These are collaborative spaces for people to work together such as employees, clients, and freelancers for example to manage a project or to run a department.
Open workspaces where anyone in an organisation can join

Private workspaces that are limited to invite-only

Employee workspaces that can regroup everyone in a company or organisation
Communications and Online Meetings
Create status posts that can be commented on and liked including text, images, files, and links

Make instant messaging and video calling a snap with people that are connected on Podio for more collaboration
Task Management, File Sharing, and Calendars
Simplify your work by creating personal, shared, and recurring tasks

Share files throughout Podio in posts, chats, and tasks for added understanding

Get an overview of different schedules and deadlines with a personal calendar and a workspace calendar
Integrations
Integrate with major file-sharing services like Google Drive, Dropbox, OneDrive, and more

Integrate emails by sending them into Podio and adding info into apps, creating tasks, or status posts from the email content
Common Uses for Podio
According to Podio, some of the most popular uses for Podio are Project Management by involving everyone in a central project location, CRM by tracking customers and organising your team, and Social Intranet by creating basic processes, tracking calendars, and expense reports. Other common uses for Podio include:
Product Planning and Development

Workflow Management

Collaboration

Event Management

Business Process Management

Scrum Management

Team Management

Email Management
Podio Pricing Plans
As mentioned earlier, Podio offers 4 different plans to suit both the size of the company and its needs. Each plan is more advanced than the last and all plans are priced per employee per month. Your company will also have a slight discount if payment is annual instead of monthly.
Free (for 5 employees):

Includes task management, apps, and workspaces but with a limit of 500 item entries
Basic ($7.20 Annually $9 Monthly):

Free features + unlimited items, user management, and unlimited external users
Plus ($11.20 Annually $14 Monthly):

Basic features + light user roles, automated workflows, and read-only access
Premium ($19.20 Annually $24 Monthly):

Plus features + visual reports, interactive sales dashboards, and advanced workflow automation
Reviews
Podio has an average of 4.3/5 on major testing platforms. In particular, users enjoy the flexibility of the software, as well as the number of apps that are available for download. Although some also say that the software can be somewhat daunting.
What are Podio's Advantages?
Central Communication for Collaboration
The software does a good job at promoting collaboration through its in-software communication tools. By using the instant messaging and video communication tools in Podio, you'll be able to easily keep up to date with anything going on. Also, the status posts let you easily be aware of the advancement of any projects or new information.
Flexible and Customisable
The amount of flexibility that comes from the Podio offer is very high. With the customisable apps that the software proposes, your team can work to make a variety of tools that work just how you want them to.
Amount of Applications
Beyond being able to customise apps within your team, you'll also have the opportunity to share them with the world. In the same way, you can find bountiful resources in the form of user-created apps on Podio's app market that cover various uses and domains.
Podio's Disadvantages
Difficult Set-Up
Due to how customisable the software is, that means that the set-up of the software is more difficult. Since your team will go through, learn new tools, and figure out how to set up all the different applications, it can be slightly daunting. So expect newcomers to the software to take some time to get used to it.
Free Account Features
Not all software options offer free plans, luckily Podio does. Despite this, if your team only relies on the free plan this could be difficult. The number of features that are included in the free plan only extends to task management, apps, and workspaces. Make sure that when the time comes, you and your team choose a plan that has all the features you need.

Our opinion on Podio
If your business requires a more customisable option that can be flexible enough to respond to various needs, then the Podio software is for you. Allowing you to touch on a variety of aspects of business, the platform works in different ways. Set up Podio to act as a CRM, a project management tool, a social intranet tool, or much more to help your business be more efficient and reach key objectives.