Podio: in summary
Developed by software publisher Citrix, this application is a tool that doesn't simply manage customer relationships, but integrates them into a more global perspective to provide the most complete experience possible. It is a SaaS tool that is always accessible, as well as agile, so it can adapt to any business. Depending on your needs, this CRM system is available in different versions: Podio just provides what you need without overwhelming you with unnecessary features.
How does Podio work?
The software has a modular structure, which means that you can use just the functions intended primarily for a CRM tool or integrate them with more collaborative or workflow management functions. The flexibility of this solution is also underlined by the mobile application, which allows anyone to work anywhere and communicate with employees.
The Podio software easily integrates with all major applications on the market, such as Dropbox, Google, Office, or SugarSync.
Strengths of Podio
Reliable and secure tool
As a Citrix member, Podio adheres to the strictest security standards. The solution complies with ISO27001 security policies, uses advanced encryption standards, and also provides access through secure Single Sockets Layer connections.
Mobile application
Podio's app for IOS and Android allows you to track the progress of your projects and coordinate with your teams. Whether you're on a computer or smartphone, at home, or in the office, you can stay connected with the entire company.
Integrated platform
Podio is compatible with many services such as Dropbox, Zapier, Google Drive, etc. This means you can connect Podio with existing apps and software in your company.
In addition to the standard integrations, Podio develops extensions to give you the possibility to go further in the use of the tool.
Pricing
Podio has four plans with each being more extensive than the previous one. All plans are priced per employee per month. There are also slightly lower costs for the software if you choose to pay annually instead of monthly.
Free (for 5 employees)

Basic ($7.20 Annually $9 Monthly)

Plus ($11.20 Annually $14 Monthly)

Premium ($19.20 Annually $24 Monthly)

Appvizer's opinion
If your business requires a more customisable option that can be flexible enough to respond to various needs, then the Podio software is for you. Allowing you to touch on a variety of aspects of business, the platform works in different ways. Set up Podio to act as a CRM, a project management tool, a social intranet tool, or much more to help your business be more efficient and reach key objectives.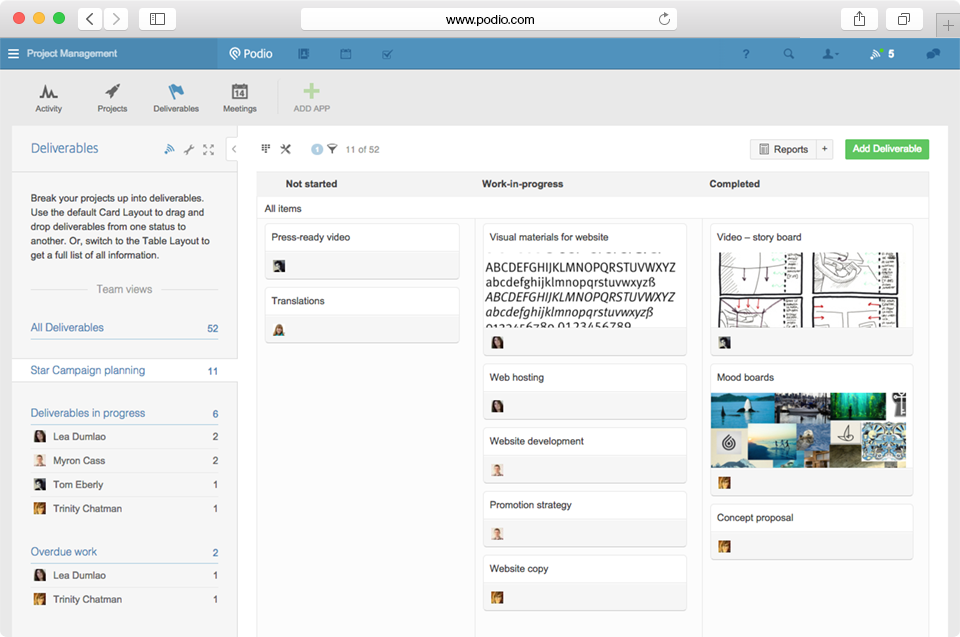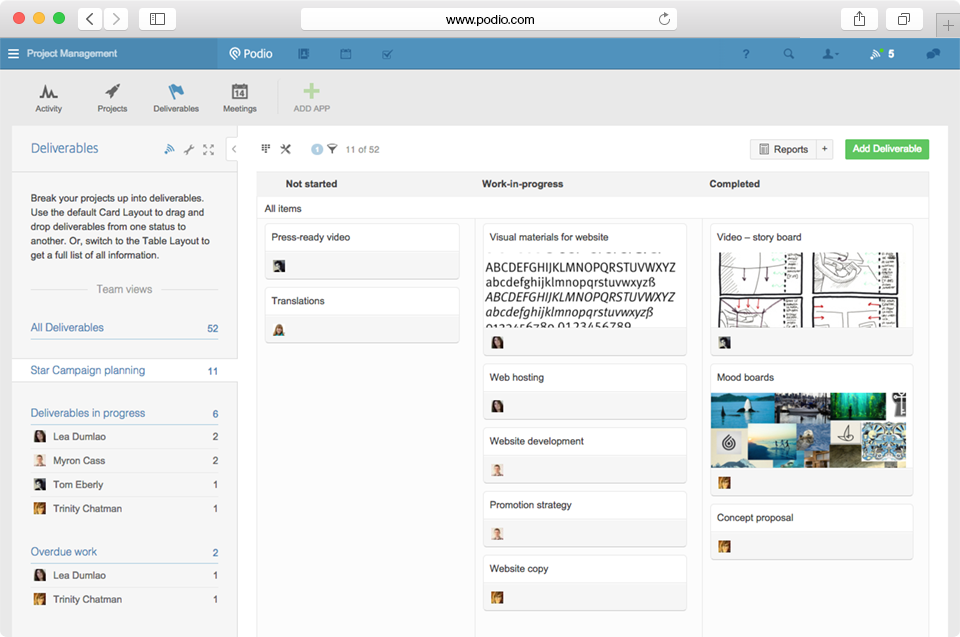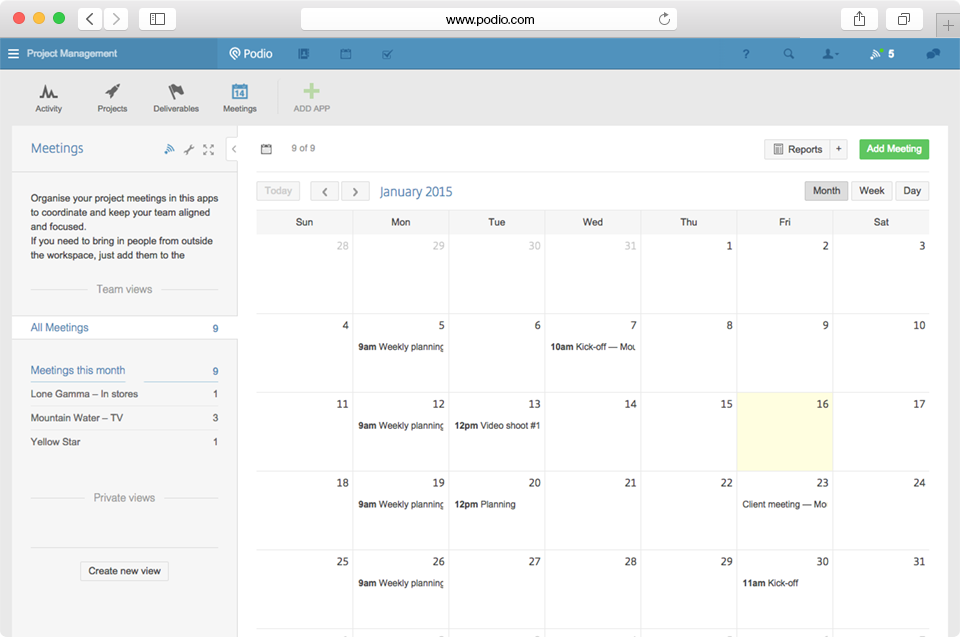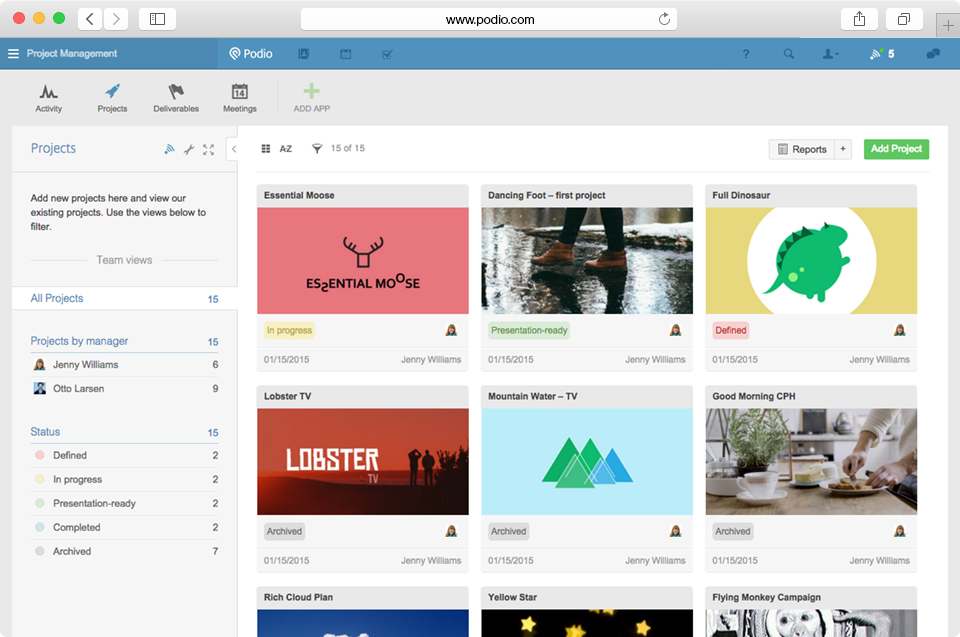 Podio: its rates and features
Appvizer Community Reviews (0)
The reviews left on Appvizer are verified by our team to ensure the authenticity of their submitters.
No reviews, be the first to submit yours.