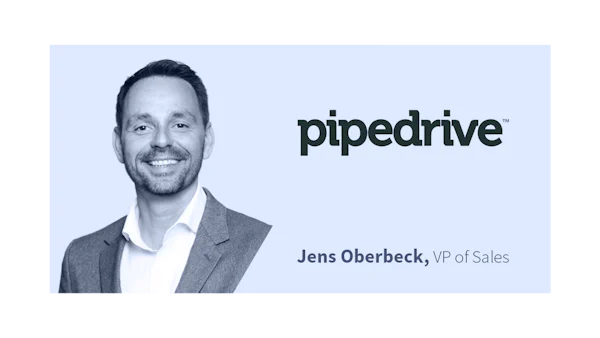 How to set up a lead nurturing strategy that motivates your team
Lead nurturing is one of the most important sales tasks. According to Pipedrive's latest State of Sales report(1), prospecting and qualifying leads are salespeople's two main responsibilities (after selling). However, more than half (52%) struggle at some level to find sales leads, which makes lead nurturing a real challenge.
Keeping sales representatives motivated and on-task is critically important. Companies that have mastered lead nurturing typically generate 50% more sales-ready leads(2) while lowering their cost per lead by 33%.
Here is how you can set up a lead nurturing strategy that motivates your salespeople to find, nurture, and close qualified leads—fast.
What is lead nurturing?
Lead nurturing is the process of building relationships with your prospects to increase the chance they'll become customers.
Rather than leaving communication to chance, it's systematised to ensure that each lead receives regular and relevant messaging at every touchpoint, with the goal of providing ongoing value and strengthening the relationship.
Lead nurturing sees its best results when it mirrors the customer journey. This way, your sales, and marketing teams can personalize interactions, giving leads the information they need to overcome the right obstacles at the right time.
Lead nurturing strategies
While lead nurturing might sound simple in theory, it can be a real challenge for sales professionals who already have a full workload. Here's how you can set up a lead nurturing strategy that keeps your reps motivated and encourages leads to buy from you when they're ready.
1. Involve your sales reps and marketers in the strategy's development
Customers will interact and engage with your marketing and sales departments, so both teams should be aligned with your lead nurturing strategy.
As frontline staff who deal directly with your customers, your sales reps will have valuable insights to offer. Use these insights to collaborate on creating detailed buyer personas with unique needs and pain points.
Your reps will be well-placed to pinpoint information about the customer journey, such as:
What questions are your customers asking from initial awareness and research through to decision and retention?
What challenges are they facing?
What information do they need to move on to the next stage?
Use these answers to create relevant messaging and content that informs your lead nurturing campaigns.
For the best results, this involvement needs to go beyond surface-level decisions and include input on the overall strategy. Involving both teams, and capturing consistent feedback on how the process can be improved, helps increase buy-in and understanding from those who need to implement the strategy.
2. Automate your lead nurturing wherever you can
Automate wherever you can to reduce the burden on your sales and marketing team and allow them to focus on their highest value tasks.
A good first step is automating your lead generation efforts. Lead generation software can automatically find contact details for leads that match your ideal customer profile (ICP) and your website visitors.
From there, you can use email marketing automation to manage your content delivery and qualify leads faster.
Most email marketing programs allow you to segment your subscriber list, so you can deliver more personalised campaigns. Some even let you monitor open and engagement levels by contact, so you can keep a close eye on the hottest leads.
Leads move through the customer journey at varying speeds and have different requirements. For example, a lead who's visited your site for a couple of minutes needs a different approach to someone who's spent hours on your product pages and downloaded a case study.
Automation makes it possible to optimize your content for each lead.
3. Keep an eye on the data
Getting the right combination of lead quantity and quality is essential for a successful lead nurturing campaign. You need leads to survive, but too many low-quality leads are a waste of resources.
By closely reviewing your results, you can spot gaps in the nurture flow, such as missing an opportunity to send a resource (e.g., case study or white paper) when a lead signs up for a webinar.
This comes back to keeping your sales and marketing teams closely involved throughout the process, so they can quickly raise any concerns. What metrics will be used to measure the success of your campaign? What constitutes a marketing-qualified lead (MQL)? How have you defined a sales-qualified lead (SQL)?
As part of this process, both teams should agree on how leads will be scored and ranked. This is also something you can automate with numeric values assigned to relevant activities, such as time spent on your website, their actions on your website, and email engagement.
Having clearly defined goals for your program will make it easier to measure its impact and make any necessary adjustments.
4. Reward your high-performing team members
If team members bring in a lot of high-quality leads, encourage them to keep up the good work. By recognizing high-performing team members and rewarding them, they'll feel appreciated, incentivised, and the whole team will experience a morale boost.
Your reward program should be carefully planned out to provide the right level of motivation without creating unnecessary stress or inadvertently encouraging negative behaviours. For example, gamification is one way to create healthy competition without damaging morale.
You should also ensure that reps aren't being penalised for results out of their control.
While your sales reps might be rewarded based on the number of deals closed, average deal size, and so on, your marketing team's performance should be measured on metrics from earlier in the nurturing process, such as click-through rates and MQLs generated.
5. Decide on the right point for your team to make contact
You've likely experienced cold calls where a sales rep from a company you've never heard of tries to sell you a product you know nothing about.
When your sales reps reach out to a prospect too early in the nurturing process, the chances of having a positive conversation are extremely low. However, if you wait too long, your reps may have missed the opportunity.
Before your reps think of making a call, ensure that the prospect is in the right stage of the buyer's journey.
For starters, they need to be familiar with you and how you can help them. Would they recognize your name and brand? Do they understand your product's value proposition?
For prospects at the top of the funnel, they may only have a basic understanding of your solution. Instead of trying to close with the first pitch, warm them up in your nurture process. This might be as simple as engaging with the lead over social media or sharing articles and webinars related to their current challenges.
When your prospect is in the consideration phase and moving towards making a decision, then they're ready for your best pitch.
6. Make sure your email marketing and sales scripts are speaking the same language
When it comes to purchasing decisions, buyers spend 27% of their time researching independently online(3) and only 17% of their time meeting with potential suppliers.
Thus, your teams must create sufficient, easily accessible content for each stage of the sales funnel.
This speaks further to the importance of sales and marketing cross-team collaboration. If your email marketing messaging strays from sales scripts, for example, that content could be sending the wrong message. No sales rep wants to get on the phone with a prospect only to find out the prospect has been promised something your company can't deliver.
Beyond agreeing on features and benefits, the whole presentation of your product, from value proposition and positioning to brand identity and language, should be consistent from start to finish.
To avoid any potential confusion for your leads, both teams should understand and agree on your messaging strategy. Regular reviews and updates can help both teams stay aligned.
7. Focus on developing a great experience for your leads.
While companies tend to focus on the customer, creating a positive experience for everyone (even those who haven't become paying customers yet) will make your lead nurturing even more effective.
The better the experience, the happier the prospect. The happier the prospect, the more likely they will buy from you over the competition when they're ready.
Start by running through your lead nurturing program and looking out for any potential sources of friction that you can eliminate.
For example, are you asking your leads for too much data? Do they need to complete long, confusing forms to see the most basic information? If your leads get annoyed at any point in the journey, then they'll quickly move on to another, less frustrating provider.
Once you're satisfied that you've removed as much friction as possible, look for ways to add more value to the customer experience. The best way to do this is to talk with your prospects and existing customers to find out what's most important to them.
While you could send out a survey or email, conducting user research over phone or video calls allows for more open questions and natural answers.
With this qualitative data, you can optimize your lead nurturing experience so that it directly addresses your prospects' biggest pain points.
Ready to improve your lead nurturing strategy?
Lead nurturing is an essential part of the modern sales process. By implementing these tips, you can ensure that leads get the information they need at the right time, so you're top of mind when they're ready to buy.
Sources:
(1) https://www.pipedrive.com/en/resources/state-of-sales
(2) https://www.marketo.com/lead-nurturing/
(3) https://www.gartner.co.uk/en/sales/insights/b2b-buying-journey
Best tools for you