To optimize your customer relationship, the software market offers a very wide range of software products. It is easy to get lost in the meanders of this software panel, therefore we compared some of the best Customer Relationship Management software for you to choose the one that best fits your needs.
In order to evaluate their performance, we compared the different features they offer, their target audiences, and its main advantage, which could be the deciding factor when making a decision.
Below are some of the best CRM examples on the market.
General ranking of CRMs
The software are classified by alphabetical order.
| Software | Main Benefit |
| --- | --- |
| Eudonet CRM | Suitable for a variety of sectors |
| Microsoft Dynamics 365 | Integrated with Office Suite |
| noCRM | Boosts prospecting |
| Oracle CRM | Very complete with a sales prediction tool |
| Salesforce Sales Cloud | Innovative |
| Sellsy CRM & Support Client | Simple and innovative CRM |
| Simple CRM | Artificial intelligence that looks for the right prospects |
| Sugar CRM | Open source and customizable |
Eudonet CRM adapts to your business
Accessible in local or SaaS mode, this CRM solution has been constantly evolving since its release. It can be accompanied by training and support services in order to optimize its use.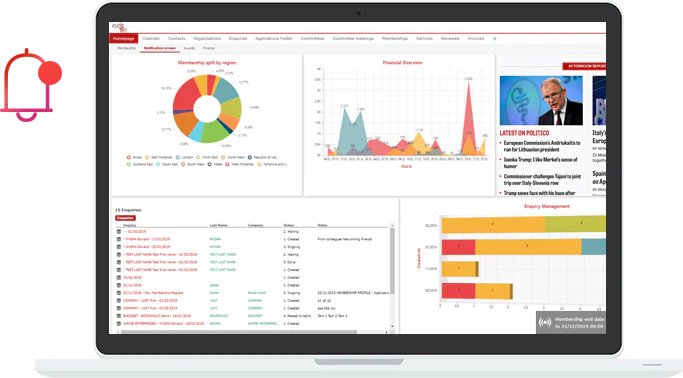 Marketing and data analysis
Adapted to business inputs, the marketing functionalities benefit every company wishing to develop their turnover. The processes are based on emailing and sending automated, yet personalized, messages. Commercial territories are identified by the software and can be valued according to needs. Automated dashboards and reporting are at your disposal to have a precise overview of all your activities.
Sales
The solution offers the possibility to manage contacts according to predefined entries. Duplicates are managed to avoid distorted analyses and overloading the database. Eudonet CRM helps sales representatives to have the right information at the right time and allows them to anticipate customer desires and expectations. Remote consultation promotes more regular monitoring of sales progress and permanent access to the necessary information.
For which audience?
SMEs, local authorities, or large companies can access this platform without being overwhelmed by the various functionalities.
Eudonet's advantages
Its interfaces and functionalities adapted to different types of companies and various professions.
Microsoft Dynamics 365 the GRC software integrated into the Office Suite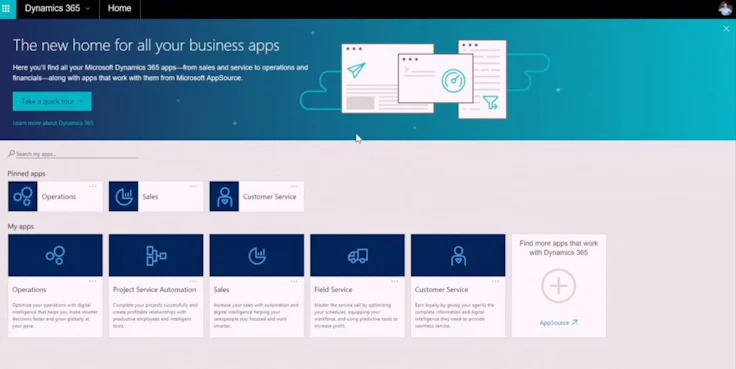 As its name suggests, it is a software developed by the Microsoft company and which aims to provide an effective customer relationship management solution through different functionalities.
Marketing and data analysis
It uses its performance to develop an effective marketing strategy and create an individualized client-company relationship. It allows the generation and sending of messages containing automatic responses based on the customer's actions. Workflow rules can be customized according to the generated requests and the needs of the company. E-mailing and faxing are carried out after customer targeting.
Commercial documentation can be created and distributed using this software. It also carries out an analysis of the competition and carries out a competitive watch. In order to offer good visibility of the analyses, Microsoft Dynamics 365 software offers you the edition of campaign performance reports and weights the cost/revenue ratio of each of your campaigns.
Sales aspect
The software provides optimized management of customer and prospect data. The contact details, but also the exchange histories are integrated in order to be analyzed. It is also possible to take into account the contact preferences authorized by the customer (telephone contact, emailing...).
Microsoft Dynamics 365 manages duplicates so as not to create a biased analysis of information and not to overload your database. It also provides an opportunity management by converting a prospect identified as potentially interested in a product or offer. He is responsible for the sales process by creating quotations and recordings orders. Forecasting future sales, account management, and contract management with automatic updates are all advantages offered by the software.
For which audience?
Microsoft Dynamics 365 software is ideal for small and medium-sized companies looking to reduce their costs while developing their image through process automation to optimize their services. There are three price offers to get this software. The rate is calculated per user and per month. A large number of users will reduce the overall price of the offer.
Microsoft Dynamics 365's advantages
It is integrated into Office suite and offers really easy handling. The Microsoft Dynamics 365 solution now goes beyond the sales module. CRM and ERP merge and offer functionalities:
Marketing
Customer service (after-sales service)
Field services (field use)
Project management automation, etc.
In this sense, the software is suitable for both VSEs and ETIs as well as large accounts.
noCRM gets your prospecting off the ground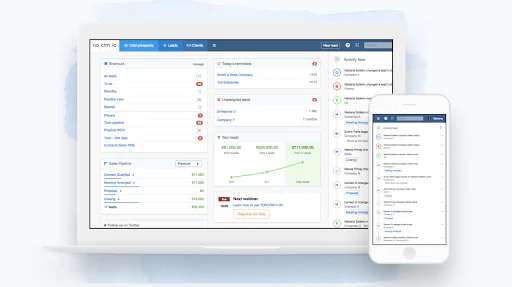 noCRM is a community of more than 7,000 sales representatives in 80 countries worldwide. This business prospecting management software is mainly aimed at very small businesses and SMEs.
Simplicity at the heart of functionality
Do you want to create a business quickly and from any source? noCRM is your answer. You no longer have to enter dozens of data before you can create prospects files. With one click, create a prospect file from:
A LinkedIn page
A contact form
An email
A business card
A manual entry
Customize the solution to fit your sales process: 360-degree view, business progress, pipelines, sales steps, etc.
Don't miss any more appointments with automatic appointment scheduling and reminder features.
Be more efficient with multiple integrations
The design of noCRM allows sales representatives to connect the solution with Quickbooks, G suite, Corporama, Factomos, Aircall or PieSync, for example. Save time to communicate internally or with your prospects, exchange documents, etc.
Integration with Zapier also provides indirect access to hundreds of applications, such as Asana, Trello, Slack, or MailChimp.
Connect your applications to simplify your processes and make your daily work easier.
An offer accessible to all companies
noCRM offers a pricing system that is adapted to all companies and their different needs. For the most modest budgets, there is a starter edition offer, ideal for microenterprises, and for bigger more advanced companies, there is an expert edition offer.
Whichever offer you choose, it is non-binding and can be cancelled at any time.
noCRM's advantages
This CRM software is available in four languages: French, English, Spanish, and Portuguese. Support is also offered in each of these languages. This is a great asset for international companies or companies in the process of internationalization.
The software's interface is sleek and clear, making it easy to use, both on the computer and on the mobile application.
Predict your sales with Oracle CRM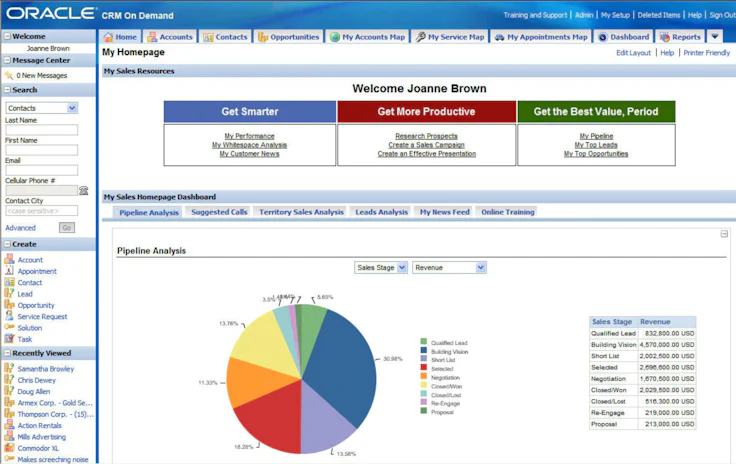 Oracle CRM is focused on customer relationship management and offers a truly comprehensive CRM solution. The latter allows marketing departments to develop and execute a multi-channel campaign.
Marketing and data analysis
It offers all common CRM functionalities such as mailing, e-mailing, faxing, but also provides the possibility to set up workflow rules and perform complete analyses. There are really very precise and advanced in order to have a sharp vision of the marketing actions carried out.
Sales
Here too, the software offers advanced contact management features for both customers and prospects. Duplicate management ensures that databases are updated without redundancy. Opportunity management invited the transformation of a prospect into a potential customer. Account and contract management are easy to use and can be quickly taken over.
Organisation of documents and information
The documents are managed by the software and a history follow-up is readable in the form of a Gantt chart. The available electronic mailbox allows a quick and simplified exchange.
For which audience?
It is suitable for all company sizes because of its numerous easy to use functionalities. It also offers two prices of which you can choose from: the local software version and the SaaS version.
Oracle CRM's advantages
Valuable analysis and a tool that provides sales predictions.
Salesforce Sales Cloud, the world leader in innovative CRM
Developing sales, building customer loyalty and opening up to new opportunities are the major assets of this marketing solution. The supplier of this software is based in San Francisco and is at the origin of cloud computing. He draws inspiration from international companies with whom he works to develop software that precisely meets their needs.
Marketing and data analysis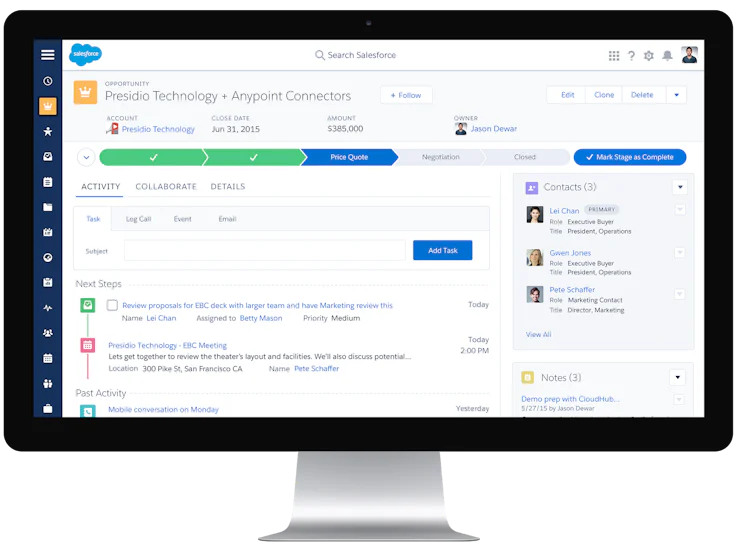 In order to create a privileged contact with its customers, Salesforce creates personalized and targeted emails based on customer profiles. Based on undivided workflow rules, it allows the response sent to be adapted according to the action taken by the consumer. Through smarter customer service, it helps you respond more quickly and accurately to user requests. The analyses and statistics it develops evaluate the effectiveness of your campaigns, demographic data, and create customized graphs.
Sales
Contact management is carried out by an automatically updated database with the possibility for the customer to modify his information online. You will have the possibility to consult the data of customers and prospects in lists segmented according to the selected criteria. A utility to merge accounts and contacts eliminates potential duplicates. With a follow-up of data on customers and prospects, you will have clear visibility on the opportunities and actions to be implemented.
The software also invites you to prioritize accounts with the possibility of sponsorship, but also access to a detailed history of exchanges between the customer and the company.
Organisation of documents and information
With Salesforce, your documents are organised according to different criteria and you can exchange via Outlook, but also define personalized alerts. Attachments can be added to illustrate a point or give more information to a collaborator.
For which audience?
Salesforce offers a wide range of services for companies of all sizes. The handling of the service is easy and clear. You do not need to be a computer professional to understand how it works.
Subscriptions rates are also decreasing according to the number of users per month. You will find offers ranging in various prices allowing access to more or less advanced features depending on the solution chosen.
Salesforce's advantages
Very innovative software solution and the possibility of being part of a very diverse community offering many tips and relevant comments.
Sellsy CRM & Customer Support, the most intuitive CRM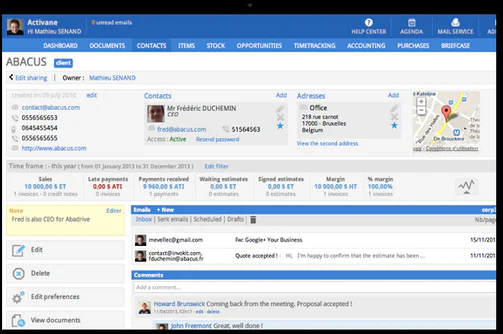 Sellsy CRM and Customer Support at a glance
Sellsy CRM & Customer Support is a French CRM primarily aiming at very small and medium-sized businesses that want to manage their customer relations, generate quality leads and collaborate easily with a single solution.
This CRM software also allows integration with your tools thanks to its APIs and connectors: Google suite, Dropbox, Slack, Mailchimp, Zapier, Paypal, etc.
The Sellsy mobile application extends your mobile business: you manage your projects and anticipate the needs of your prospects from anywhere on your smartphone.
Advanced functionalities
CRM and customer relationship management
Sellsy is available in several modules. The commercial management module includes:
contact and customer management,
centralized and collaborative email management,
the follow-up of customer histories,
document management (quotations, invoices, document models, etc.),
the pricing grids,
monitoring of receipts, etc.
Customer service
Sellsy CRM & Customer Support has the advantage of including customer support features directly in its customer relationship management solution. We're holding back:
the follow-up of incidents (tickets),
ticket history by customer,
various ticket creation modes,
standardized response templates, etc.
Sellsy's advantages
Sellsy offers ergonomics to support your productivity. Your customer relationship management is made easier by Sellsy's pleasant interface and easy navigation. In addition, Sellsy's teams are always at your disposal to assist you in the implementation of the tool within your company, from understanding your needs to training your employees in the tool. Sellsy is very professional with its customers.
Simple CRM, the artificial intelligence that finds leads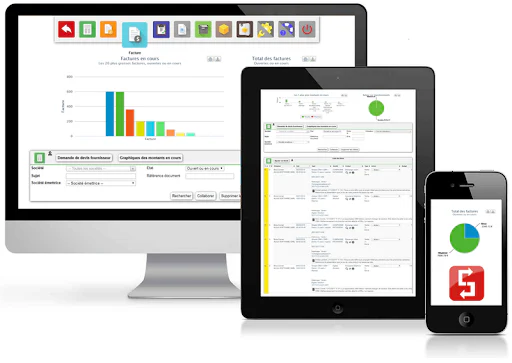 Simple CRM has definitely entered the "big league" of CRM with the integration of artificial intelligence (AI) that facilitates prospecting, and definitely makes cold calls obsolete.
Prospect without prospecting
Your sales representatives dreamt of it, Simple CRM did it: the A.I. called Happi scans directories and databases using its integrated Big Data technology. Happi detects potential prospects and sends leads directly to the sales force.
Sales representatives can thus contextualize their sales approach with quality data on each contact. Due to this, they can focus their efforts on customizing the sales proposal. And that's not all: Happi is able to answer questions such as "ideas for a trade fair? ». The intelligent virtual assistant of the sales representative will not make you regret Excel...
Integrations that foster collaboration
The API and many connectors allow you to work with your favourite applications:
Online office suites such as G Suite, Microsoft Office 365, Sharepoint
Communication tools such as Skype, Whatsapp, Outlook, and Gmail
Common CMS such as Joomla, Drupal, WordPress
Online sharing and storage spaces such as Google Drive or Dropbox
Google Maps, which is very useful for geolocating prospects on tour
An offer that adapts to all company sizes
The price of simple CRM is very attractive since it starts at $10/month/user.
Notice to VSEs, SMEs, and mid caps: you can also test out the solution free of charge for 15 days.
The advantages of simple CRM
Happi, the artificial intelligence that makes sales people happy
A fully synchronized Voice CRM in the mobile version
A CRM to comply with the DGMP
Reminders of unpaid invoices are automated
Complete management of the commercial activity
Sending and analysis of marketing campaigns (emailing and SMS)
Dashboard and performance analysis features
Sugar CRM, the open source and customizable CRM solution
Sugar CRM is one of the most powerful software and is considered the world leader in open source customer relationship management solutions. It has gradually established itself in the field since its release in 2004.

Marketing and Data Analysis
It offers multi-channel management of marketing campaigns. Emailing, faxing, direct mail, texts, all media are used to reach a targeted population according to predefined parameters. Workflows are adjustable and processes automated for simplicity.
Sales force management
The database can be consulted and modified by all members of the company's staff in order to have valuable knowledge of each customer or prospect profile.
The software makes it easy to manage different business leads, opportunities, and activities from the platform. This makes it easier to organise calls, tasks, and appointments. Correspondence is carried out via the database and makes it possible to work on incoming emails, automatic responses, letters or texts to customers.
For which audience?
This CRM platform is suitable for very small companies as well as large groups. It offers very advanced and ideal functionalities for a controlled management of customer relations.
Rates are given according to a breakdown by user and by month. There are four price versions that you can buy depending on your needs. Sugar CRM has different solutions for every type of business.
Sugar CRM's advantages
Its great flexibility thanks to numerous settings and its great accessibility on all media.
CRM software adapted to all
Customer relationship management software offers are varied and adapted to various needs. There is no need to invest a considerable amount of money if expectations are not too high.
On the other hand, for a very large company with a large customer base, it is recommended to choose a software which offers a wide range of possibilities and at a decreasing rate depending on the number of users.
Which CRM software do you use? Share your experience with us!
Software quoted in this article