Chargebee: in summary
Chargebee is a SaaS solution for subscription management and recurring billing, ideal for companies looking to automate their billing processes and manage their subscriptions efficiently. It is particularly aimed at startups, SMEs, and large companies operating in various sectors, such as SaaS, media, education, or services.
The software has been designed to help companies with a subscription model to:
acquire customers,
generate more sales with less effort,
and maintain sustainable growth, while optimizing their financial operations.
The platform addresses issues such as revenue leakage, customer retention, and the need for compliant and comprehensive revenue reporting. Its robust integration ecosystem enables seamless data synchronization with market-leading CRM, accounting, and marketing tools.
In addition, Chargebee offers advanced features such as declined payment recovery and integrated dashboards for better analysis of subscription performance. By combining these features, Chargebee offers a complete and powerful solution for efficient subscription and billing management.
Its benefits
Recurring payments with 29+ payment gateways
Analyses 150+ key metrics to optimise revenue and retention
Supports 30+ payment methods and 100+ currencies
Certifications:PCI-DSS, GDPR
Its disadvantages
UX/UI could be improved

Appvizer's opinion
While Chargebee is undoubtedly a comprehensive and powerful solution, we have to admit that we particularly appreciate the tool's flexibility, with the ability to accept payments via alternative methods such as direct debit, e-wallets (Apple Pay, Amazon Pay), and even offline payments.
Chargebee's integrations are, in our view, the platform's greatest asset. Connecting Chargebee to popular software such as Zendesk, MailChimp, Salesforce, Hubspot, Pipedrive, Slack or Shopify centralises operations and easily synchronises data. This facilitates the management of customers, accounting, marketing campaigns and support processes, all from a single interface.
In particular, this architecture offers significant advantages in terms of service reuse and resource sharing across multiple applications. By separating the business logic from the front end, we leverage common services such as Chargebee to efficiently manage access rights to paid content for different applications. This approach enables centralised management of subscriber-related functionalities, facilitating the development and maintenance of multiple platforms while optimising costs and effort.
All this is made possible thanks to an administration interface for managing the entire product and subscriber base. You can consult, create, modify and delete the application's main entities: catalogs, customers, subscriptions, invoices, etc. The interface is intelligently designed and modern, making it more pleasant and efficient to use than other software.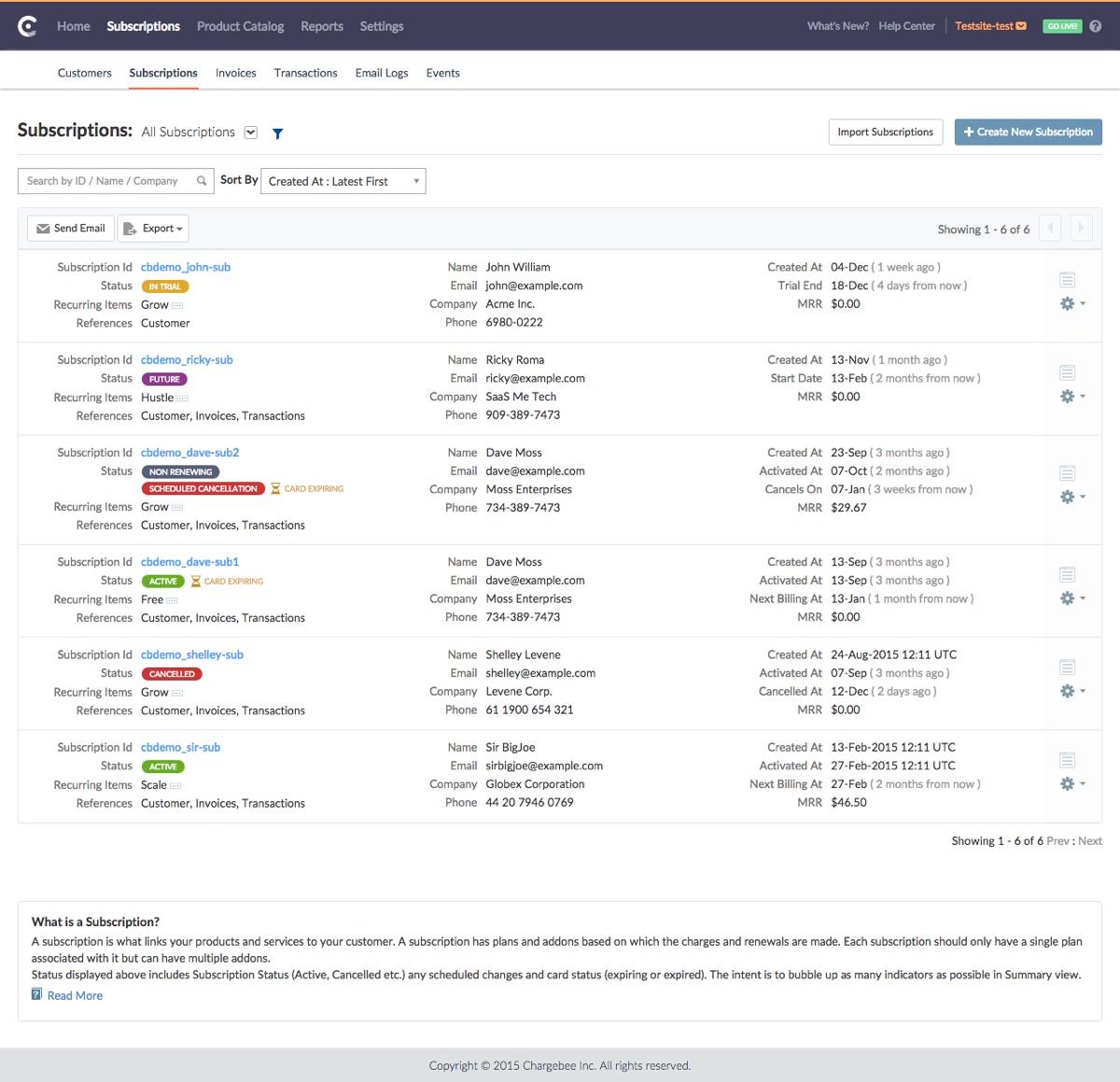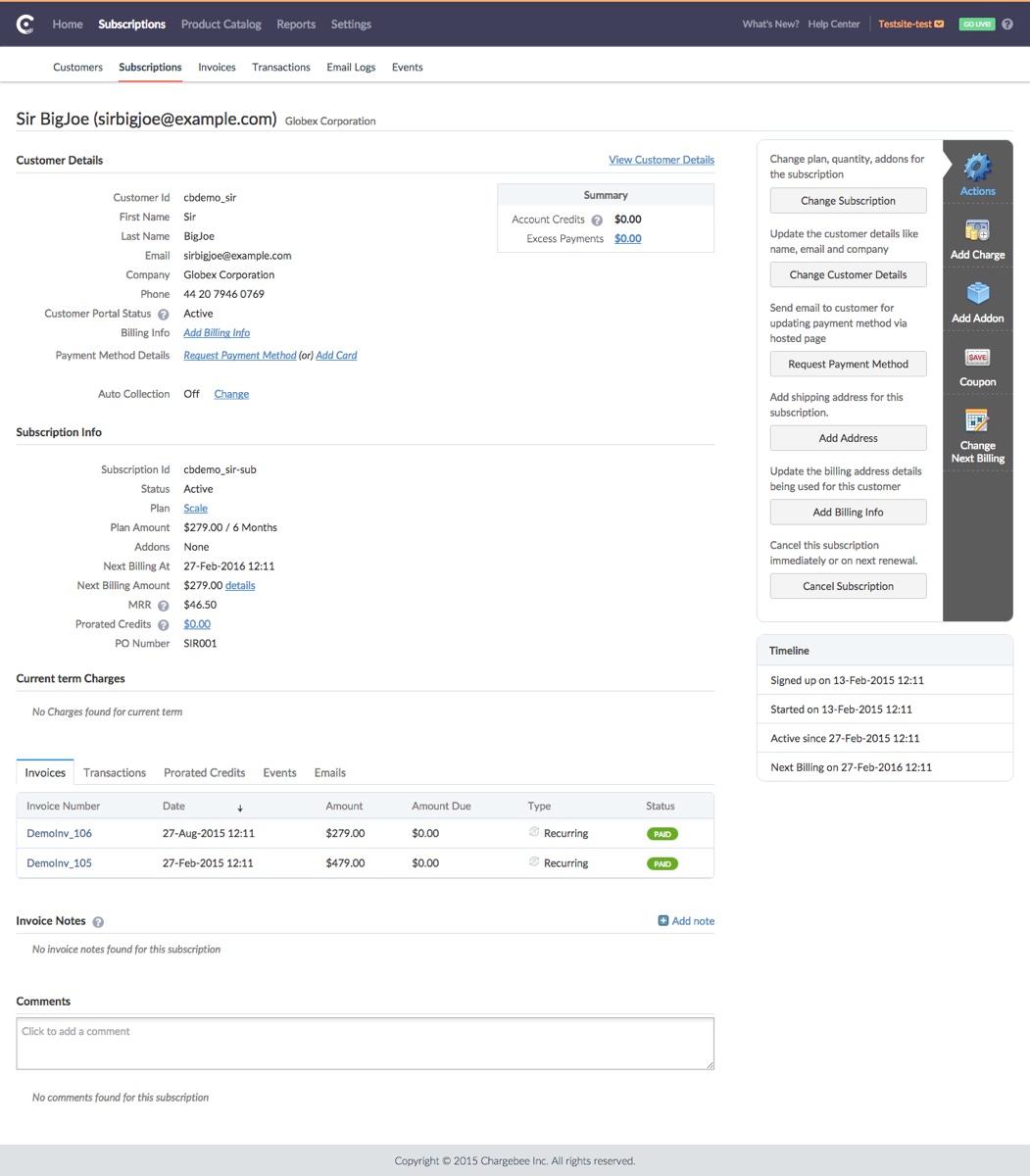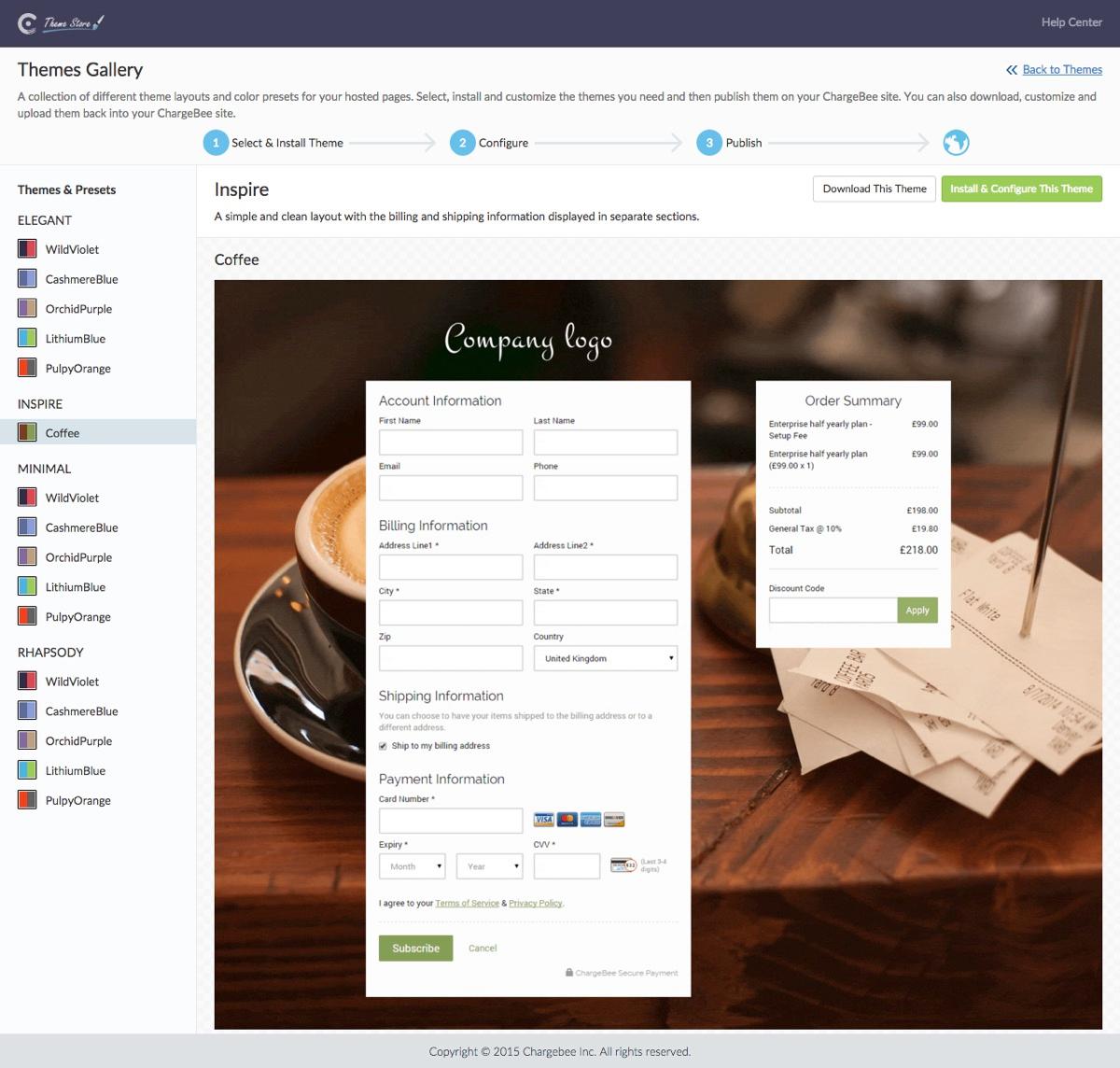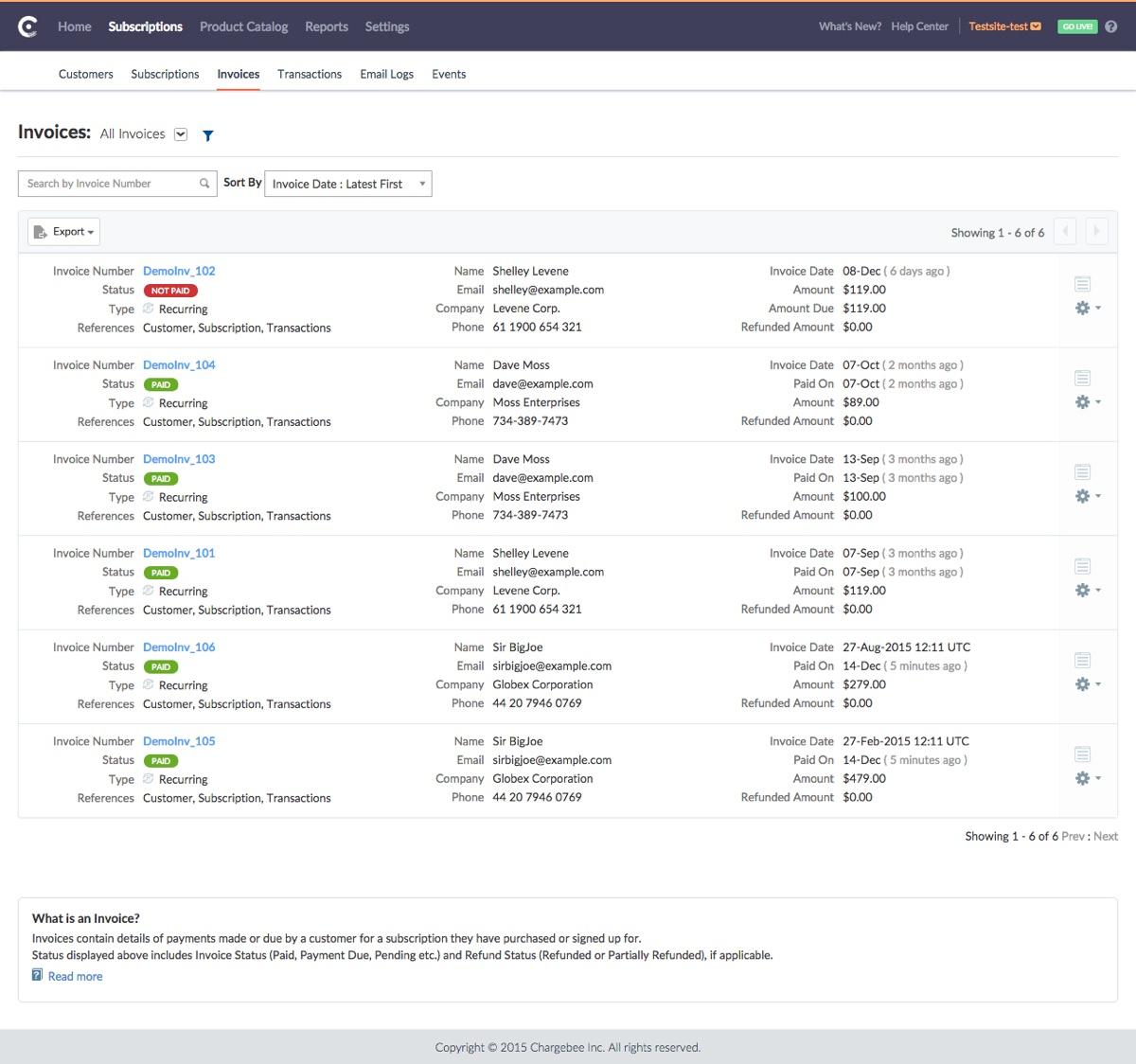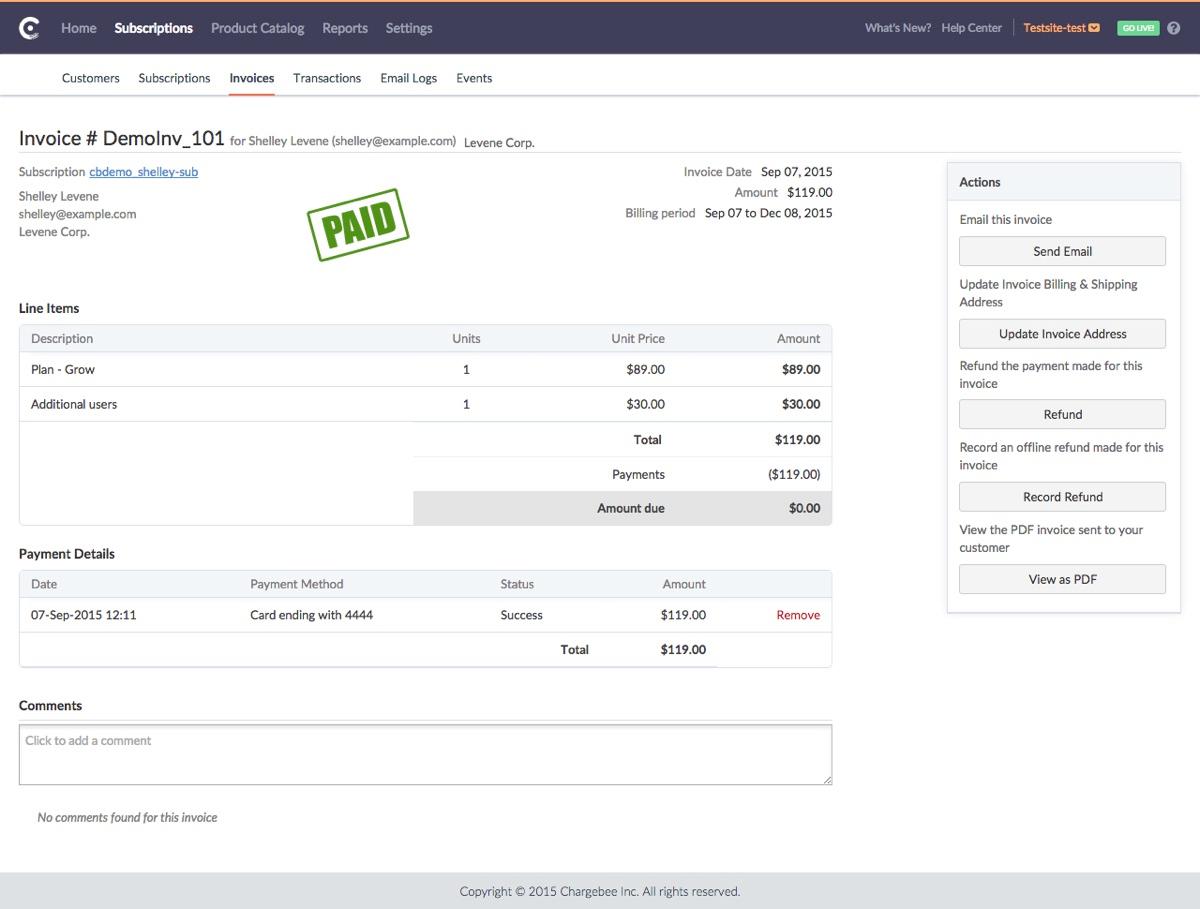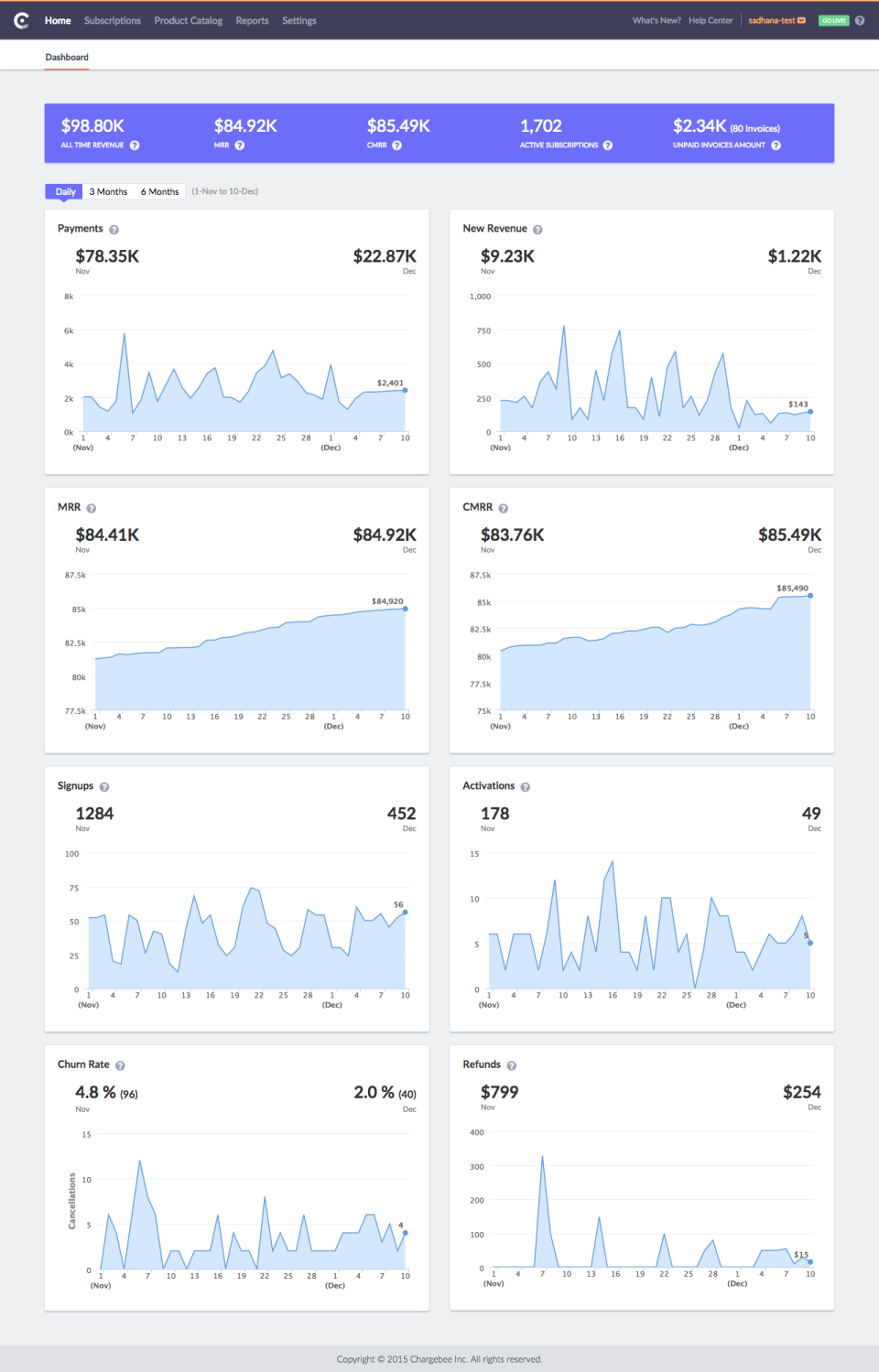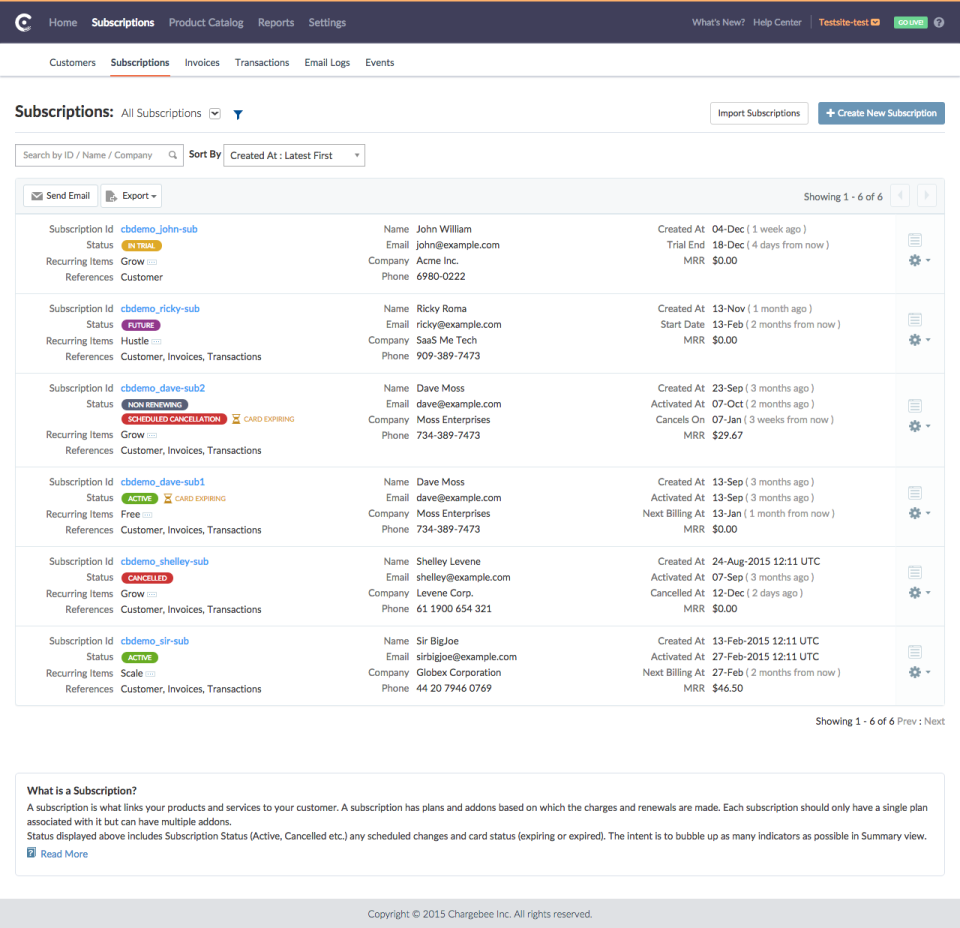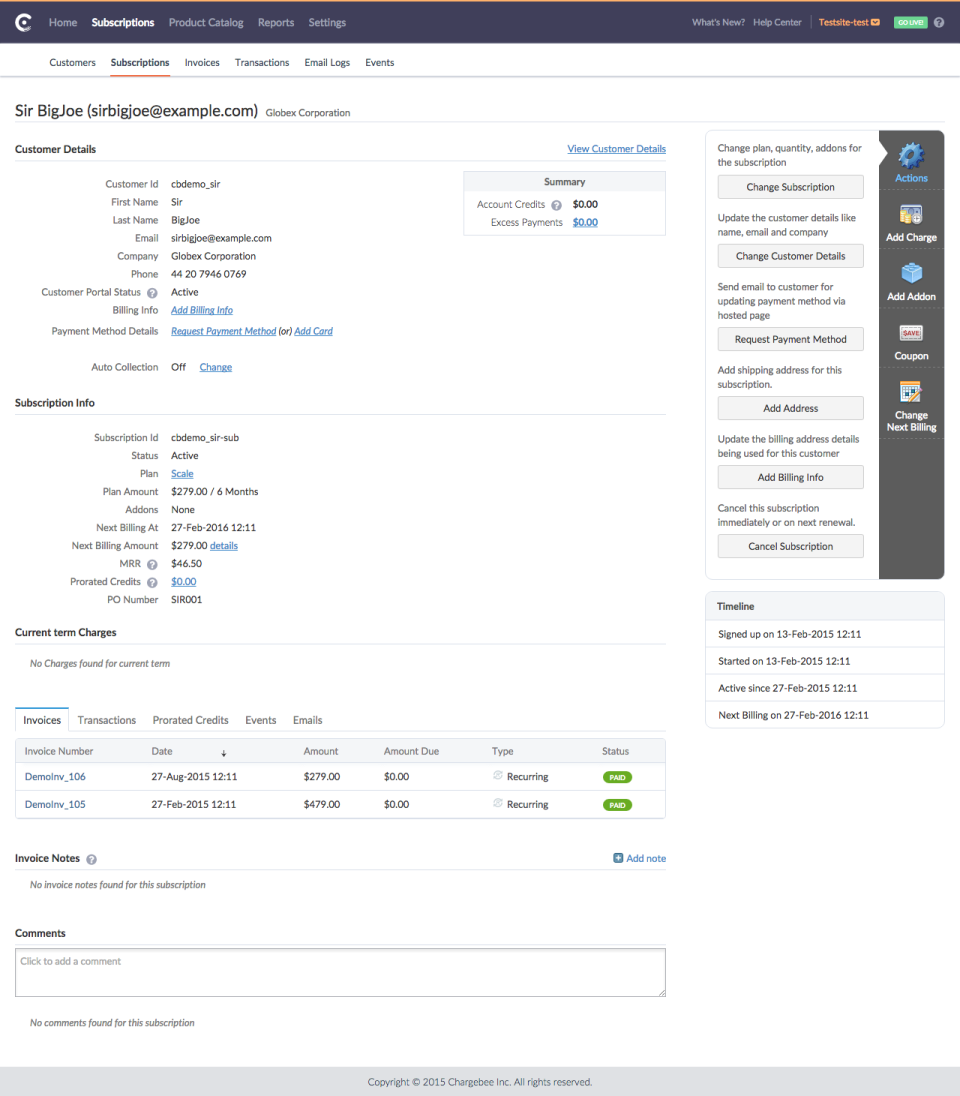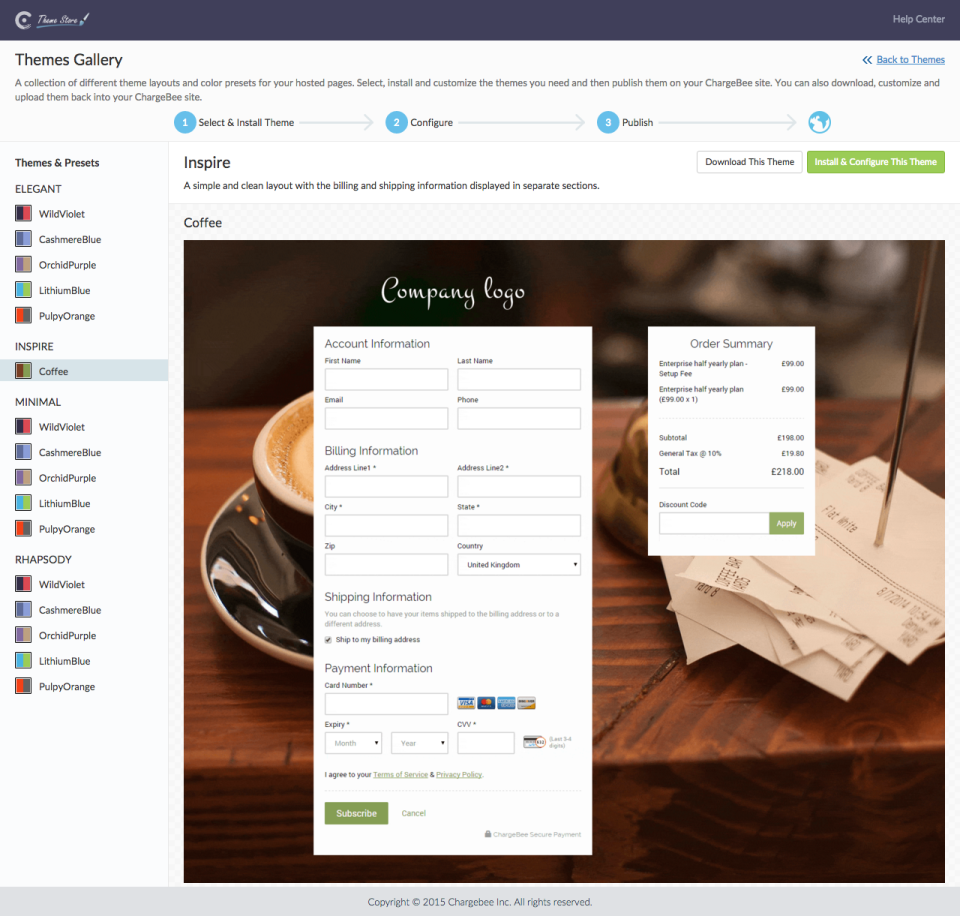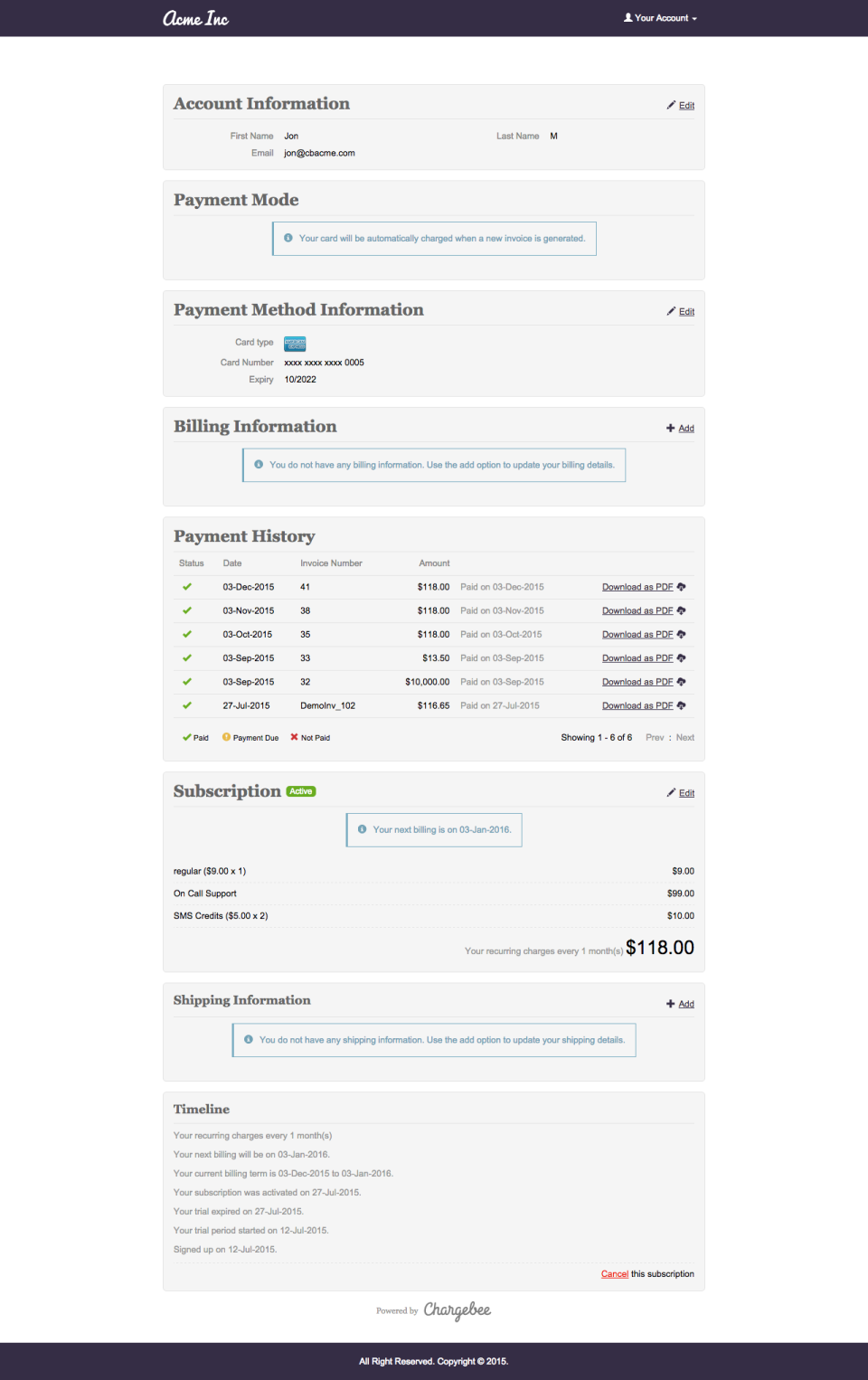 Chargebee: its best resources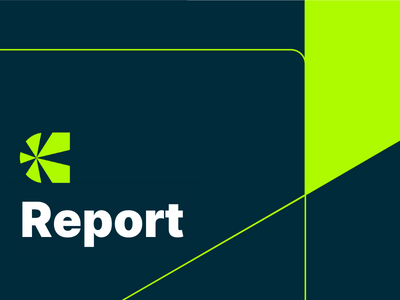 2023 State of Subscription Industry Report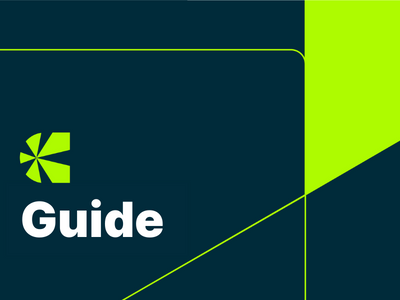 Running a Subscription Business in a Down Economy
See more resources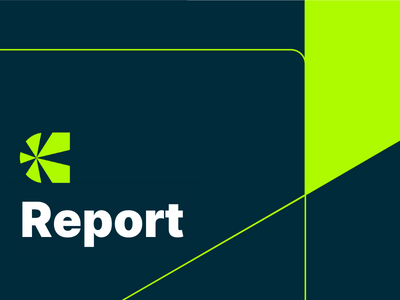 2023 State of Subscription Industry Report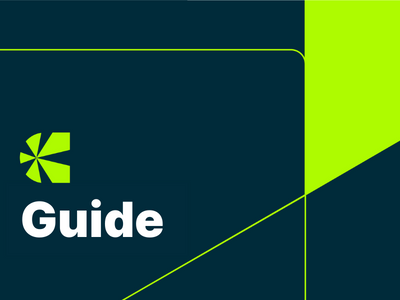 Running a Subscription Business in a Down Economy
Chargebee: its rates and features
Chargebee offers a range of tariffs to suit the needs of businesses:
Starter Plan: free! For entrepreneurs starting with a subscription model. No commitment. Includes multilingual support, support for multiple tax regions, chargeback management for online and offline payments, support for multiple pricing models, and tax reports.
Performance Plan: from €599/month. Annual commitment. For fast-growing companies who want to optimise their financial operations and lay the foundations for rapid growth. Offers everything included in "Starter" plus advanced and consolidated invoicing, quotations, support for multiple payment methods per customer, payment dispute automation, user role management, and priority phone support.
Enterprise Plan: customised rates. For key accounts who want to pursue growth through new products, new geographical areas, new pricing models, etc. Includes everything in "Performance" plus account hierarchy, contractual terms, support for multiple business units, and on-demand delivery.
Rise

€299.00

/month /unlimited users

Scale

€599.00

/month /unlimited users

Credit Card Payments and Direct Debits

Credit Card Payments and Direct Debits

Credit Card Payments and Direct Debits

Credit Card Payments and Direct Debits

EU and International Invoices

EU and International Invoices

EU and International Invoices

EU and International Invoices
Chargebee: the complete test
In our in-depth evaluation of Chargebee, we identified three features that make it a powerful and efficient subscription management tool.
Comprehensive subscription and billing cycle management
This flagship feature is impossible to ignore!
With this tool, we have total control and, once again, great flexibility over the creation and management of our subscription plans. It's easy to define customised billing cycles according to our needs, to offer free trials, special discounts or flexible billing options.
Chargebee also makes it easy to manage subscription changes, upgrades, and cancellations. Updating our customers' subscription details requires no extra effort. This flexibility in subscription management ensures a seamless experience for our customers and enables us to adapt to their ever-changing needs. And very quickly!
Powerful integrations with CRM and accounting tools
Chargebee is not just a powerful tool but also offers solid integrations with popular CRM and accounting tools.
Thanks to the strong integration ecosystem, we can easily synchronise data between Chargebee and our existing tools such as Salesforce, HubSpot, Sage, Zapier or Freshdesk.
This feature enables us to centralise our operations and eliminate the tedious manual tasks involved in managing subscriptions and invoicing. This means we can access all our customer and financial information in one place, facilitating informed decision-making and overall management of our business. With these powerful integrations, Chargebee offers us a complete solution to optimise our workflow and improve the efficiency of our business.
Advanced automation and rejected payment recovery
Chargebee's advanced automation and declined payment recovery are effective features. With them, we can maximise our sales by reducing missed payments and growing our cash flow.
Chargebee offers intelligent automated attempts to recover refused payments. The solution uses well-designed dunning strategies to recover missed payments, maximising revenue with no extra (hands-on) effort. This advanced automation frees you from the burden of manual management of declined payments, allowing you to concentrate on more important tasks.
What's more, Chargebee offers integrated dashboards to monitor the status of our payments and subscriptions in real-time. We view information on sales, conversion rates, subscription plan performance and more. This analytical data helps us make the right decisions and adjust our sales strategy in line with customer trends and needs.
Appvizer Community Reviews (0)
The reviews left on Appvizer are verified by our team to ensure the authenticity of their submitters.
No reviews, be the first to submit yours.