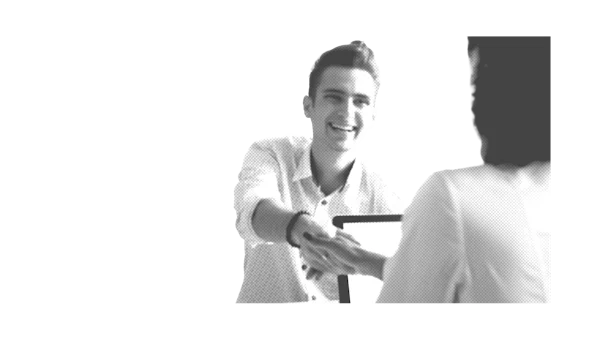 The importance of customer visits: Tools & tips
Nowadays, with people being so connected, companies often or completely forget the importance of customer visits. A Digital tool can show you statistics, but can it actually read the true interests or intentions of a client?
The answer to that is most likely not. Usually, the more customers you gain or have to deal with, the more it is essential to keep a close relationship with them.
Wouldn't you like to be considered more than a data or a click on an ad? I'm pretty sure you would.
Why are customer visits important?
What are the benefits?
Customers are constantly being solicited by your sales team. In fact, they will likely appreciate talking with a vendor who is not trying to sell goods, but instead someone who is invested in hearing about their problems and preferences. So, by meeting with them:
It helps customers feel appreciated
Company workers will feel more motivated as they will get honest and personal feedback of their product or service
It will create a certain bond: Meeting clients or customers in their environment shows you how they integrate your software in their workday. You'd be able to study their behaviour, to assess their potential and show them your support
It detects needs or problems that would not have been obvious on the telephone or by e-mail.
You must note that you are not the only one soliciting that customer, it is a competitive market, so getting as much personal information as possible will keep you ahead of the game. And finally, seeing their smile and satisfaction in person can be the best reward ever.
Who does it concern and why?
You might want to bring your whole team such as the marketing and analytics members to the meeting, but remember the goal here is not to sell but to listen and be understanding. Therefore, it should only concern the most profitable customers. And here is how to do it:
Refer to your CRM tool and highlight, via the sales dashboard or cross tables, those who have ordered the most often or with the best average basket;
Profile your customers. For instance, by using a progression metric, which assumes that the most interesting customers are those who have the best potential (good contact, several exchanges to date) but who have not yet made many purchases.
In a logic of cost reduction, a strategy to take into account is also the optimisation of sales rounds: you organise your customer visits by geographical area and link them in order to lose as little time as possible between each appointment.
This method can only boost your notoriety amongst customers and build customer loyalty. Because once it is done properly, it increases your efficiency to read and better understand the customer. And as it is generally said, time is money as well as of the essence.
What is a customer visit programme?
A customer visit provides an opportunity for each party to interact in order to reach a settlement. Discussions may include pricing and terms, advertising, and 'team' approaches to visits. Strategising is very essential and should not be omitted. It really gives you a true insight into a customer's perspective.
Customer visits can be divided into four classes:
It can be a Customer visit with the senior management team. Owners, presidents, general managers, and so on.
A customer visit with the sales managers
A customer visit with a team of two or more people.
And finally, a customer visit with an individual. This could be a member of the management team or a sales person.
How to prepare for it?
Before the visit
Preparation is key as it helps with your confidence and organization.
First step is to make an appointment with the person or people in charge.
Ask them when they will be available and set a time and date.
Make sure that each party is aware of what the meeting will be about beforehand.
Speak to them about confidentiality, that everything you report back to your team will be done with their consent.
On your end, if you haven't already, keep studying your customer.
See what has changed in the use of the product from now until the day of the meeting. Study their company, visit their website to know more about their products, services, and their work-life.
It will help you personalise the interview with a guaranteed effect!
Make sure each attendee on your team knows their role.
Review and reread your files as well as the history of exchanges and purchases, if applicable, to have all the keys in hand.
Do not forget to have a backup plan. It shows your professionalism in case something goes wrong.
During the visit
Once every concerned individual is informed about the meeting, this is where you get into the core of things.
Start off with light conversations, then get to the purpose of the meeting.
Make them feel comfortable. You do not want to seem too eager to begin business.
Keep in mind that this is a mutual agreement, so the customer or client won't run away. Nevertheless, here are a few topics you can do and speak about:
Be at the same time the student and the mentor. Pay attention to them as well as try to find the best solution to their problem.
Get to know what their daily work life looks like. Ask open-ended questions. Allow the customer to take the lead and talk.
If possible, focus on who uses your products or services more. And if so, how often and what are the main reasons?
Once you have determined the necessity they have for said products and services, ask them what they would like to be changed. Are there any bugs?
Above all, take notes, whether the information seems useful to you in the short, medium or long term, or not, perhaps this data will be useful later or will speak to one of your colleagues.
Finally, don't leave the room without summarizing what was said, as well as speaking of the next step you will take to ensure their needs are met.
Many benefits come from this.
After the visit
It is time to debrief. Review what happened. What did you learn? Were some of your questions answered? Were your goals met? What was the most helpful?
Then, continue with the customer and your team. Send the customer a thank-you note, so they can know you appreciate the time spent together and the feedback they have given you.
It doesn't need to stop there, as keeping a close relationship and giving your customer the best experience is not a day process but a constant and ongoing contact with them. Which is why your next steps should involve:
making a new appointment,
drawing up a diagnosis or a commercial proposal,
preparing for the negotiation based on the customer's specific requests,
identifying trends in the marketplace. If a number of your customer visits unearth the same concern, this may be an area that you need to focus on.
communicating important elements to the relevant teams (e.g., the after-sales team).
Final tips: how to simplify the customer visit?
Customer relations, like all professions, are going digital.
This is all the more appropriate as salespeople are professionals who often work on the move.
It is therefore essential to equip them with a mobile sales management application.
There are interesting tools for note-taking and customer visit reports, as it allows you to create any business document, tailored to your image.
Your documents are unified and 100% dematerialised, for consistency and centralisation that benefits the whole company, especially the sales representatives in the field, who no longer lose any of their work.
Depending on the different email scenarios configured, the managers receive a summary and the customer a recap by email. And if the visit is successful, you can even have the customer sign an order form right away!
The tool can also communicate with your CRM, a second essential tool which thanks to technology can directly be mobile, that is to say on your phones and tablets.
Using a flexible and customisable software, your sales representatives have all the necessary tools at their disposal on their smartphone or tablet: customer files updated in real time, connection to your ERP, generation of sales documents (quotations, order forms, invoices), and access to order history, stocks and your catalogue.
And you, have you tested any digital tools for your customer relations?
What did you think of them?
If you are still present, here is one last piece of advice: Always anticipate but do not forget that customer satisfaction is crucial to a company's success. Nothing beats an in-person meeting as hidden gems can be said.
Take the time to know who you are catering to. Customers buy when they feel loyalty and consideration. Do not disregard great relationships that can lead to great opportunities.
Best tools for you