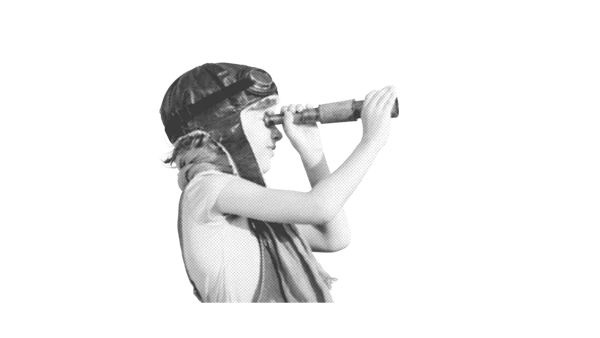 Increase your lead-to-customer conversion rate with a CRM software
The sales person is a driving force in the company - but without the right tools, even they can struggle to be efficient. A CRM (Customer Relationship Management) tool will gather all of your business information into just one place, in order to optimize your customer relationships. Discover all of our tips and advice on the use of CRM tools in our dedicated section.
A CRM to optimise the work of your sales staff
It is said that a sales person spends between 30 % and 60 % of their time on administrative tasks rather than on selling. The challenge is to decrease this ratio in order to optimise the salesperson's time, and consequently, their conversion rate.
Time saved on a daily basis
Sales teams integrate their contacts and linked information to a CRM tool. This centralises the data and organises it into segments. The CRM solution stores and backs up the data. For sales staff, finding and cross-referencing information doesn't take up half of your day anymore.
With this in mind, the You don't need a CRM software allows you to pin all mail exchanges made with a prospect to a corresponding contact sheet. It's so helpful that with just one glance you can see the log. And if you wish to delegate the follow-up to a member of staff, you no longer need to share the information. An equally useful feature: scanning visitor cards to archive them numerically. Finally, the "lead clipper" device creates a link to the Linkedin profile of your contact and provides you with targeted, qualitative information about your contact.
The case of scattered enterprises or large groups
When a company has several different sections, the time taken to gather information together can become colossal. Whether it's a multi-site group, such as Groupe SEB, distributed between Burgundy and Rhône-Alpes, or a border company located between Switzerland and France, the problem remains the same. The need for the circulation of information, but also for its conversion or translation, quickly becomes problematic. Imagine for a moment that sales staff might have to translate a sales pitch every single time, or convert a price from one currency to another - the time spent on these and the risk of error are great. In this case, it is essential to opt for a CRM software which is oriented internationally. This is the case with Oryanoo, a simultaneously multi-site, multi-currency and multilingual solution.
A tool to frame your prospecting
Being convincing isn't enough, you need to have stamina. Maintaining contact in the long-run requires great rigor. CRM tools allow you to programme alerts to make sure you take into account every step of your conversion funnel. On "You don't need a CRM", your business tasks are collated in a control panel. You can personalise your action plan for each contact. The tool synchronises with your calendar application, whether it's Google Calendar that you use, Outlook or even Agenda. Finally, a statistical follow-up allows you to analyse your rates of transformation. In the case where you might wish to link your business actions directly to a device for marketing automation, a handy tool like Salezeo Lead could be an interesting option to explore.
Opt for a software suite with SocialJsCRM
The online CRM SocialJsCRM helps you optimise your processes and manage your sales more efficiently. Enhance your sales teams' productivity thanks to automated tasks. This solution helps you follow-up your clients' files thanks to a dashboard and reports based to KPIs.

SocialJs is not just a customer relation management software. OIP Solutions has developed other solutions to help you manage your projects, your human resources, and gather and deal with your teams' ideas. The software suite offers a great interoperability; stop wasting time with different applications!

A CRM to better gather your contacts' information
Map out and target your market
The work of a salesperson will never be replaced by a CRM tool, but the tool can definitely contribute to refine this work in a useful manner. A solution such as Salezeo Lead is capable of basing itself on prospecting data in order to identify a potential market. Represented in map form, the analysis brings focus to the business prospecting approach and channels your efforts accordingly.
A collaborative solution for collecting information
It is often hard to find the details of a policy maker. Paid databases do exist, but they are frequently fairly expensive, and they don't guarantee any results. Aren't there likely to be other, non-competing companies who would use the same means to collect and consolidate contact information on the same individuals as yourself? Yes, of course there are! How should you suggest that you partner up? Pool your databases and all of your information collection efforts will be of great help to both of you – it's a win-win situation. This is the genius idea which Salezeo Data – the extension of Salezeo Lead - came up with. As a contact information base, the tool is based on a collaborative model. Each party takes part in completing the shared database. The publisher has seven million companies referenced and it is the number 1 solution used by professionals in France. In particular, it stands out for being powerful enough to reach middle management.
Gather your website visitors' contact information
Salezeo Lead also allows you to collect information via your website. Your website visitors – also known as potential prospects – are detected with the use of a tracing tool, which then sends you their data via your application. The very best prospects are those who come to you via your website. Your conversion rates are consequently much higher thanks to the survey of the web user's journey through your website. You can know what sort of interest they showed towards your brand during their time spent on it. Your prospecting then becomes very efficient and targeted thanks to Salezeo.
A CRM tool will serve you just as well from an operational standpoint, in the daily workings of your commercial service, as it will on the strategic level, in terms of a more qualified approach and targeting style. It's up to you to choose which tool will best suit your needs, so that you no longer lose even a single one of your leads.
Optimise the management of your customer relationships and discover a more in-depth comparison on CRM software:
Best tools for you