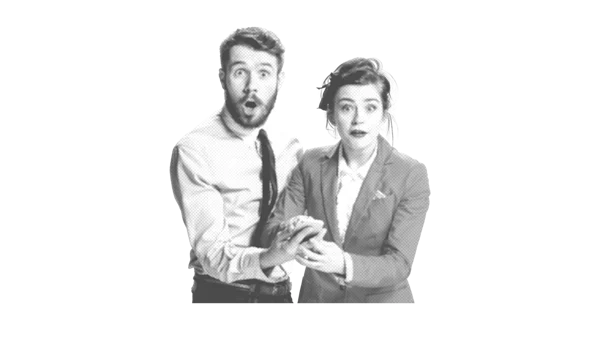 Best Payroll Software for Your Small Business- Pay Up or Shut Up
As a small business, most aspects of running a business usually fall on one person. This can be especially tricky with something as technical as HR, and in particular payroll. Even though you might not have many employees in your business, following all the laws and regulations when it comes to payroll can be tricky for anybody. So why not alleviate some of the burden by automating with payroll software? Keep reading to see our top picks for your small business.
Payroll- Why Automate?
When you work in or own a small business, you wear many faces, so sometimes knowing all the specifics about a subject in particular is unrealistic. The same goes for payroll, depending on where you live, there are different regulations and rules you need to follow. Big businesses and corporations can do this all in house because they have the resources to hire big HR departments, which obviously isn't the case for small businesses. One way to compensate for this is to automate payroll with a software program. In the long run it will save you and your small business a lot of time and money.
Why We Chose These Programs?
The software programs that you'll read about were chosen because we believe they're the best at what they do. We decided that due to a combination of factors, including: features, integrations and value. Take a look at the best programs for a small business like yours!
Xero Payroll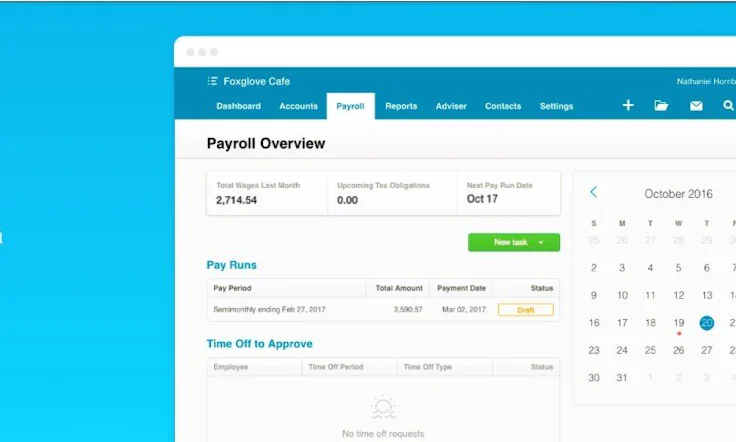 Xero Payroll is an easy-to-use payroll software program that lets you manage everything from one platform. It even updates your accounts constantly and creates HMRC submissions to improve your overall HR process.
Features
Some of the features that make Xero Payroll so easy-to-use are:
Flexible pay calendars
Leave management
Built-in timesheets
Detailed payroll reports
Reimbursement of expenses
Automatic payroll and pension
Direct payment
Employee self-service
Keep track of employee leave
In-depth payroll reports
What We Like
Xero is a well-known and trusted accounting software that also offers a payroll solution that's perfect for small businesses. Xero is among the industry leaders in accounting and payroll software, and is trusted by thousands of businesses, large and small. If it's good for them then it's good for you too.
PayFit
Payfit is a cloud-based payroll management system that allows human resources managers and employees to automate, boosting their productivity. Payfit digitalizes and simplifies essential processes like time and attendance management. It saves businesses, in particular small businesses, countless hours of precious time and amounts of money.
Features
Some of the innovative features that PayFit has are:
Automatic payment
Accounting entries generation
Batch payslip production
Employee portal
Social contributions
Employee leave and absence
To name a few…
What We Like
PayFit is a renowned cloud-based payroll management software that makes payroll a breeze. Gone are the days of hiring a specific person, or group of people, to focus on the nitty-gritty details of tax regulations, and all the specifics of employee pay. All you need to do to pay employees and to file the associated taxes is all in just a few clicks.
Sage Payroll

Sage Payroll is a simple, affordable and online payroll service that manages payroll your way, and within your budget. Payroll has never been easier or quicker with Sage Payroll.
Features
Some of the features that make payroll so easy are:
Leave and absence tracking
Nominative social declaration
Direct deposit
Automatic tax filing
Wages plan
Payslips, P60s and reporting
Control company finances with accounting software integration
What We Like
Sage Payroll allows you and your small business to manage your payroll with security, accuracy and compliance you can trust. Sage is a fully integrated system that covers all of your payroll needs in a fraction of the time and cost it would take for you to do it yourself.
FreeAgent
FreeAgent is an accounting software program that has an integrated payroll feature that takes care of all of your payroll needs. Trusted by over 60,000 companies, FreeAgent is an all around great option for small businesses looking to take care of payroll.
Features
One of the reasons FreeAgent is trusted by so many is because of its features, which include:
Payroll and accounting integration
Easily generate payslips and P60s
Submit real time information to HMRC
Support for student loans, maternity and paternity leave pay
Support for the Employment Allowance
What We Like
We really like FreeAgent first of all because it's designed specifically for British businesses, and secondly, it's payroll feature is embedded into its accounting system.
Clear Books
Specifically designed for UK small businesses, Clear Books lets small businesses focus on other, more important, tasks. Like many of the other software programmes Clear Books automates all the technical and important parts of payroll that your business can't afford to mess up, like:
Features
Automate employee pay
Create payslips, P45s and P60s
Report directly to HMRC
Easily manage employee leave
Schedule employee leave
Schedule payslips
Manage auto-enrolment and pension payments
What We Like
Clear Books' payroll management service is a part of the wide array of features in the overarching accounting software that they offer. We also really appreciate that, unlike many other programmes, this is designed specifically for UK small businesses.
BrightPay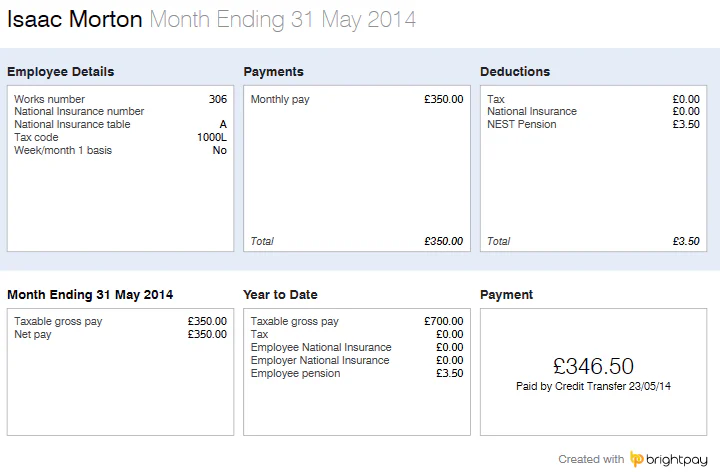 BrightPay, although at first glance, seems a bit too simple, packs a big punch with all of its included features and integrations.
Features
Some of the strong features BrightPay has include:
Integrations like Xero, Sage One, Quickbooks, Twinfield, etc.
The ability to run multiple payment schedules simultaneously
Attendance tracking
Leave management
Payroll management
Tax management
Workflow management
Reporting and analytics
Employee self-service management
Digital and printable payslips
What We Like
We like BrightPay because it's an incredibly easy-to-use platform that has a wide array of features that help your business put payroll aside.
Iris Payroll
Iris Payroll is the ideal solution for small businesses looking for a trusted solution to manage their payroll. With Iris, you can manage even more than just payroll, it integrates management of mobility, employee savings, interviews and employee training
Features
Industry-specific compliance
Time and absence management
Manage employee records
Easily manage employee schemes and benefits
Paperless payslips
Real-time and 24/7 payment
Avoid costly payment errors
Real-time business insight and data
What We Like
Iris Payroll is a smart tool for small businesses looking to outsource their payroll. As we said before, sometimes it just doesn't make any sense for a small business to hire an extra employee to handle just payroll, that's why there's Iris Payroll.
Zalaris HR & Payroll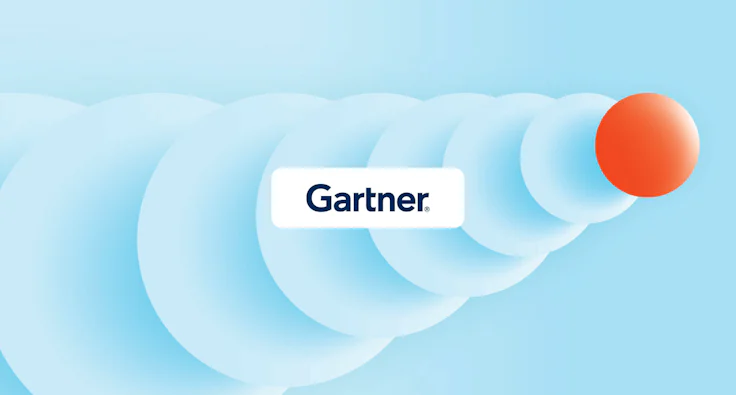 Zalaris HR & Payroll is a complete HR cloud system that outsources payroll processes. This international solution allows you to pay your employees and avoid any errors. Zalaris also offers expert advice, if you're still not sure.
Features
HR Process administration
HR portal
Self-service apps for mobile devices
Time and absence management
Management of travel expenses
Payroll calculation with automatic management of retroactive data
Payslip preparation
Social and administrative declarations
Direct reporting to HMRC
Data analysis
What We Like
Zalaris is a global payroll tool trusted by thousands of companies around the world. Zalaris is perfect for small businesses because they know all the specificities of all the markets in which they operate, including the UK.
ADP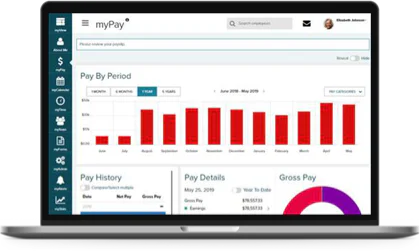 Get your payroll and tax filing done faster and easier with ADP, the software program that's backed up by payroll experts at the tip of your fingers. In addition, ADP is a full fledged HR management system so it has every possible relevant integration for payroll. Some of the features that make ADP so unique are:
Features
Automated online payroll
Payroll taxes
HR and time tracking integrations
Self-service app for employees
What We Like
ADP is a global payroll and HR solution that also works very well for small businesses. Having other solutions in HR allows them to effectively cover all the bases of payroll, so you don't have to worry about them.
Payroll Software- One Less Thing to Do
As we said before, payroll sometimes can be a pain in the neck. Having to know all the up to date regulations, exemptions, etc. sometimes just isn't possible for small businesses. You need something that will be quick and easy, and will let you focus on things that actually matter to your business. The software programs on this list do all that and more.
Best tools for you