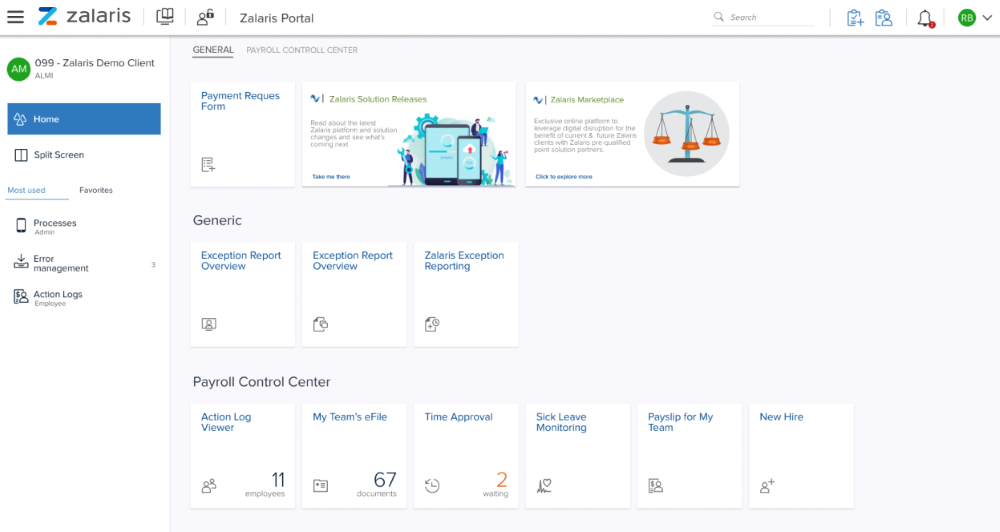 Zalaris HR & Payroll
Presentation of Zalaris HR & Payroll
Zalaris HR and Payroll: Payroll outsourcing and Cloud HR solution
The Zalaris HR and Payroll platform is an international, cloud-based solution for companies of all sizes, characterised by its reliability and flexibility. With our HR and Payroll solution, you can simplify your operations via the outsourcing of your payroll processing, or improve your internal HR and payroll management thanks to our advice and experience. Our regular software updates ensure the solution remains compliant with current legislation.
Adaptability
Our payroll management software is adapted to the local practices and legislative requirements of many countries. Its adaptability by configuration makes it possible to accommodate the specific needs of each company, making for an optimized solution whilst maintaining compliance with local legislation.
Key Features
The main features of the solution are as follows:
HR process administration
HR portal
Self-service apps for mobile devices
Time and absence management
Management of travel expenses
Payroll calculation with automatic management of retroactive data
Preparation of payslips
Social and administrative declarations (eg RTI e-filing)
Data analysis
Modularity
Companies that have already adopted another HRMS (eg SAP HCM, SuccessFactors, Workday, Oracle HR) can still benefit from Zalaris HR and Payroll to help simplify their payroll management thanks to our integration tools which allow smooth and effective outsourced payroll operations.
Advantages of Zalaris HR & Payroll
Prices and features of Zalaris HR & Payroll
Expenses
Accounting Entries Generation
Mileage Expense Declaration
Travel Expenses Management
Payroll
Accounting Entries Generation
+ 27 other features
Customer reviews about Zalaris HR & Payroll (0)
No reviews, be the first to submit yours.