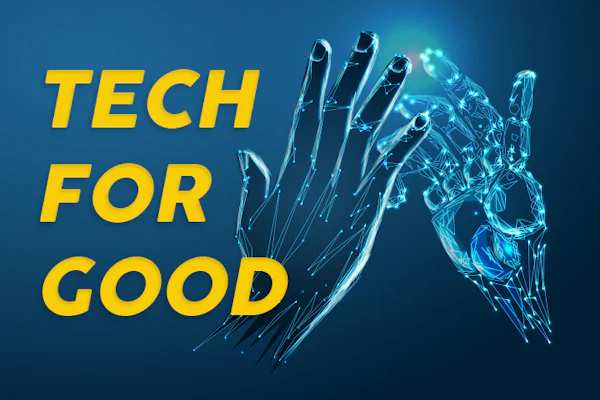 Innovation to Make Positive Change: Tech for Good Explained
Tech for good could easily be dismissed as little more than a fashionable term coined on a whim. But would that be right? Or could tech for good movements lead to a real, deep change of tech and business structures?
The urgency of social and economic challenges have made calls for global change more and more pressing. Vocal action groups and leaders from across the globe are now voicing concern and asking how to operate a transition towards more sustainable growth models.
New technologies have accelerated the pace of change in all aspects of our lives over the years. Tech for good companies strive to harness its power to solve the most important problems of our time.
This article will present the principles of the tech for good movement, the challenges it aims at solving, as well as global tech for good initiatives.
What is tech for good?
Definition
Tech for good is an initiative which aims to put social impact at the heart of economic decisions. It supports the idea that digital tools and new technologies can give rise to more responsible and positive paths to growth. For tech for good advocates, innovation should serve the common good.
A tech for good programme usually fosters ecosystems regrouping companies, associations and investors. These communities are created with the objective of pushing forward ecologic transition and social justice projects driven by innovation.
The organisations provide funding and investment opportunities to support sustainable companies in their endeavours.
The principles of tech for good
Though tech for good initiatives might differ across the globe, some of its basic principles are as follows.
💡 Innovation must serve a sustainable development goal
The purpose of the company must be to solve at least one of these objectives, and innovation should be used as a lever to find sustainable solutions to societal or environmental problems.
Innovation in this case isn't necessarily the invention of a new technology. It could consist in a new way to use existing technologies to solve a problem or make life easier.
🤝 Participative leadership
The company should engage and consult with the relevant stakeholders, including its employees, customers, investors and suppliers. This is to ensure decisions are fair and power is shared.
💰 Shared value
The value created by the company should be distributed fairly between collaborators. Profit generated by their work should generate equitable income for all stakeholders.
🌱 Sustainable business model
Growth must be achieved while minimising the impact on the environment. Natural resources should be used responsibly. The corporate culture should be inclusive and egalitarian. The firm should provide equal opportunities and treatment to the people behind its success.
The challenges tackled by tech for good
Tech for good aims to use innovative methods to help achieve the 17 sustainable development goals defined by the United Nations. These goals are designed to solve global challenges and ensure a better, more sustainable future.
In its manifesto, the UN have expressly stated that tech could be used as a tool to tackle the following issues:
poverty
pollution and climate change
inequalities
injustice
access to healthcare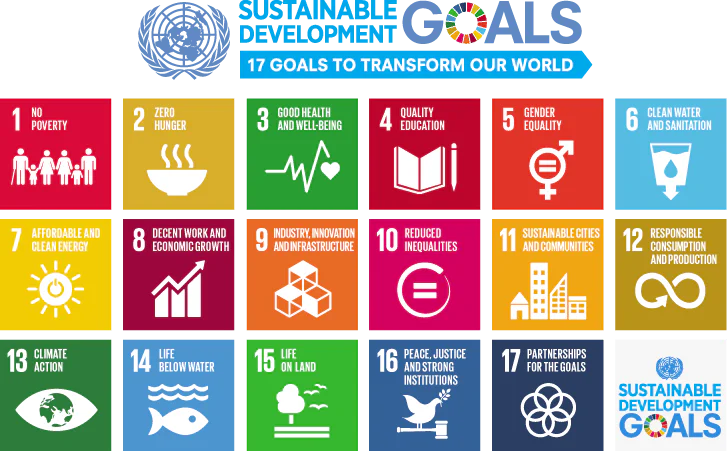 The needs highlighted by these 17 goals and 169 related objectives are derived from the challenges discussed above. These are interdependent, and tackling one usually has positive outcomes that affect others.
In 2019, Global Survey conducted a study including 26,000 participants, which revealed that people think the 6 most important goals among these 17 are:
quality education
health and well-being
climate change
economic growth
water purification
green, affordable energy
Tech for good initiatives
Strategic sectors revolutionised by tech for good
Digital development has an impact on a wide range of sectors. Here are the ones which could see the most dramatic changes and bring positive social results in the near future.
👩‍🎓 Tech for education
Digital solutions can help rethink education as a whole. Tech can bring value to learners, foster continuous learning, reduce dropout rates and extend access to education using:
digital tools (videoconference, learning platforms…)
new learning methods
personalised content
coding schools
🌍 Tech for climate change
Innovative technologies can make a difference when tackling climate change. Environmentally-friendly innovations include:
green energy production
green housing
green transports
circular economy apps
energy efficient machines
🩺 Tech for health
Access to health can be made easier and healthcare systems more efficient using modern technology. Global health can be improved thanks to advances in:
robotics
remote surgery
prevention
data sharing
collaboration between researchers, doctors and patients
👥 Tech for inclusiveness
Tech can help develop a more inclusive society with tools designed to facilitate access to job opportunities and mobility. Examples include:
innovative solutions designed to help disabled people acces the same opportunities and develop their autonomy
solutions to create more direct interaction between citizens and their representatives, such as the solutions provided by Civitech
Tech for good in the UK
In the United Kingdom, many organisations exist to help fund tech for good initiatives and other social engagements. These include:
Bethnal Green Ventures, an investor focused on helping founders develop their project in the early stages. The initiative should fall in line with the tech for good principles, meaning its goal should be to tackle global problems using digital technologies.
Paul Hamlyn Foundation, an independent fund designed to help projects which help solve social and environmental problems and create equal opportunities.
Comic Relief, a charity which also runs an investment fund. The application must be motivated by a clear social purpose.
Tech for good: what good is it?
The rise of tech for good necessitates a massive increase in funding. The Better Business, Better World report estimates that more than 5 billion would be needed to generate a commercial potential of around 12,000 billion expected for 2030.
Successful tech for good firms have proved obtaining viable financial results based on sustainable business models is possible thanks to technology. Their founders are now courted by business angels and investors.
Impact investing was born from these initial successes. It lays the foundation for sustainable, forward-thinking investment practices.
Do you think tech for good will have enough impact to build an exciting future? Will the digital transformation solve global issues? Time will tell!
Best tools for you