PULT - Desk Booking Software: in summary
Pult is the hybrid work experience platform that enables fast-growing and scaling modern businesses to create a healthy and high-performing hybrid workplace.
A simple solution for all hybrid workplaces
Design a healthy Hybrid Work Policy for all your hybrid work locations:
Hybrid Work Scheduling simplifies communication, allows for better office scheduling, and brings your teams back together in the process.
Improve the performance of your hybrid workplace with easy desk booking and space management.
Visitor management: Enable a compliant guest management system that will impress your visitors.
Increase engagement and performance and lower your costs with our insightful data and dashboards.
With flexible working conditions that improve well-being and performance, Pult keeps your employees engaged and productive no matter where they work from.
Hybrid Work Scheduling: easily manage remote and office work
Our simple and flexible desk booking tool ensures that everyone follows and communicate on the hybrid work policy, whether they are in the office or working remotely.
Reduce the need for communication via email or chat.
Increase efficiency and transparency when it comes to working policies.
Let your employees feel more in control of their workday.
Easily manage your team's work hours and office occupancy.
With the current pandemic, many organizations have had to adopt a remote work model almost overnight. This can be a challenge for managers who are used to managing in-person teams. Thankfully, hybrid work scheduling help make the transition to hybrid work smoother.
Flexible Desk Booking: Make the most of remote work and in-office culture
The pandemic has forced many companies to embrace remote work, but there is a growing desire to return to the office. Desk booking can help to make this transition smoother, by allowing employees to choose their favorite desk and workstation from anywhere.
Being able to book a desk near your favorite team or colleague.
Increased flexibility and freedom when working.
Come into the office more often and feel more connected to your team.
Increased flexibility and freedom when working.
This flexibility also encourages coworkers to come back to the office more frequently, as they can book a desk near their favorite colleagues and teams. As a result, desk booking is an essential tool for bringing up the flexibility of hybrid work.
Get the most out of your office space with room booking management
Room booking management is the perfect addition to a hybrid work solution, encouraging employees to meet again in person by providing a seamless reservation system. With room booking management, you can check the capacity of each room and book amenities corresponding to your needs, such as a whiteboard, monitor, or projector.
Reserve meeting rooms quickly and easily.
Personalize your meeting experience by booking the amenities you need.
Encourage in-person collaboration and communication.
And because Room booking management is integrated with your company's calendar, you can see at a glance whether a meeting room is available. As more and more companies adopt hybrid work solutions, room booking management will become an essential tool for keeping everyone connected.
Guest Management
Impress your guests with a seamless visitor experience when visiting the office:
Easy check-in and check-out at the touch of a finger

Important documents are digitally signed
Colleagues automatically receive notifications when guests have arrived
With the right tools, you can bring your employees and guests back to the office safely and confidently.
Boost employee satisfaction with our easy-to-use hybrid dashboard
Scaling your business and saving money on office expenses doesn't have to mean sacrificing employee engagement and performance. Our hybrid work experience dashboard solution enables you to:
Track employee engagement and performance regarding your hybrid policy.
Ensure that your office space is being used efficiently and effectively and save money on office expenses.
Respond quickly to changing employee needs.
Create a happy and productive workforce that will stick around for the long run and foster both smart space management and employee happiness and retention.
Smart integrations
Pult integrates with your favorite communication and HRIS tools:
Slack
Microsoft Teams
Personio
Google Calendar
Outlook
Book a demo or test Pult for free 14-days in the trial phase.
Its benefits
Intelligent automations save your HR time
Digital dashboards help you manage Office
In-depth analysis helps you save on real estate costs
Certifications:GDPR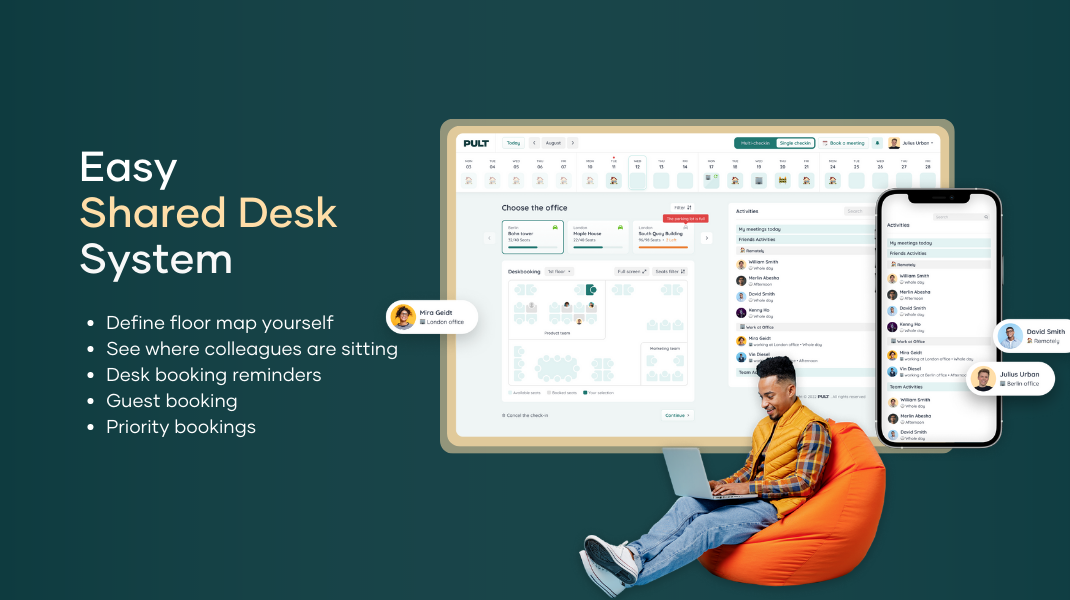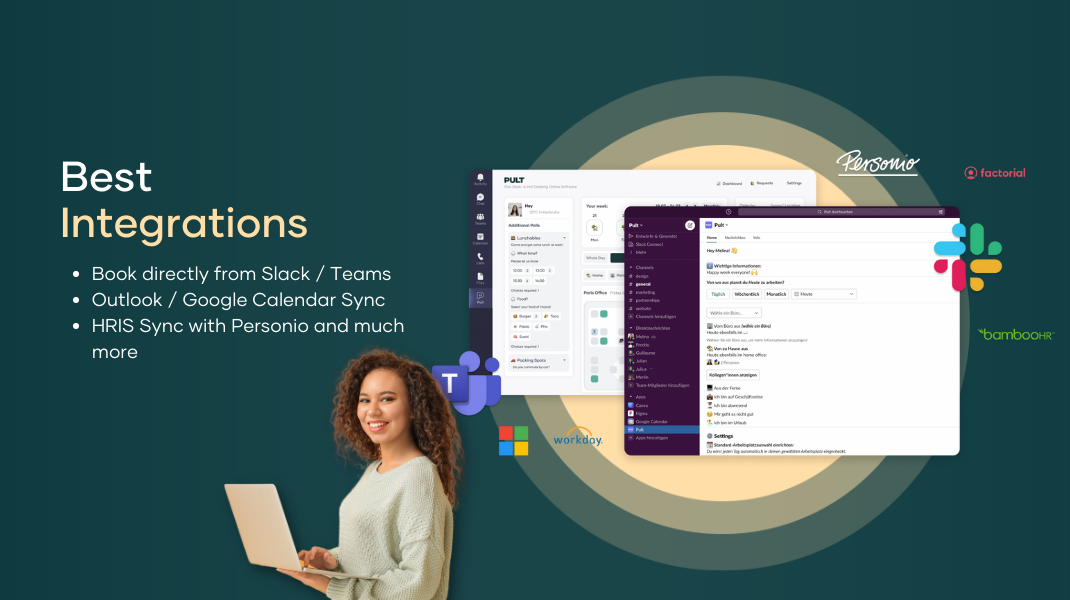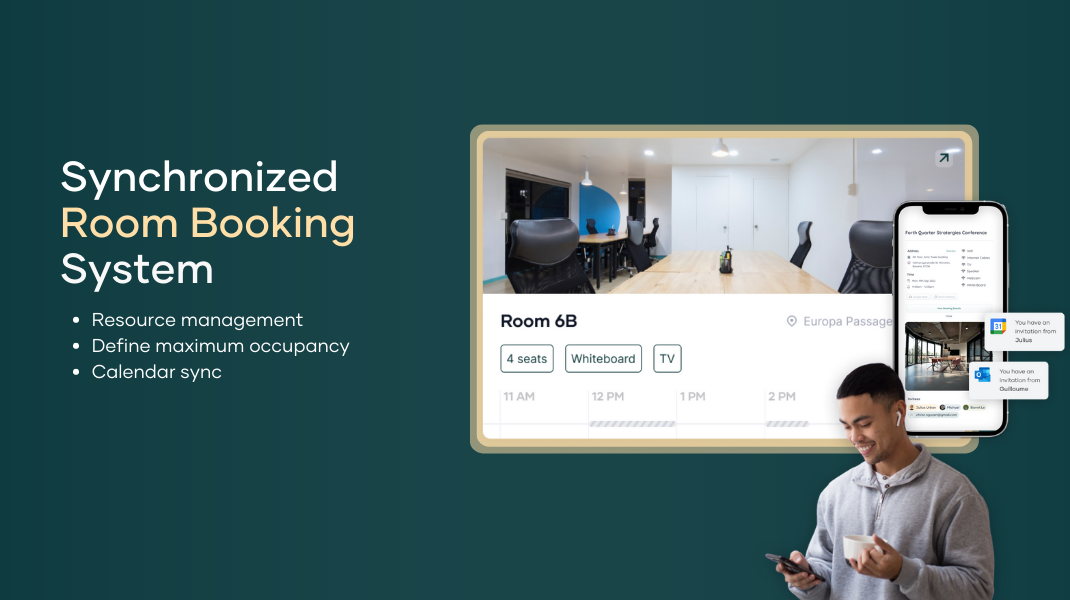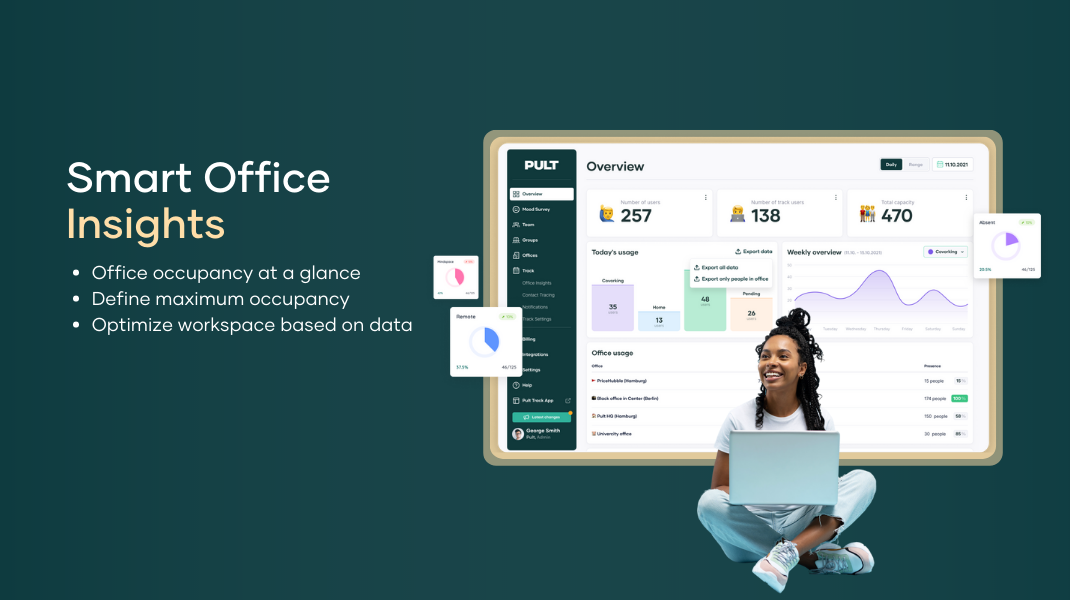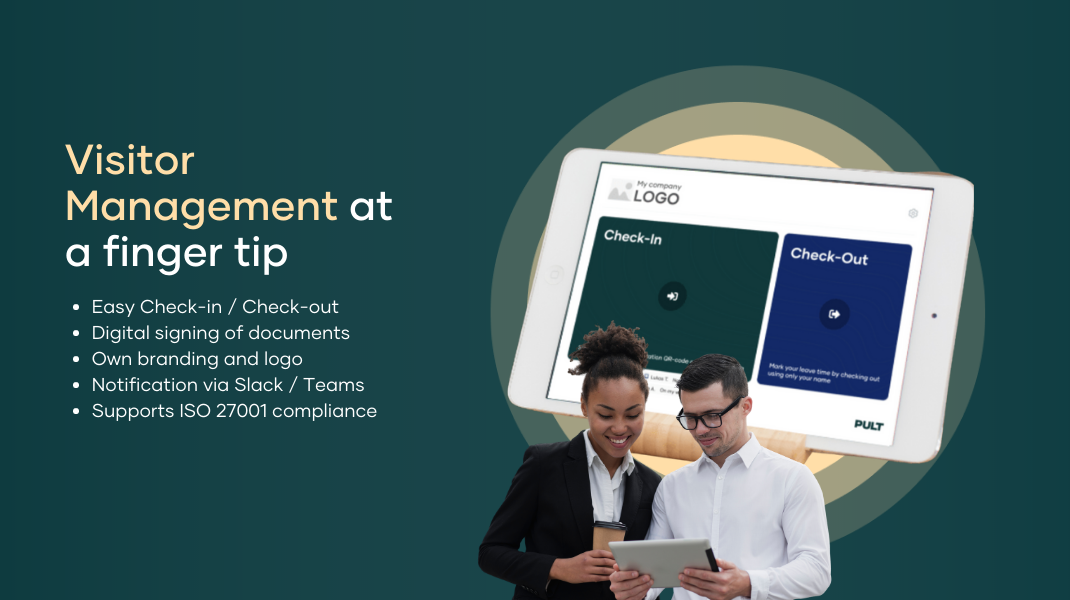 PULT - Desk Booking Software: its rates and features
| | | | |
| --- | --- | --- | --- |
| | | | |
| | | | |
| | | | |
| | | | |
| | | | |
| Hybrid Workplace Management | Hybrid Workplace Management | Hybrid Workplace Management | Hybrid Workplace Management |
| | | | |
| | | | |
| | | | |
| | | | |
| | | | |
| | | | |
Appvizer Community Reviews (0)
The reviews left on Appvizer are verified by our team to ensure the authenticity of their submitters.
No reviews, be the first to submit yours.